ScamAdviser Reviews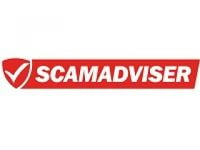 ScamAdviser.com is a website that describes itself as giving people the ability to quickly check a website they are considering purchasing something from to see whether a site is trustworthy before they use their credit card.
According to their website, ScamAdviser was created by a group of consumers who were sick of fraudulent websites getting away with scamming people out their money and wanted to give people a chance to expose these sites.
How Does ScamAdviser Work?
They say that while most other services that mark sites as trustworthy or not do so based entirely on whether or not that site is likely to infect your computer with malware. And while that is important information to have, there are many other ways to determine whether or not a website should be trusted, especially with your credit card information.
ScamAdviser.com says that they currently they use over 150 different criteria to rate their websites as trustworthy or not, however, they always encourage their users to use common sense first, as websites are always able to change owners or enact potentially new and harmful policies.
Cost/Price Plans
This website is completely free for visitors to use. They promise that right now all of their funding comes from donations and from the money they earn from allowing advertisements to run on their website - this ensures their services can remain free for their users.
Refund Policy
Since their service is free to use, there is no Refund or Guarantee Policy. Unfortunately if you choose to purchase from a website they rate as trustworthy and you have a bad experience, ScamAdviser.com is not liable or responsible.
Customer Service Contact Info
Unfortunately this website does not have any published contact information at this time. However, if you feel that a website has received an inaccurate rating from their service, there is a Report button on each page so you can provide them with your feedback.
Reputation
ScamAdviser.com has mixed online customer reviews. Some reviewers have accused them of automatically giving negative reviews to competitor websites that provide similar services to theirs, and some people have said that the criteria they use is not reliable and has resulted in good websites sometimes receiving bad reviews and bad websites receiving good reviews.
Competitors and Alternatives?
There are other websites and services that provide people with free information that will help them determine whether or not to trust a website, especially in a situation where money is changing hands.

If you have any experience with ScamAdviser or their services, please leave your reviews below.
You may also be interested in
ScamAdviser Customer Reviews

Jarsah B
They are scammers,scamadvisors.com owned by ebrands
I am not writing this review to take your visitors from your site to another. I am so sick of these weirdos. please check out this review to find out all about them. you will find out who they truly are https://www.sitejabber.com/reviews/scamadvisor.com

José G
Scamadviser is scam be careful with this site, the last week I reviewed my sites, and 7 of 8 were ranking high, but the only one who has some issues were ranked low, then I sent an email asking for their support and response was very rude by a dude named "Nick", instead of giving me the advice to improve my ranking he only responded aggressively and making fun of my site.
Then I replied to them, but by mistake I sent on my first email my additional URL'S, and I said the country where I'm from, and today all my sites have been downgraded to risk sites, but they don't apply the same criteria, when you buy a domain some registrars offer the option to protect your personal details, and they claim that this is used normally by hackers, and if the domain age is new, then you are at risk, then all the new sites are a risk for everyone? this is ridiculous. Even they hide their personal details but they mark their site as secure.

Mark
Scamadviser is hurting small legitimate businesses
I use a 1and1 server. Because that server is out of Germany. They say business is suspicious, compromised server. I contacted them a few weeks ago. Told them I am a USA based company, My site has big name advertisers that I am an affiliate to. They would not be doing business with me if I was a scam.
And I have no personal info. on visitors, Not even a shopping cart. No payments are made on my site. They emailed me back saying it's a new business started in Dec 2017. And they don't personally look at sites. In time it may get a better rating. They show up on the top of most searches putting doubt in peoples minds that I'm not legit. There should be a way to sue them for slander!

Kate
Scam Artists Posing as Scam Advisers
I'm surprised these people are still allowed to operate judging by the number of complaints about them. They give poor trustworthy ratings to new and small businesses based on fake information. They then contact them to let them know about this poor rating. Coincidentally, two days later a company rings and wants to charge 5K to `fix' this reputation for them.
When you complain or ask to remove the fake information, they block you smear your name on their Twitter page ( I have proof of all this).
Incidentally, there is no name, address or phone number listed for this company which is the main criteria they use to shame other companies!
A bunch of scam artists, stay clear.

Peter W
After using this website to enter in a web address (my own), it stated that it is unsafe, due to our address details etc. being private and hidden from view. So I tried other websites that test the integrity of other websites (such as my own) and I found that in all of them I tried, my website is 100% safe to visit (it's not even a shop).
I have since removed the privacy service from my domain, notified scamadviser of this, and now my results are worse than they were before?!?!?
However, when I do a 'whois' on scamadviser.com they too have all their details hidden - no telephone, no email and no address...nothing. Weird isn't it? - A company professing to prevent potential harm to others, whilst hiding behind their own domain privacy service.
It appears that they are using an out-dated heuristics program that gives false and misleading results. Which in turn, will no doubt leave them in trouble with the law of the land, depending upon which geographical area of the world in which they are prosecuted, due to defamation and slander to many of the legitimate business out there.
My advice is to take legal action against them, should you find that your website receives negative results, when you know for a fact that your website (& hosting) is 100% completely safe.