Dr. Ho Reviews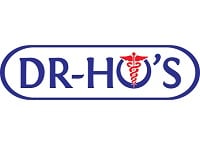 Dr. Ho is a holistic physician and back pain specialist who has promoted a number of products online, including Neck Pain Pro, the 2-in-1 Back Decompression Belt, and Dr. Ho Cleanse.
Dr. Ho Products
Dr Ho Cleanse and Restore Powder Triple Action Formula
This gentle triple action cleanse is made with Dr. Ho's own patented fiber formula, probiotic and proprietary magnesium.
This drink can be consumed once daily as a full body cleanse and is intended to help relieve intestinal discomfort such as gas and bloating, as well as increase energy and vitality.
Dr. Ho Cleanse 10-Day Herbal Detox
One bottle comes with a 30-day supply of capsules that contain 16 different herbal ingredients.
Taken twice daily, this formula is intended to jump start and boost your digestive cleanse by supporting digestive health and pushing out built up waste that's been sitting in the colon.
Dr. Ho Cleanse Calm and Cleanse Herbal Detox Tea
The Calm and Cleanse tea uses a combination of western and Asian herbs to calm the body and mind, promote restful sleep, and support a healthy digestive system.
It also aids in reducing water retention in the body, helping to eliminate impurities.
2-in-1 Back Decompression Belt
To use this belt, you simply wrap it firmly around your waist, attach it to the pump, and slowly inflate it.
As it inflates with air it will expand, stretching the lower back and applying gentle traction to decompress the spinal discs and stretches and relaxes tight muscles to relieve lower back pain.
The belt is light and not bulky, so it can be worn discreetly underneath your everyday clothes, either in 30 minute sessions or all day long if you choose.
Refund Policy
There is a 30 day Refund Policy offered.
If you try the belt and decide that you are unhappy or have complaints for any reason, you can contact Customer Care to obtain and RMA number.
When you do ship the product back, it is important to remember to include a copy of the bill of sale, a note as to why you're returning it, and your name, mailing address, telephone number, and the method of payment.
Customer Service Contact Info
You can contact their Customer Service team by phone at 877-374-6669 or by submitting emails directly to their website, and finally by traditional mail at P.O. Box 13184, Bridgeport, CT 06673-3184.
Reputation
Unfortunately the reviews for Dr. Ho products are mixed, with some users finding significant relief with his products and others unable to really find any relief at all.
This may stem from different root causes of the back pain or different ways the patients have used the 2-in-1 Back Decompression Belt.
Is It Safe?
There does not seem to be any complaints regarding safety at this time.
Competitors and Alternatives?
There are many different companies that offer compression products for muscle pain relief, and though most of them are for arms and legs, some may work for back pain as well. These companies include Tommie Copper and others.
If you have any experience with Dr. Ho or their products, please leave your reviews below.
You may also be interested in
Dr. Ho Customer Reviews

Angel A
Holistic medicine is a pseudoscience.
Just knowing that Dr. Ho is a holistic physician tells you a lot about the quality of his products, which, if they do have results, are most likely due to the placebo effect.

natasha P
Sent me a faulty remote and want me to send 25 dollars plus shipping to fix it!!!!!! SCAM

kelly m
First don't do the rapid ship by going through there doctors that they offer it might violate your terms of the agreement with your doctor and insurance company and they can and will drop you or you will be responsible for that $360.00 because you allowed them to sidestep your insurance making you liable for the full price and then dr. Ho is off to the bank while you are trying to figure out how to stop this from hitting your credit.
I will say this once if it is seen on tv make sure you think before you order, make sure you say no to any rapid ship options also if you have ordered any back brace in 5 years you do not qualify your insurance will only pay for a certain amount and you need to call them to find out the amount before you call they will not only offer you extra knee and arm and shoulder braces but they will swear up and down that you qualify don't be a tool think, folks!
It is like going before the judge and you say I did not know and he or she will look at you and say ignorance of the law is no excuse and say guilty and then well if I need to explain anything else to you or you don't understand? I suggest you sell your tv so you don't screw your credit up also for the record they ask for your ss number it is on that red white and blue card and they know it... Good luck.