NatureMD GutRhythm Reviews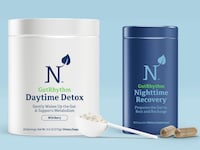 GutRhythm Review: A Detailed Look
NatureMD GutRhythm™ is a two-part gut health supplement developed by celebrity doctor Travis Stork.
Dr. Stork has had a long career as an emergency medicine physician, authored several books, and hosted the popular daytime program 'The Doctors'.
In the video advertisement for GutRhythm, Dr. Stork explains his theories on the common causes of gut problems and how his supplement can help improve intestinal health.
Below we take a closer look at GutRhythm, examine the science behind the ingredients, look at customer reviews, and determine if this supplement is worth buying.


Why trust Reviewopedia?


We've reviewed numerous gut health supplements, including
GundryMD Bio Complete 3
, which shares several key ingredients with GutRhythm.
How Does GutRhythm Work?
Dr. Stork believes in a Gut Circadian Rhythm, where essentially everything you do throughout the day is interconnected and influences your gut health.
Factors such as your eating times, sleep habits, and daily exposure to environmental toxins all impact your gut microbiome. [1]
Disruption of this rhythm can lead to intestinal hyper-permeability, now commonly referred to as 'leaky gut syndrome.'
Symptoms of this condition may include:


weight gain
fatigue
digestion issues
brain fog
skin problems


A healthy intestinal barrier allows for the absorption of nutrients and fluids while keeping harmful toxins and bacteria out of the bloodstream.
In cases of leaky gut, the proteins connecting the intestinal epithelial cells break down, leading to increased permeability in the lining. This can result in numerous symptoms and has been associated with several chronic conditions. [2]
In his video, Dr Stork identifies 3 potential causes of leaky gut:


a chemical used in dishwasher rinses
exposure to stress signals upon waking up
routine use of NSAID medications


In addition to these, there are a number of other potential causes such as:


genetics
alcohol abuse
smoking
poor diet
infection
dysbiosis (gut bacteria imbalance)
Stork believes the ingredients in GutRhythm can help restore the gut barrier and support the gut microbiome, providing users a foundation for transformational health changes.
GutRhythm Ingredients Evaluation
Unlike most gut health products, this formula is split into a 'Daytime Detox' and 'Nighttime Recovery' blend, which allows for extra doses of certain key ingredients.



DayTime Detox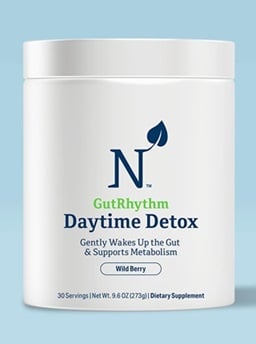 Tributyrin
This postbiotic delivers butyrate to the colon where it can be used as fuel for the colonocytes (colon cells).

It has been researched for its "treatment and prevention of exacerbations of various gastrointestinal diseases: diarrhea, intestinal inflammations, functional disorders, dysbiosis, and post-surgery or post-chemotherapy conditions." [3]
One research paper on short chain fatty acids (SCFA) states that:


"The SCFA acetate, propionate and butyrate…appear to be key mediators of the beneficial effects elicited by the gut microbiome.

Microbial SCFA production is essential for gut integrity by regulating the luminal pH, mucus production, providing fuel for epithelial cells and effects on mucosal immune function."


It concludes that while increasing microbial SCFA production can be considered a health benefit, much of the data currently comes from animal studies. [4]
One such animal study found that Tributyrin alleviates gut microbiota dysbiosis in mice with intestinal microbiota disorder. [5]
Metabolaid
This proprietary formula of Lemon Verbena and Hibiscus Flower extracts is said to support AMPK activation, healthy body weight, blood pressure and appetite suppression.
The company that developed this supplement provides clinical research on its product.
One study sponsored by the company found that,


"500 mg day−1 of the combination of Hibiscus and Lippia polyphenolic extracts in the context of an isocaloric diet for two months in overweight subjects confirmed significant reductions of body fat, blood pressure and heart rate and a more positive perception in their overall health status compared to the placebo group." [6]


Overall, the manufacturer states that they have 7 gold standard clinical trials supporting their claims.
Zinc
This mineral has a number of benefits on the body and digestive system.
There is some research supporting its use in addressing issues with leaky gut. With one study finding that "zinc supplementation can resolve permeability alterations in patients with Crohn's disease in remission." [7]
Fiber Blend (Resistant Dextrin, Acacia Fiber, Organic Baobab Fruit Powder)
Resistant Dextrin is a type of soluble indigestible dietary fiber that has a number of benefits.
This type of fiber passes through the digestive system and into the colon where it is metabolized and fermented by microorganisms.
One study found it may improve the intestinal environment by increasing numbers of good bacteria and reducing the ability of bad bacteria to grow.
That study also found that it meets the criteria to be classified as prebiotic fiber, since it "confers a health benefit on the host associated with modulation of the microbiota." [8]
Resistant Dextrin been linked to some other benefits including:


increased satiety
improved blood sugar control
reduced inflammation
regularity [9]
Nighttime Recovery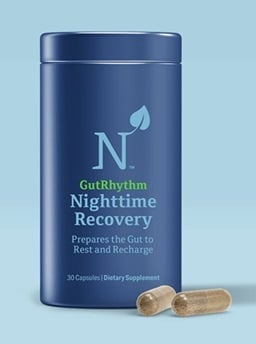 Nighttime Recovery includes a small dose of the same GutRhythm Compound found in Daytime Detox and also includes a dose of Vitamin B6.
Ingredients Summary
Overall there is a decent amount of scientific support for the ingredients used in NatureMD GutRhythm.
Some key ingredients have been shown to increase satiety, which may lead to less caloric intake and the possibility of weight loss.
Additionally, ingredients like Tributyrin, Zinc, and Resistant Fiber may help support healthy gut flora and intestinal lining integrity.
While potentially beneficial, GutRhythm is not intended to cure or treat any medical conditions.
Some possible side effects of dextrin may include bloating, diarrhea. gas, or upset stomach.
If you are on other medications or have serious medical conditions you should consult with your doctor before starting any new supplements.
Customer Reviews & Complaints
At this time, there is not a lot of online feedback specifically for GutRhythm.
NatureMD has a profile with the BBB. Although they are not accredited by that organization they hold a B rating and a customer score of 4.67 / 5 from 211 customer reviews.
There are a few customer complaints on that platform, but that is typical for a company that deals with a large number of customers.
NatureMD customer service agents actively reply to and resolve issues brought to the BBB by customers.
Customer Service
NatureMd.com lists their contact information as:


Email: [email protected]
Phone: (888) 412-2259


GutRhythm offers a 60-day money-back guarantee, stating that if you are unhappy with the product, you can return the unused portion for a full refund, minus a $9.95 restocking fee.
Competitors and Alternatives

Supergut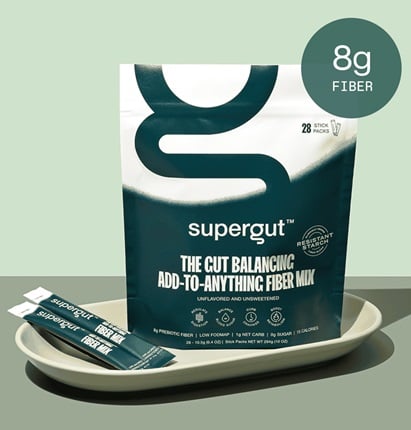 Supergut is a fiber supplement intended for gut health and a good alternative to GutRhythm.
The Supergut Prebiotic Fiber Mix is specifically aimed at boosting your intake of resistant starch, a type of prebiotic fiber.
This fiber is not only intended to nourish the beneficial bacteria in your gut, but it also offers additional advantages such as aiding in maintaining a healthy weight, controlling blood sugar levels, enhancing digestion, and reducing inflammation.
Supergut stands out as one of the few supplements backed by clinical research for the supplement as a whole, not just its individual ingredients.
Each packet of Supergut contains 8 grams of prebiotic fiber, only 1 gram of net carbs, no sugar, and just 15 calories. It's also "Monash University Low FODMAP Certified".
The Bottom Line
There are many factors responsible for poor gut health.
While a good supplement may be part of the solution, addressing as many lifestyle and environmental factors as possible is just as important to see results.
GutRhythm's main ingredients have promising research for their claims, and dividing the supplement into day and night formulas enhances the effectiveness of the dosages.
It's a good idea to consult with your doctor before trying to use a supplement to resolve any medical condition.
If you have any experience with NatureMD GutRhythm, please leave your reviews below.
You may also be interested in
NatureMD GutRhythm Customer Reviews