Nooro Massager Reviews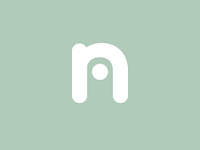 Nooro Massager Review: A Detailed Look


Nooro Massagers are a line of personal care and pain relief products designed to treat the most common pain areas.
The brand was launched in 2022 and has quickly grown, claiming to have sold over 30,000 massagers.

Below we take a closer look at their most popular massagers to see if they can really help with pain and recovery.
Nooro Knee Massager
The company claims that this revolutionary device can help with root causes of pain from a variety of issues such as:


Osteoarthritis
Bursitis
Meniscus
Tendonitis
The knee massager is equipped with three treatment techniques, employing soft massage airbags, heat treatment, and red light therapy.
Nooro states that this knee massager can take the place of expensive physical therapy appointments, reduce the need for harmful and potentially addictive painkillers, and even help avoid surgery.
Is This Legitimate Treatment for Knee Pain?
There are actually a good amount of studies to back up the idea behind the Nooro Massager.
Multiple studies have found that massage can be an effective form of pain relief for knee osteoarthritis, with one study concluding that a weekly massage session may reduce pain and stiffness and provide improved function in the short term. [2]
Furthermore, another study that Nooro references in their advertisements found that "vibration and local heating significantly decreases pain" in patients with osteoarthritis of the knee.
In general, many experts recommend a combination of heat and ice when treating knee pain. Heat is used to relieve joint stiffness and ice to relieve pain or swelling.
Finally, red light therapy also has some promising studies supporting its use as a treatment option.
Essentially red light therapy works by stimulating the cells in the joint which boosts their energy production and promotes cellular proliferation and decreases inflammation.
Studies found that low power light therapy can be an effective therapy on pain and disability in elderly patients with osteoarthritis of the knee, along with treating certain sports injuries.[5]
Another review concluded that treatment guidelines should be updated to include low level laser light therapy as a recommended option for knee osteoarthritis (KOA).
While the research supporting these treatments is certainly positive, there are no studies specifically done using the Nooro Knee Massager.
You should contact your primary care physician for further assessment if you experience:


Worsening knee pain
Excessive swelling
Warmth in the knee
Redness
Fever
Inability to bear weight on affected leg


Nooro Knee Massager Reviews
There are a large number of positive reviews from the company's own website and on a popular 3rd party consumer review websites as well.
Here's what customers have to say about the the Nooro Knee Massager

Pros:
Heat and vibration on both sides of the knee
Worked well for temporary relief
Helped with inflammation
Improved mobility

Cons:
Pain returned shortly after use
Small straps
Difficulty reaching support
Upsells during the checkout process make it easy to over-order
Knee Massager stopped charging after several uses
Difficulty with returns
Didn't receive instructions
Felt it was cheaply made


Nooro Whole Body Massager
This small and portable butterfly shaped massager has five modes of massage and can be used on various muscles.
Customer reviews for this product were quite mixed.
Some customers found the stimulation that the massager provided helped ease pain, while others experienced too many usability issues with the device.
Some of the negative Nooro Whole Body Massager reviews mentioned:


If placed on the back it's difficult to reach and adjust the settings
Did not work for pain relief
Sticky pads don't last
Pads are expensive and need to reordered frequently
Issues with reliability


Nooro Foot Massager
This electric muscle stimulation (EMS Massager) is meant to relieve pain and tension in the feet.
Nooro state that anyone who has foot pain or spends a lot of time sitting can benefit from this device.

Nooro Foot Massager Reviews
Some key highlights from what users had to say about this foot massager:

Pros:
Helped with plantar fasciitis
Helped with swelling and neuropathy

Cons:
Unit did not hold a charge
Overall mixed results
Massager did not work


Customer Service
Nooro provides several options for contacting their customer support team.
You can email at [email protected] or call them at their phone number 212-444-3144. There is also an online chat feature that you can try.

All Nooro products are backed by their 90-day money back guarantee.

The terms of their refund state that customers must use their products daily for 30 days for 15 minutes a day.

In order to initiate a return you must contact the company first to receive a return address.


Note: You will have to ship the clean and undamaged product back at your own expense.

The company's address is listed as:
XF Agencija Limited
Room 1502, Beverly House, 93-107 Lockhart Road
Wanchai, Hong Kong
Potential Red Flags
Despite having a support team that replies to online complaints and positive reviews on some 3rd party sites there are a couple warnings that customers need to be aware of.
While the return policy may seem generous, sending a shipment back to Hong Kong at international rates is going to be expensive. Some customers reported being quoted over $30 for their parcels.
Furthermore, the massagers sold by Nooro come from international wholesalers purchased at low bulk prices.
In general, we don't recommend these products since they're generally cheaply made and lack a customer support infrastructure to support the product for long term use.
Below you can see the generic massagers listed on a popular e-commerce wholesale website Alibaba.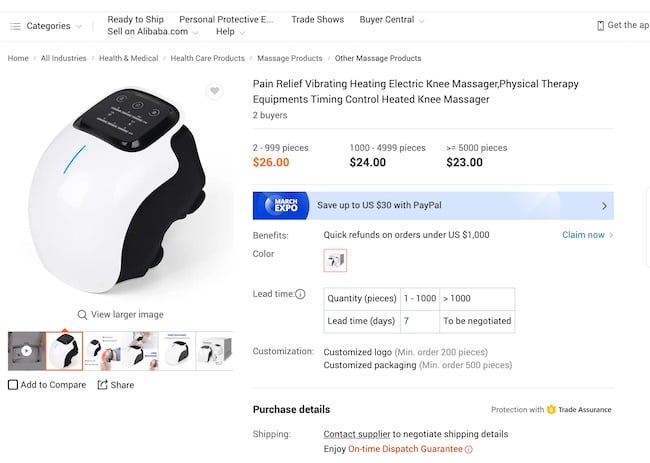 ( Generic unbranded product that looks identical to the Nooro Knee Massager )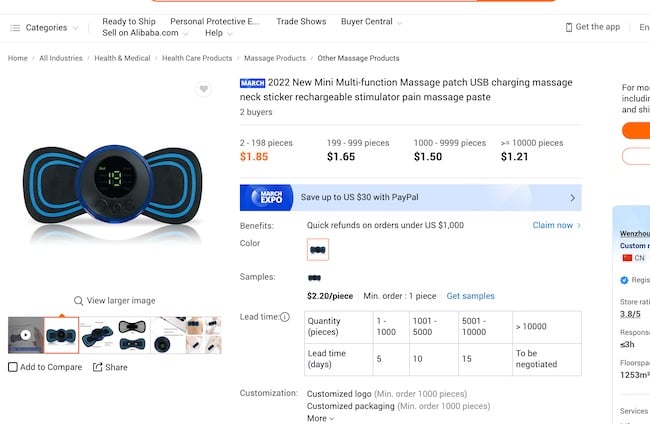 ( Generic unbranded product that looks identical to the Nooro Body Massager)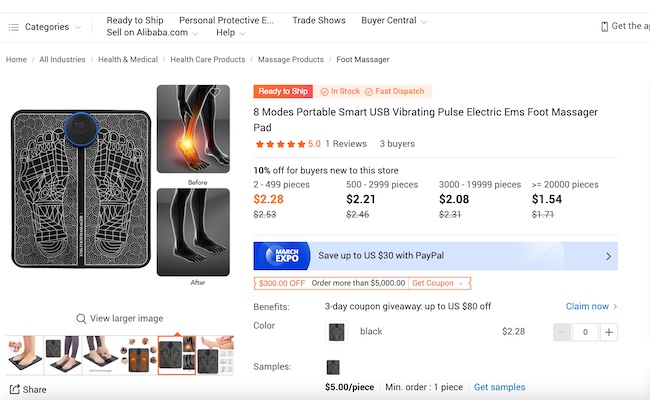 (Generic unbranded product that looks identical to the Nooro Foot Massager)


Competitors and Alternatives
There's been a lot of advancement in personal massager technology and these days you can find a quality product with lots of features at very reasonable prices.
Some alternatives to Nooro products include the following:


Ekrin Athletics B37 Massage Gun - This is a high-end massage gun that's a good alternative to the top of the line Theragun brand.

The Ekrin is an 'Amazon Choice' and New York Times selection. It's very powerful with 5 Speeds and 4 Attachments for faster recovery and relief. It is currently on sale for $229.99.




Bob and Brad X6 Massage Gun - this unique tool allows for a percussive massage with the additional options of hot or cold therapy.

This brand was founded by two physical therapists that focus on developing ergonomic products that provide deeper massages for relaxing muscles. It also has great reviews on Amazon with a score of 4.8/5 from 677 reviews.

It costs just $139.99.



Resteck Heated Neck and Back massager - This scarf style device wraps around your neck and shoulders and is held down via wrist loops, which frees your hands and lets you control the intensity at the same time.

This unit also has good reviews with a customer rating of 4.5/4 from over 50,000 reviews. It is also the cheapest of the options at $59.99.


Ultimately there are a lot of great choices from respected brands that will offer proper after sale customer service and stand by their products.
Are Nooro Massagers Worth It?
For the most part Nooro Massagers have decent customer reviews. However, the red flags keep us from recommending purchasing products from this company.
The massagers are fairly expensive and the company's return policy requires you to pay for return shipping.
If the massager doesn't provide the promised pain relief you stand to either lose a good amount of money on shipping it back or are forced to keep an expensive product that doesn't work well.
If you have any experience with Nooro Massagers, please leave your reviews below.
You may also be interested in
Nooro Massager Customer Reviews