Pro Power Save Reviews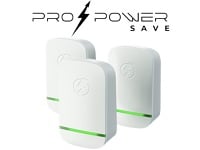 Pro Power Save Review: Legit or Scam?

The Pro Power Save is a device the seller claims can help consumers reduce their electric bills by up to 90%.
Claims such as these often raise red flags as 'too good to be true'. In addition, the Pro Power Save resembles other products that we've previously reviewed that are mostly scams.

We'll take a closer look at the Pro Power Save to see if it's legit or if it's another scam to be avoided.
How is Pro Power Save claimed to work?
The advertisement for this device claims that using technology developed by Nikola Tesla the Pro Power Save will:


Stabilize your homes electric current
Clean power lines and reduce electric temperature
Reduce "dirty" electricity
Buffer electric current shock
Protect and prolong life of appliances
Save money on your electric bill
Reduce your exposure to harmful electromagnetic radiation (EMF/EMR)
Relies on Technology Invented by Nikola Tesla
They go on to say that all you have to do is plug it into an outlet near your breaker or, if using it on multiple electronic devices, then you will have to order more units and place them on opposite ends of your home.
The company states that for an average home it will take 2-3 weeks to stabilize the current and customers should start experiencing results within 6-8 weeks.

The truth is many of these claims are purposely vague, meant to sound impressive, and ultimately designed to play on people's real needs of saving money on their electricity bills.

Below we list the reasons why we think people should not invest in the Pro Power Save.
3 Major Red Flags


Misleading Advertising - The ads promoting this product use a lot of tricks to sound credible. For instance they use the names of popular business and electronics magazines on the site.

They want people to think they're endorsed by these legitimate organizations, when in reality they have zero relationship.



Generic Product - This is a generic mass produced Chinese product. If you search the main overseas wholesaler site Alibaba, you will find a variety of these units under the generic name of "Electricity Saving Box."

A moderately sized bulk order of around 100 units comes out to only $1.10 per device, with the true cost of manufacturing being a fraction of that.

Pro Power Save is simply buying these, rebranding them with their logo, and selling the devices using a variety of aggressive sales tactics.

( Generic product found on AliBaba.com identical to the Pro Power Save, priced much lower )



Not a New Scam - We have already reviewed the MiracleWatt Device here on Reviewopedia. It ran the exact same ads and was selling the same product.

Below are photos from both ad campaigns.
| | |
| --- | --- |
| | |
( Identical ad and product, with a changed name, likely because of too many negative customer reviews )
On Reviewopedia, the MiracleWatt has a score of 2/5 from 51 customer reviews, with the the bulk of reviewers saying that the device had no affect on their power bills and that the customers felt scammed.

More interestingly, there are also comments from electricians and engineers stating their opinions on why these power saving devices don't work.
Why Pro Power Save Won't Save You Money
Firstly, when customers have disassembled the MiracleWatt (presumably the same product as the Pro Power Save), they found no circuitry to insinuate it has any digital or "smart" capabilities.
Inside is only a small capacitor and LED lights… meaning that the Pro Power Save can't actually do what it claims.
The idea behind 'dirty electricity' filters is taking a concept that is potentially relevant in electric infrastructure engineering or with highly sensitive electrical equipment, and trying to make it relevant to a residential scenario.
What sellers of these filters allude to with their graphs of the misaligned voltage and current waves is a concept called Power Factor Correction, something that mainly applies to commercial/industrial sites.
In short, your home's Power factor = True power(kw)/Apparent Power(KVa)
True Power is the actual amount of energy that is put to work and Apparent Power is the total amount coming in, even if it is not being used.
In the most efficient scenario your power factor is 1, meaning that all of the energy is being put to use with zero waste. The Department of Energy has a nice graphic illustrating this concept.
In your home you have resistive loads such as incandescent bulbs, coffee makers, and stoves and inductive loads such as air conditioners, vacuum cleaners, and electric fans.
Inductive loads are the main culprit of a low power factor creating these "out of phase" waveforms.
The point is that industrial facilities with lagging power factor loads caused by heavy machinery, motors, compressors, transformers, etc get charged for their power factor whereas residential customers are only billed for their true power use not the apparent power.
So, even if the Pro Power Save did work it would only save the power company money and not affect your bill.
Additionally, it's also important to note that the quality of the electrical grid is constantly monitored by power companies and they take necessary steps to prevent any potential issues caused by harmonics or transients.
Customer Service
If you did purchase a Pro Power Save and need to contact customer service you can do so by email at [email protected] or phone at +1 (833) 685 2776.
Refunds:
The company claims to have a 90-day money back guarantee. If you're unsatisfied you will have to ship the item back at your expense. The device must be in the same packaging as you received it.
They also state that they have the right to charge a restocking fee of at minimum 15%.
Customer Reviews & Complaints
At this time there is not much real customer feedback, as this is a newly rebranded version of the product.
We anticipate that the Pro Power Save will soon have the same negative reviews as its predecessor, the MiracleWatt.
Unfortunately, that will take more people falling for this gimmick and leaving negative reviews to warn others from making the same mistake.
Bottom Line
If you are looking to cut down on your power spending there are some things you can do to help, but purchasing the Pro Power Save should not be one of them.
Things that help:


Energy star appliances
Switching to LED lights
Smart power strips
Programmable thermostats
Disconnecting electronics when done charging/not in use


Energy Star rated appliances actually already have power factor correction capacitors built into them.
Ultimately, based on the customer feedback of similar products and on in depth reviews that have measured the effectiveness of these devices, we would not recommend this as a solution to cutting energy bills.
If you have any experience with the Pro Power Save device, please leave your reviews below.
You may also be interested in
Pro Power Save Customer Reviews