Economy Bookings Reviews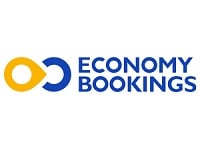 Economy Bookings Review: Is it Legit?
Economy Bookings is an online car rental platform that enables customers to find, compare, and book rental cars from various suppliers worldwide.
In this article, we'll take a look at Economy Bookings customer reviews, their services, and how they compare to similar companies.
How Does It Work?
Economy Bookings works with numerous car rental providers, including well-known brands such as Avis, Hertz, and Europcar, as well as smaller, local companies.
The company states that their service compares car rental offers in 20,000 airport and city locations in 180+ countries.
They go on to say that this wide range of options allows customers to choose the best car rental deal based on their preferences, budget, and travel requirements.
The booking process is relatively straightforward, as customers can filter their search results by factors such as car type, price range, and supplier.
Rental prices will be displayed up front before you choose to make your reservation.
Economy Bookings also offers a mobile app for iOS and Android devices, making it convenient for customers to book and manage their car rentals on the go.
Refund Policy
When booking a car rental through EconomyBookings.com, it is essential to understand their refund and cancellation policies, as these can vary depending on the chosen car rental provider.
EconomyBookings.com's cancellation and refund policy can be summarized as follows:
For fully prepaid and partially prepaid bookings:


Cancel 48 hours or more before pick-up: Refunded minus a €60 cancellation fee, unless prepayment is less than €60.
Cancel less than 48 hours before pick-up: Refunded minus a €150 cancellation fee, unless prepayment is less than €150.
Cancel less than 24 hours before pick-up: No refund provided.
No refunds provide for unused rental days.


Non-refundable cases include:
No prior cancellation notice.
Failure to pick up the car or provide necessary documentation.
Booking made less than 48 hours before rental starts.


Changes can be made at least 48 hours before rental starts and a fee of €18 applies, which can be waived with Cancel Protection.
Refund requests must be submitted in writing within 30 days from the drop-off date.
Cancellation requests should be emailed to [email protected] and refund requests must be submitted to [email protected].
In case of any doubts or queries, customers should contact Economy Bookings' customer support for clarification before confirming the reservation.
Customers can contact Economy Bookings by phone at (347) 897 9795 or by email at [email protected].
Customer Reviews & Complaints
On some ratings websites, Economy Bookings appears to have highly positive customer reviews.
However, a large portion of these reviews are often posted on a single day, which can indicate the company manages their reputation on these websites.
Elsewhere, Economy Bookings has mostly mixed customer reviews, with some very happy customers and other customers who have had negative experiences.
Some users have praised the platform for its user-friendly interface, affordable prices, and diverse selection of vehicles.
Others have had positive experiences with the company's customer service, citing their responsiveness and helpfulness in addressing concerns.
However, there have been some negative reviews and complaints as well. These include:


Issues with hidden fees
Discrepancies between the price quoted during booking and the actual price charged
Difficulties obtaining refunds in certain situations
Reservations being subsequently canceled or no longer available after booking


According to the BBB, Booking Group Corporation Ltd. (the company behind EconomyBookings.com) has an 'F' rating and receives a rating of just 1.1/5 stars from 30 customer reviews.
The company has received 249 customer complaints in the last 3 years and 73 complaints in the last 12 months.
However, these numbers should be considered in context with the very large number of customers that Economy Bookings serves.
Is Economy Bookings Legit?
Economy Bookings has been operating since 2008, and with millions of customers served, it can be considered a legitimate car rental platform.
The company operates in a very competitive industry where few competitors get high marks from customers.
Booking Group Corporation is headquartered in Latvia, but also has an office in New York. Customers can find out more about the company at www.bookinggroup.com.
As with any online service, it's crucial to do your research, read reviews, and ensure that you understand the terms and conditions before making a booking.
Competitors and Alternatives?
Economy Bookings has an extensive network of car rental providers and offers competitive pricing, which allows customers to access a diverse range of options and potentially find lower prices than on other platforms.
Additionally, their mobile app can make the booking process convenient for users.
However, other car rental platforms like Expedia, Kayak, and Rentalcars.com also offer a wide selection of rental options and competitive pricing.
These platforms may have better-established reputations and more consistent customer reviews.
As such, it's essential to compare the options available on multiple platforms to find the best deal.
The Bottom Line
EconomyBookings.com offers a comprehensive car rental platform with an extensive range of options and competitive pricing.
While the service has received mixed reviews, it remains a legitimate option for those seeking to book a rental car.
To ensure a positive experience, customers should thoroughly research and compare Economy Bookings with other similar services, read the terms and conditions carefully, and be prepared to communicate with customer service in case of any issues.
If you have any experience with Economy Bookings or their services, please leave your reviews below.
Economy Bookings Customer Reviews