Economy Bookings Reviews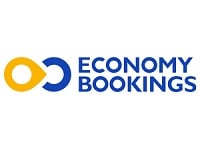 Economy Bookings is a car rentals website and app that partners with global and local car rental suppliers and aims to give users the ability to find cheap car rental services from more than 175,000 cars at more than 20,000 locations.
How Does It Work?
The company states that their services are available in more than 150 countries and include includes searching availability at major car rental brands that are well trusted and recognizable, such as Enterprise, Dollar, Budget, Hertz, and others.
Like any other car rental website, customers can visit their website and submit the date, time, and location they need their rental car to be available, and the website will tell you what cars are available that fit your needs.
Cost & Price Plans
Using this website's search feature is completely free for their visitors. Car rental prices are determined by the date and length of time you are hoping to rent the car, as well as the type and size of vehicle you choose to rent.
Rental prices will be displayed up front before you choose to make your reservation.
Mobile Options
They do currently have a mobile application which is available for users of Android and Apple mobile devices.
Refund Policy
EconomyBookings.com does not really address a Refund Policy, though they do have extensive details regarding their Cancellation Policy.
To cancel a reservation, you must write to them at [email protected]; phone cancellations will not be accepted.
In addition, their Terms and Conditions offer a long list of instructions for how they will determine whether or not to charge you a cancellation fee, and if so, how much.
This is determined based on the specific arrangements you have made, and the amount of time in advance of your reservation you have canceled the reservation.
Customer Service Contact Info
Customers who would like to contact their Customer Service team with any questions, concerns, or complaints in the US can do so by phone at 347 897 9795, or by submitting them directly to the website via their Contact Us link.
Reputation
On some ratings websites, Economy Bookings appears to have extremely positive reviews.
However, a large portion of these reviews are often posted on a single day, which can indicate a marketing strategy being employed by the company rather than genuine user reviews.
Elsewhere, Economy Bookings has mostly mixed reviews, with some very happy customers and other customers who have had negative experiences.
A common complaint is that after a customer has booked a reservation through Economy Bookings, they then received a follow up email stating the reservation was subsequently canceled or no longer available.
Competitors and Alternatives?
There are many other booking websites online that give people the ability to arrange car rentals and hotel reservations, including OneTravel.com, BudgetAir.com, and Cheapflights.com.

If you have any experience with Economy Bookings or their services, please leave your reviews below.
Economy Bookings Customer Reviews