Nano Sparkle Cloth Reviews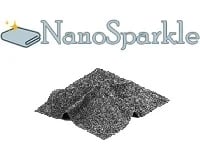 Nano Sparkle Cloth Review: Legit or Scam?
The Nano Sparkle Cloth (formerly called Nanomagic Cloth) is a scratch remover cloth for car scratches, stains, dirt, and other blemishes.
According to the manufacturer, it is made with nanotechnology and infused with mineral oil and metal powder, helping to create the best cleaning medium.
The company claims that their cleaning cloth combines microfiber with the ingredients listed above for a revolutionary clean.
How Does the NanoSparkle Cloth Work?
Unfortunately you will not find any detailed explanation of how the cloth works on the company's website.
The only information they provide is that the unique combination of mineral oil and metal powder is supposed to have incredible results and on any car scratches.
These kinds of claims seem too good to be true and when we talked to an automotive expert about how to remove scratches from a vehicle this product was never even remotely mentioned.
The only thing that microfiber towels were recommended for is in the application of actual scratch removing products sold in major auto stores.
Cost and Price Plans
If you're interested in buying the product, you'll pay $29.95 for two clothes (technically a buy-one, get-one-free offer) with additional discounts available if you make a larger order.


If you buy 2 you get 3 free for $59.95
If you buy 3 you get 4 free for $89.95
If you buy 4 you get 6 free for $119.95


You can also activate an additional $5 off coupon if you try to exit the billing page without ordering anything.
Customer Service
TryNanoSparkle.com lists their contact email as [email protected] (previously [email protected]), and their phone number as 1 (205) 662-2633 (previously 1 828 615-4525).
The company has mailing addresses in the UK, Canada, and Australia listed on their website.
The company claims to offer a 100% 90 day money back guarantee on the Nano Sparkle Cloth.
If you're unsatisfied with the product you must first send an email to customer support and they will provide you with instructions on how to return the items and obtain a refund.
Their website states that you will be responsible for paying for your own shipping costs for the return, and that shipping costs are non-refundable.
Customer Reviews & Complaints
While there is zero negative feedback on the company's own website, TryNanoSparkle.com, there are mixed reviews from other sources, including Reviewopedia.
This particular detail causes us to wonder whether the Nano Sparkle Cloth is actually legitimate.
It's hard to rely on customer reviews when you are evaluating a product if there don't seem to be any reviews offering up any kind of criticism of the product whatsoever.
Since the Nano Sparkle Cloth is not sold in any other stores except directly from the manufacturer, there are limited channels for complaints to get published.
However after being sold under two different names for enough time, there is now enough online feedback to more accurately judge the product.
According to most online customer reviews the Nano Sparkle Cloth does not work as advertised with many complaints stating that it did not remove the slightest of scratches and in some cases made the situation even worse.
Furthermore, there are also issues with customer service, with some buyers claiming they weren't able to receive refunds or never received the product to begin with.
Competitors and Alternatives
When you are trying to get scratches out of your car, there are several alternatives to the Nano Sparkle Cloth that you may want to consider.
One of these is the California Gold Scratch Remover, a product sold by Autobarn.
This product, manufactured by a company named Mothers, is meant to work on any kind of finish. It can remove surface scratches and restore high mileage paint.
It's a polish, so you'll want to follow up an application with waxing to properly seal and protect your car.
Another popular alternative is the 3M Auto Scratch Remover.
3M offers all kinds of products for automotive and household use. This scratch remover, offered by a reputable brand, is guaranteed to work when applied to a microfiber cloth and then your car.
It's combined with a polish so you'll have a shiny surface to gaze upon when you're finished, and it's also easy to apply.
Finally, you might consider the Meguiar's G17216 Ultimate Compound. This compound can eliminate paint defects, oxidation, water spots, and other kinds of blemishes that might appear on your car.
It's one of the few professional-grade products that are available at a reasonable price.
NanoSparkle Scam?
If you take a minute to read the reviews below it's pretty clear that this product should be approached with caution if not altogether avoided.
In addition to the negative online reviews, there are many typos and aggressive sales gimmicks used throughout the site - mainly to create a false sense of urgency and scarcity for the product.
Ultimately, as some of our readers have pointed out, if a scratch is below the surface of your car's clear coat you won't be able to rub it out and may do more damage trying, it may need to be sanded and repainted.
Lighter scratches can be removed with any name brand polishing compound.
If you have any experience with the Nano Sparkle Cloth, please leave your reviews below.


You may also be interested in
Nano Sparkle Cloth Customer Reviews