Ecosia Reviews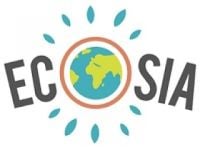 Ecosia is a company who states that their aim is to take the basic function of web browsing and turn it into a way to plant trees while users search the web.
How Does Ecosia Work?
Their website says that the way their web browser extension works is very simple. You download their browser extension, use it to search the web, and the ads that are generated while you search will pay for this company to plant trees in different areas around the world.
Ecosia.org says that they choose to plant trees for so many reasons. Trees absorb carbon dioxide, so they help fight climate change, and they protect the soil from erosion while helping keep the land fertile.
They also clean the air by absorbing pollutant gases and filtering out particulates, and forests regulate water cycles and help food and ecosystem diversity.
Their website says that the funds generated by Ecosia has helped them to plant an average of one tree every 30 seconds. When you perform your Ecosia search they will display a personalized tree counter for you, which will help you understand how many trees you have already helped to plant.
This counter does not intend to show you how many trees you have personally planted all on your own, but rather how many trees that you have financially contributed toward planting.
Cost/Price Plans
As an optional browser extension, this company does not charge their customers any fees to download their product or to use it when they are performing searches.
Instead, the charitable fees paid to this company all come from the advertisements that you will be exposed to on this search platform, as opposed to traditional search engines who are described as keeping advertising profits for themselves.
See Also: Is Corporate Philanthropy Real or Are "Socially Conscious" Companies a Scam?
Refund Policy
Because this company does not charge their customers any money to download their browser extension nor do they charge any fees to perform searches with their extension, so they do not offer their customers a Refund Policy.
Customer Service Contact Info
Customers who would like to contact Customer Service with any questions, concerns, or complaints can do so by email at [email protected].
Ecosia Reputation
As a free web browser extension, this product doesn't seem to drive a lot of reviews. However, there are people online complaining that they are unsure of whether or not this company actually fulfills their promises to users.
Ecosia.org does say that they are a certified B Corporation, which is a special certification given to for-profit organizations that also work to "meet rigorous standards of social and environmental performance, accountability, and transparency."
Competitors and Alternatives?
There are many different options for people looking to work with for-profit companies that still work to benefit society and the environment, though they may not be in the area of internet searches.
Some of the most famous socially conscious companies include Toms, who donates a pair of shoes for every pair purchased, and Warby Parker, who donates glasses to children in need.
If you have any experience with Ecosia or their services, please leave your reviews below.
See Also: Is Corporate Philanthropy Real or Are "Socially Conscious" Companies a Scam?
You may also be interested in
Ecosia Customer Reviews