Particle Face Cream Reviews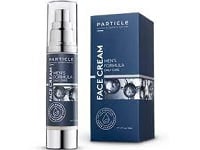 Reviewopedia is supported by our readers. This page contains Amazon links through which we may earn a small commission for purchases.
Particle Face Cream is an anti-aging skin cream by Particle for Men, a company that markets a number of men's skin and hair care products.
Particle for Men states they aim normalize the usage of skincare products by men. They heavily advertise their face cream online, claiming that it's a total skincare solution specifically formulated for men.
Below we take a closer look at the ingredients, company claims, and customer reviews to see if this product works or not.
Particle Face Cream Ingredients
The company claims that the 12 essential ingredients in its face cream give it the ability to provide a full facial treatment for men.
They go on to state that with regular use, Particle Face Cream can:
Help reduce wrinkles
Alleviate eye bags
Help remove dark spots
Soothe the skin after shaving
Moisturize
Nourish the skin with Dead Sea minerals
The 12 ingredients that Particle highlights do indeed provide a wide variety of skin benefits and are routinely used in other popular moisturizers, serums, and repair balms.
Jojoba Oil - A very stable moisturizer that spreads easily across the skin and is non-comedogenic - meaning it won't clog your pores.

It also has anti inflammatory properties and the potential to aid with skin aging and infections.


Allantoin - Studies have found that allantoin can act as an emollient, a calming agent, and a moisturizer. It can be derived from plants or synthetically created.


Niacinamide (Vitamin B3) - A superstar ingredient that has many many anti-aging effects on the skin, from speeding up cell growth to smoothing out the skin's structure.


Isopropyl Myristate - Another emollient that absorbs well into the skin can make skin feel smooth. However, it is comedogenic and can cause pore clogging, especially in those prone to it.


Squalane - Can be found in some fish and plant oils - in the case of Particle it is derived from Olives. Research has shown it to be a powerful moisturizer and emollient.
In general, Particle for Men does a good job in explaining the benefits of their key ingredients. The bulk of the ingredients are frequently used in other popular face creams and their benefits have been well documented.
On ParticleForMen.com you can find the scientific studies referenced in the company's claims, and this information is largely supported by third party skin care product researchers.
Is Particle Face Cream Safe?
While the company does a good job of highlighting the cream's beneficial ingredients, it avoids drawing attention to some other ingredients that may raise red flags.
One of the ingredients listed in Particle Face Cream is 'Fragrance', which can potentially include some questionable ingredients that are not clearly disclosed.
Another issue is with the use of Butylphenyl methylpropional/Lilial - another fragrance ingredient that, as of March 1, 2022, has been banned for use in products in the European Union.
The EU report states that the concern is in the aggregate use of multiple products containing this ingredient. Hexyl cinnamaldehyde, another fragrance ingredient has to be labeled separately in the EU because of its allergen potential.
Other fragrance ingredients that are noted as potential allergens/irritants include: Benzyl salicylate, Linalool, Limonene.
Some cosmetics websites point out that the dangers with some of these ingredients, such as Limonene, occur only when they become oxidized, but do note that people with sensitive skin may still want to avoid them.
As always, if you have any skin conditions or known allergens you should consult with your dermatologist before trying a new product. It may also be wise to spot test new products before applying them to sensitive areas.
How to use Particle Face Cream?
The directions on the site are straightforward and the product is easy to use. First, thoroughly cleanse your face, ensuring it's clean and dry.
Then squirt a dime-sized amount of Particle onto your fingers and massage a thin layer across your entire face, ensuring you cover your forehead, under eyes, cheeks, nose and chin.
The company instructs to use this moisturizer in the morning and at night to start seeing effects. Each bottle of face cream should last approximately 2-3 months.
In addition to the Particle Face Cream, the company sells complimenting skincare products such as a face mask, face wash, hair shampoo, and body wash.
Cost and Price Plans
Particle Face Cream costs $69 per unit, but can be purchased for as low as $46 per unit if you sign up for the replenish plan that automatically sends you a replacement every 1,2, or 3 months.
Particle for Men offers free shipping across the U.S. with your purchase.
Customer Service
ParticleForMen.com has a page within their product site dedicated to customer support and FAQs.
The company offers a 30 Day Money-Back Guarantee which allows you to send the product back up to one month after purchasing.
The website does not list a customer service phone number. The customer service email is listed as [email protected].
Particle Face Cream Customer Reviews
ParticleForMen.com has nearly 1,500 customer reviews, averaging out to 4.9/5 stars – and overall very positive customer feedback.
There are many testimonials from happy customers who also shared their photos to demonstrate skin improvement from the products.
The Particle Face Cream listing on Amazon also has over 1,500 independent reviews, with a 4.0/5 star rating.
On Amazon we noticed more complaints from users, the most common of which is from men stating that they saw no noticeable difference from using the cream.
This may be a result of the company over-promising; specifically many customers commented that they saw no improvement with regards to bags under their eyes - a condition that may need its own unique product.
Other negative reviews mentioned having the pump of the actual bottle malfunction, rendering the product unusable. A few also stated they found the fragrance of the product too strong.
Competitors and Alternatives
Many skincare brands have begun exclusively targeting the male market. Their products aim to remove any stigma from men purchasing skin care items. This is evident in their advertising campaigns, product names, and package designs.
Some of these companies include Brickell Men's Products and Tiege Hanley.
Unfortunately, in their efforts to bring "masculinity" to skin care products, many brands focus on the packaging and scent of the cream instead of prioritizing a clean ingredients profile.
One of our favorite men's facial creams makes an effort to remove harsh chemicals and provide the best possible product.
Ursa Major Hydrating Daily Moisturizer - This lightweight gel is great for sensitive skin and uses plant based ingredients, such as aloe, hydrating kendi oil, toning birch sap and carrot for rejuvenating beta carotene and boosting Vitamin A.

It's 100% vegan, fragrance free, paraben free, and cruelty-free. Ursa Major products also contain no petrochemicals, no sulfates, no synthetic fragrance or color, no glycols, no silicones or PEGs.

It's great for all skin types and is also an 'Amazon's Choice' selection, currently sells for $34.20.
Is Particle Face Cream Worth It?
At first glance there's no obvious reason why Particle shouldn't be your go to face cream.
Although the cream contains a large number of moisturizing and emollient ingredients and features many that are industry standard for effective products, it also contains some fragrance ingredients that are now deemed questionable.
While it's a safe product overall, some competing products avoid including these unnecessary ingredients, which results in an overall cleaner ingredients profile that reduces the chance of resulting irritation.
Furthermore, many of the negative Particle for Men cream reviews suggest that the product may not work as advertised.
That said, those that do enjoy a scented face cream can try out Particle cream risk free thanks to the company's money back guarantee.
If you have any experience with Particle Face Cream, please leave your reviews below.
You may also be interested in
Particle Face Cream Customer Reviews

Carlos C
Don't believe anything about this product. All the review pictures are from young guys who don't even need this product. It's a scam and the company will do everything to avoid any refunds.

David M
Can't deliver on time if at all
I would advise you that if your going to advertise in the UK, firstly make sure you can get orders to people. I've been waiting weeks and still hasn't arrived, can't seem to cancel subscription… crap customer service and now I doubt it will work….. total scam

Frederick B
It's been only a week, and it's already toning my eyes and forehead. Very Happy. 53 years old, never used any products like this before.