Study.com Reviews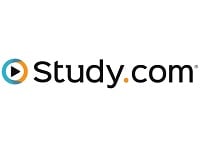 Study.com is an online distance educational website that promises to help students throughout their entire educational journey, from high school to college into their chosen career and beyond.
How Does Study.com Work?
According to their website, many schools in the United States are overloaded and understaffed, and the high cost of college education has put a very real financial limitation on what many people can achieve.
To make the promise of education more of a reality, Study.com state they help high school and college students earn better grades by providing exam preparation help, online courses that transfer to university credits, and expert guidance and more than fifty thousand informational articles about degree and career options.
Currently Study.com works with more than 15 million students per month and offers more than 10,000 lessons virtually all study areas. The lessons are designed to be short and concise, with lots of examples to help their students understand the material quickly.
Cost/Price Plans
This website currently offers four different plans for their students. First is their 'Classroom Teacher' program, which is priced at $29.99 per month and provides unlimited access to all video lessons, lesson transcripts, and tech support.
The Study Premium Edition is priced at $59.99 per month and includes all the features of the Basic Edition plus practice quizzes and tests, tools for tracking your progress, personalized coaching, access to instructors, and certificates of completion.
The 'Test Prep Edition' (also $59.99) is focused on improving test taking skills, and includes a mobile app and access to 84,000+ test prep videos and practice quizzes and tests.
Finally the website also offers a College Accelerator plan, which is priced at $199.99 per month and includes everything in the Premium Edition plus the ability to earn college credit, take two exams per month, and finish all your official exams remotely.
Refund Policy
This company does not offer a traditional Refund Policy because they offer all their customers a five day free trial of their services, as well as no obligation of their customers to enroll in their service nor after they are enrolled are they locked into any long term contracts.
Customers will pay for their services on a month-to-month basis with the ability to cancel their plan whenever they choose, as well as the ability to either upgrade or downgrade their plan as their needs change.
Since this company works hard to be so accommodating to their members it is unlikely that they will offer refunds, however if you experience any technical difficulties that interrupt your abilities to take advantage of their membership, you must contact their Support team as soon as possible so they can handle the issue right away or provide you with any alternatives or solutions.
Customer Service Contact Info
Customers who would like to contact Customer Service with any questions, concerns, or complaints can do so by phone at 877-266-4919 or by submitting them directly to their website through their Contact Support page at Study.com/contact/index.html
Reputation
Study.com was previously known as Education Portal and seemed to be generally well liked and well respected under that name. They changed to Study.com once they expanded their offerings and partnered with some additional colleges and universities.
The company still appears to be well respected within the online educational community, but as far as their certificates of completion and transfer credits are concerned, students should always check with their university administration or their employer to make sure that the credits you receive from this website will be accepted before you enroll and spend your money.
Competitors and Alternatives?
There are many other online programs which may work as a supplement to an existing degree program that students are a part of, including courses you may find at the Khan Academy, Coursera, Memrise, Skillshare, and many others.
If you have any experience with Study.com or their products, please leave your reviews below.
You may also be interested in
Study.com Customer Reviews