Study.com Reviews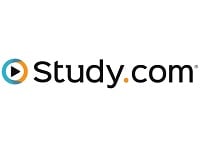 Study.com is an online distance educational website that promises to help students throughout their entire educational journey, from high school to college into their chosen career and beyond.
How Does Study.com Work?
According to their website, many schools in the United States are overloaded and understaffed, and the high cost of college education has put a very real financial limitation on what many people can achieve.
To make the promise of education more of a reality, Study.com state they help high school and college students earn better grades by providing exam preparation help, online courses that transfer to university credits, and expert guidance and more than fifty thousand informational articles about degree and career options.
Currently Study.com works with more than 15 million students per month and offers more than 10,000 lessons virtually all study areas. The lessons are designed to be short and concise, with lots of examples to help their students understand the material quickly.
Reputation
Study.com was previously known as Education Portal and seemed to be generally well liked and well respected under that name.
They changed names to Study.com once they expanded their offerings and partnered with some additional colleges and universities.
Study.com is well respected within the online educational community.
As far as their certificates of completion and transfer credits are concerned, students should always check with their university administration or their employer to make sure that the credits you receive from this website will be accepted before you enroll and spend your money.
Customer Service
Customers who would like to contact Customer Service with any questions, concerns, or complaints can do so by phone at 877-266-4919 or by submitting them directly to their website through their Contact Support page at Study.com/contact/index.html
Competitors and Alternatives?
There are many other online programs which may work as a supplement to an existing degree program that students are a part of, including courses you may find at the Khan Academy, Coursera, Memrise, Skillshare, and many others.
If you have any experience with Study.com or their products, please leave your reviews below.
You may also be interested in
Study.com Customer Reviews