Spy and Survival Briefing
Spy and Survival Briefing Reviews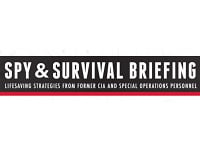 Spy and Survival Briefing was created by former CIA officer and security expert Jason Hanson.
He states he has worked for 14 years serving his country and protecting others, which is why he's committed to helping customers protect themselves now.
Products
The Spy and Survival Briefing claims to be a guide for how to protect yourself, your loved ones, and your home in a crisis or life threatening situation.
Alone and Unafraid teaches self-defense techniques, including one which only requires three moves to take down any attacker.
Even if you're not built like a boxer or a martial artist, or have had no previous training, these techniques can allow you to take control of any situation.
Using this title, you'll be able to access everything Hanson has learned in his years of intelligence and security. From defending yourself on the streets to surviving a plane crash, all the information is here.
How Does It Work?
In his 'Alone and Unafraid: Patriot Defense and Survival Guide,' he seeks to teach people the proper techniques to walk the streets unafraid.
Hanson has also worked in-person to teach citizens to defend themselves in his Spy Escape and Evasion school.
Due to his expertise, he's been interviewed by multiple media outlets and has even had a successful run on the reality show 'Shark Tank.'
There are multiple techniques in Hanson's work, but one of the most prominent is The Trident Technique, Learn to disarm a criminal, incapacitate him or her and escape with just three moves.
After about five minutes, any person of any age and build can learn to defend themselves. You'll gain the capability not only of defending yourself, but of discovering more about the intelligence community by reading this 524-page work.
Customer Reviews & Complaints
Many people insofar appreciate Hanson's works and on some of his other works, like 'Spy Secrets That Can Save Your Life,' they comment about how easy it is to learn the techniques in the book.
Hanson's writing is organized and easy to understand, so anyone is able to pick it up and get started right away. As a practical guide, it's simple to begin using these techniques.
However, not everyone is impressed. Many other reviewers of his work are dissatisfied with the slippery sales pitch they're directed to on Hanson's website and are displeased with the attempts to take your personal information.
It doesn't appear professional to some buyers and isn't worth their time when there are many more professional options for practical self-defense on the market.
Competitors and Alternatives
If you're also unconvinced when it comes to Hanson's work and website, there are other options to learn self-defense techniques.
Clint Emerson, a former SEAL, has also written multiple books meant to keep people safe. His '100 Deadly Skills' books even show practical images to help anyone learn.
You might also look into John Wiseman's 'SAS Survival Handbook,' a book meant to help you get out of any tough situation without worry.
Finally, there's Dave Canterbury's books, an American Frontiersman who knows what to do in any situation in the wild.
His expert field guides are meant to teach anyone what to do in the wilderness.
Choose any one of these three books to learn the skills to defend yourself and survive, regardless of the situation. Other resources include Survival Life and The Lost Ways.
If you have any experience with Spy and Survival Briefing or Alone and Unafraid, please leave your reviews below.
Spy and Survival Briefing Customer Reviews

EB
I only authorized the purchase of his book Alone and Unafriad for $10.55 ONLY. After listening to his long drawn out sales pitch, stating everything is free, I noticed my CC was billed $28.64, $49.85 (twice) and $81.68.
I'll email his support tonight. My CC company stated that after charges are approved, I can dispute, which I will.
He talks of Patriotism and disrespect to our flag, hmmmmm.

Keith C
They don't deliver the product
Ordered $9.95 book did not receive it,
Emails to Spy & Survival Briefing only gave me a file number.
Beware

Michael T
This review is with regard to Spy Briefing and it's chief proprietor, Jason Hanson.
Don't even go near this guy! You'll likely end up with charges you didn't authorize. He claims to be some kind of badass and claims he can teach you how to be one too.
His approach is to appeal to the alpha male. He uses cheap tactics in getting people to access their fear and suspicion - and sells products to appease the monster he creates. He does not deserve to prosper by antagonizing differences.

TJ
Got scammed. Seems a lot of others had to. I bought a bundle: R.A.T. Fight book, home defense video's and RAT Fight 2.0 video.
Well I got the book, rest was on their website, which my log in no longer exists and the website is completely blank. No way of contacting or anything. Scammed plain and simple.

nightkn
Great service. Legit information and product line.
actually really excellent content. Not sure what these other reviewers were looking for, but I feel like I've gotten and learned more from here to prepare and be informed than anywhere else over the past year.

Ed H
Same old tired information. The website is in constant state of being unable to login in even after repeatedly changing passwords. His email templates are the same used by "Pump and Dump" financial scam artists. Same old tired approach just just in another field.

Glenda
On 8/7/21 I ordered the Survival Food promo, plus the Soup/Stew extra that was offered. The computer acted glitchy, but finally the order seemed to finally go thru. The total was $985. That afternoon I got an email saying something went wrong with my order and I should complete it now. I redid the order.
The next day I discovered both charges were on my credit card. I immediately contacted them to explain what had happened. They were very 'sorry' and would check into it. They only saw one order, and that's all I had been charged. Then they couldn't cancel anything because it had already been sent to their producer, so if I got 2 shipments to just refuse it, and it would be sent back to them at no charge. I refused both of those extra boxes sent.
Now they only have received a box that contained my 'free' stuff for ordering. Not! There is no 'free' anything sent by them.
I have been over a month trying to get this solved, and they are still denying a refund. BTW, I have the UPS message that the pkgs were delivered.
Their system gives you that need to reorder email on all of their shipments.
DO NOT ORDER ANYTHING FROM THEM!!!

Brab
I purchased a pack of 2 Tactical Spy Pens for $79 November 2020. The envelop was in good shape when I received it, no holes or tears. However, Only one pen was in the packaging. It is obvious that it was never placed in the mailing envelop.
They rarely pick up the phone when you call the contact number on invoice. I have left two detailed voice messages including my name, invoice # and phone number along with the problem with my order. I sent an email with the same info. I even spoke to a person once who said they would pass my information along to "her". I'm guessing "her" was an order processor. No response has been received as of 06 Mar 2021.
DO NOT PURCHASE ANYTHING FROM SPY BRIEFING. THEY ARE SCAMMERS, i GUESS I SHOULDN'T BE SURPRISED SINCE HE WAS IN THE CIA. Brennan was proven to be a criminal I guess we shouldn't expect more from his foot soldiers.

Ward B
If I could rate this as a ZERO, I would. In my experience this is nothing short of a scam to take your money. My first purchase I got an error that something went wrong with the order and told me to order again so I did. Little did I know, it already withdrew the cash from my account before it even told me the purchase failed.
They also withdrew an additional fee for a second book and they refuse to send me the books. I called and left multiple voicemails and I sent their customer service multiple emails and they will not return any communication to me. They simply stole money from my bank account and refuse to communicate with me.
BUYER BEWARE..... For me, this was a scam and they simply stole my money from my bank account.....

Joseph Y
I ordered their so called survival foods that were supposed to feed you for 2 months at a cost of 197.00 dollars. I received exactly 9 pouches of food that wouldn't last me 3 weeks...however, what was shown in their advertisement was much more food pouches than I ever received. There was nothing else...no confirmation of what I bought or was supposed to get. Unreal!
Worse yet, the company it arrived from was from a location somewhere in Kentucky which is untraceable even on the internet, so I am left with sending this scam company an email hoping to return the food I ordered and get a full refund.
Don't do business with this company...you will regret it.

Dan D
I have had many charges on my bank statement:
These were all listed separately on 04-03-20.
$5.95; $27.00; $27.00; and $47.00. This is a dilemma!

Rick G
I get the Spy Briefing newsletter emails and the book was offered. Went ahead and nabbed it up. It was $5.95 for shipping/handling and the book was free. Came fairly quick and it's over 500 pages! Haven't gotten around to reading it yet, just flipped through. It looks like it's going to be a good book. Also I haven't been charged for anything else other than the shipping and that was a few months ago when I paid.

David J
Alone and Unafraid, be careful
I got the offer on a website for a free copy of the "Alone and Unafraid" book. I want to read the book but there is a catch. The book is free but you must pay a reasonable shipping and handling fee, The catch is that when you submit the fee with credit card info you will be subscribed to a newsletter service for a high monthly fee. I'm guessing that it will cost $39.95 per month. Carefully read the "Terms and Conditions" before accepting this offer. It could be a scam.