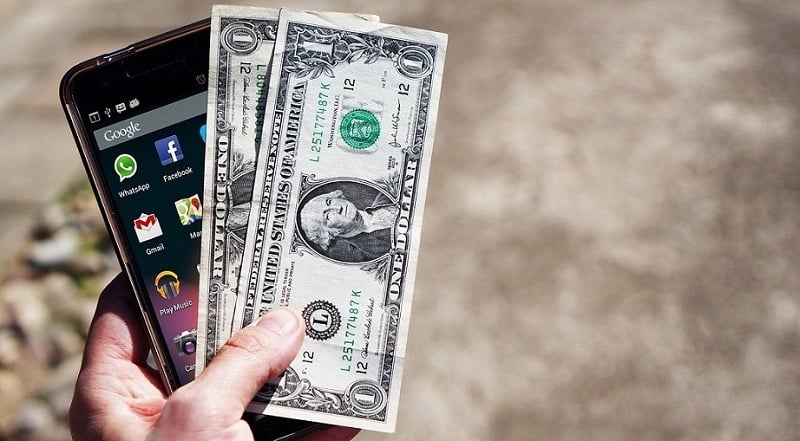 Who doesn't love saving money?
We know we do.
But lets be honest, the idea of using paper coupons to shop in stores is outdated. Not only is it tough trying to find coupons to use in-store - after all, who gets the Sunday morning paper anymore?
But it can be even harder to find the exact products you want at discounted rates in the brick and mortar shops.
Luckily, online shopping is experiencing quite a revolution. Not only can you find just about anything online, but you can find coupons for those products, too.
Taking advantage of some of the best coupon sites and saving apps can save you some serious coin - but do they actually work?
Here's the information you need to know, along with five ways to help you save money in 2021 and beyond.
Grocery Saving Apps
SavingStar
SavingStar is a unique grocery saving app that allows you to link your loyalty card to the app. Whenever you make a purchase with your loyalty card, you will start saving.
You can use as many others as you'd like at a time! Cashing out can take some time, but when you're ready, you can do so using PayPal, direct deposit to your bank account, or to a gift card.
Ibotta
We lump Ibotta into the grocery savings app category even though it can be used for other products, too.
Ibotta is an app that allows you to get cashback rebates instead of coupons - instead of discounting specific products, it really encourages you to shop for certain products by acquiring cashback points.
One of the coolest features of Ibotta is that you can combine the money that you earn through the app with the money you earn from other cashback apps.
It can be linked with major companies like Uber, eBay, and Groupon, but a lot of people prefer Ibotta as their favorite grocery store app, too.
The only downside to Ibotta is that it can be tough to find cashback on the products you actually buy every day. Most of the products offered are via sponsorships, so usually you will only be able to get cashback for purchasing big name brands.
If you tend to shop generic, that can be a problem. However, the app occasionally features discounts on those products, too - so it pays to be patient!
Ibotta can be tricky to use because you have to match the size and packaging of a brand in order to receive credit.
You can also get blocked if you buy too many of one item - an app glitch that is not designed for the extreme couponer!
Customer service can be tough to get ahold of, so it's important to tread carefully if you tend to shop a lot.
Lozo
Lozo is another free tool that can help you save money. It has both a mobile and desktop browser and also has an email sign-up list.
This money-saving website scans hundreds of websites and brands to find coupons that match your list.
It can be tough to match your list to the available coupons - and some users report challenges with getting the coupons to print since they're all offered from various manufacturers.
GoodRx
We put GoodRx into the grocery category because unfortunately, prescriptions are something we all have to spend money on, like it or not - just like groceries!
GoodRx is free to use and available in a website and mobile application. It's great for people who can't get their prescriptions covered by insurance.
If you're planning on using GoodRx with insurance, it's recommended that you check with your pharmacy first - some pharmacies don't allow you to combine the two.
Online Savings Apps
Rakuten/Ebates
Rakuten, formerly known as Ebates, provides a ton of opportunities for you to earn money buying the products you are already shopping for. In some cases, you can get 40-50% cashback or more!
The website and app currently have more than 2000 stores to choose from.
You can shop directly through the website - you do this by searching for the store you want and then following the tracked link - or you can install the extension for your browser.
There is also an app available that allows you to get cashback on in-store purchases, too.
With so many stores and discounts available - plus regular specials surrounding some of the biggest shopping events like Black Friday and Cyber Monday - Rakuten is one of the best online savings apps.
The only downside is that it takes some time for your cashback to accrue and you can only receive a payment a few times per year.
Honey
Honey eliminates the need for you to hunt for coupon codes and instead brings everything together for you available as an app as well as an extension, Honey scans the Internet for deals automatically.
You can submit your own codes if you want to, but you don't have to. You do have to shop at supported stores like Sears, Amazon, WalMart, Target, and Groupon.
However, if you can find the store you're interested in, you will be rewarded with a ton of information about the most popular daily deals and bonuses.
My favorite feature of the Honey app is the ability to sync your Amazon Save for Later list to your Honey account - the extension will let you know by email when prices drop so you don't have to keep checking back.
Just keep in mind that Honey does occasionally share your information - you might start getting emails from retailers you have viewed in the past.
Piggy
Piggy is another great extension option. Similar to Honey and Rakuten, it can be installed on your desktop browser or used as an app.
You can use the extension at more than 3,000 stores, earning up to 20% cashback. You can only receive payment via check or PayPal, however.
Wikibuy
Wikibuy's shopping extension can be a bit confusing to use, but it's well worth the effort if you have the time. This extension lets you know the most updated coupon codes and find the best prices in real time.
All you have to do is click and the extension will apply the best coupon code when you check out - just like Honey.
You can also earn Wikibuy credits when you are shopping at certain sites, like Walmart.
Unfortunately, you can never "cash-out" your redeemed points - you can only apply the credits to future purchases.
Coupon Sites
RetailMeNot.com
With more than 500,000 active coupon codes for more than 50,000 stores, RetailMeNot is super easy to use. You don't need to have an account - all you need to do is search for the store you want to shop at to see active coupons.
This one doesn't always work - sometimes the codes are outdated or inactive.
However, each code comes with a rating so you can see how many customers used it successfully before you. There's no gimmick here, either.
The site offers a variety of other information, too, from gift cards at discounted prices to printable coupons and stores that are currently offering free shipping.
Red Plum
If you're still getting the Sunday paper, you may have noticed ads for Red Plum. The website has a click and print feature that is similar to what other coupon sites offer.
However if you visit the website, you can also check out their blog where you can view recipes, tips, nutritional advice, and more.
Red Plum is a good app to use if you prefer to still stop in stores - however, besides that, it's not going to do much to help with your online shopping addiction.
Slickdeals
Once you first log on, you'll notice advertisements for featured deals that are classified as "some of the best deals on the web in the last 24 hours."
That's the major benefit of using Slickdeals - the information is current so you don't have to worry about being disappointed by outdated coupon codes.
Members can also share deals, so the reliability is sometimes there, and sometimes not.
Brad's Deals
Brad's Deals has a pretty impressive catalog of discounts. There are more than 3,800 stores that partner with Brad's Deals, including those that sell household goods, jewelry, and clothing.
It can be a bit inconvenient to use - in order to access the discount, you have to click the store website through Brad's Deals page. Otherwise, the discount won't appear.
This website works, but it can take some time to weed through the extra stuff. There is a lot of information about freebie products and credit card offers, so make sure you have some time if you decide to sit down and pursue this one.
Coupons.com
The name says it all with Coupons.com - you can access more than $500 worth of savings at a time when you shop Coupons.com's app or desktop website.
This site offers two different ways to save - so while it can be a bit confusing for consumers, it's definitely legit.
You can link your loyalty card to a participating store in the app, allowing you to simply scan the card so that coupons can be added to your total (no sorting required!) or you can just send a picture of your receipt after the fact.
5 Surprising Ways to Save Money This Year
Coupon sites and savings apps are great - especially if they work.
All of the options we reviewed above are great alternatives to classic newspaper coupon clipping, but if they don't fit with your current needs and budget, they're not going to do you much good.
Here are some other surprising ways to save money...
1. Do Some Careful Planning
Think about your reasons to save money before you set out on this endeavor. Do you want to plan for a vacation? Get out of credit card debt?
Whatever your motivations might be, write them down. Then, consider which of the coupon sites and savings apps will work best to help you meet your goals.
If you choose a savings app that rewards only with gift cards, that's not going to do a lot of good in helping you pay off your student loan debt. If you don't ever shop online, Rakuten isn't going to save you any money.
2. Put Your Savings to Use
Not sure what to do with all your newfound cash from using your favorite savings app? If you don't have debt to pay down, here's a quick tip - put it into a high-yield savings plan.
If your employer offers a 401(k), that's a great start. You can save more retirement money by doing something obvious - but something that many people overlook. Just put more money into the account!
You might also consider a high-yield savings account at a web-based bank, like Radius.
These banks don't have physical locations to maintain so they can give you more interest for your cash.
3. Socialize on the Cheap
You don't have to turn into a hermit in order to save money. Look for serious discounts on your favorite social outings by checking out websites like Groupon.
Or you could turn to the great outdoors for an adventure - nature doesn't usually charge an admission fee!
4. Spend Less on Food
Did you know the average family of four spends a whopping $1,279 per month on groceries, according to the U.S. Department of Agriculture?
That's a lot of money - and it's money that could be best spent elsewhere. Quit your impulse buying by making al list ahead of time.
Slash costs with one of the grocery apps we mentioned above, and buy in bulk whenever possible.
You can save money on eating out by looking for deals on Groupon or Lozo.
Or you can invest in a meal planner company like PlateJoy that does all the cooking, budgeting and planning for you.
5. Automate Your Finances
You're busy. We get that. Take some weight off your shoulders by automating your financing. Make sure you are depositing money into a savings account every month.
You can set up a plan to take a certain percentage of your wages from your paycheck (you won't miss it!) and you can automate bill payments whenever possible - no more stamps at $0.50 a pop!
This applies to the discount websites above, too.
Sure, all the savings apps and coupon websites we've told you about are great - but if you don't ever use them, you aren't going to do yourself any favors.
Start by picking one or two to try, and commit to using them at least once a week. With a bit of discipline and a splash of good timing, you'll be saving tons of extra cash to help you ring in 2020 in style.