Brad's Deals Reviews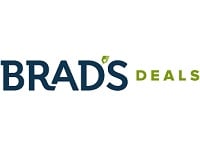 Brad's Deals is an internet shopping website that aggregates coupons and deals from thousands of online retailers.
The company states they curate the day's best online deals that are researched by their experts.
How Does it Work?
Coupons and shopping deals are two of the most popular ways for people to save money on items that many people need to purchase, from groceries to home goods, as well as items that people may simply want from time to time, like new clothes or electronics.
Because of the high demand for these kinds of savings opportunities, there are a wide variety of websites that claim to provide their customers with printable coupons, like GroceryCouponCart.com, or daily deals, like Slickdeals.net.
Brad's Deals states that they are different from other deals websites because of their extremely high standards.
According to them, each day their staff sorts through thousands of coupons, sales, and promotions to publish the best 100 for their visitors.
The only deals they actually publish are those they would recommend to their own personal close friends and family, so their users can feel confident that they are really the best of what's out there.
Consumers who are looking for deals from a specific store or on a specific item can use their search tool to see what the website has to offer related to what you want.
Otherwise, you can look through their inventory each day for Top Deals, Newest Deals, Online Coupons, and Printable Coupons.
Brad's Deals also offer a section of their webpage they call "Brad's Handpicked Deals" and includes either deals from major retailers like Macy's or Target, as well as deals that may offer "extreme" savings.
Customers who use one of the Brad's Deals coupons and have complaints or problems with the items they receive must contact the store the item came from.
Currently Brad's Deals does not have a published phone number or mailing address for Customer Service.
If you have any experience with Brad's Deals or their services, please leave your reviews below.
You may also be interested in
Brad's Deals Customer Reviews