Piggy Coupons Reviews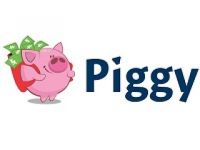 Piggy is an automatic cash savings and coupon app developed in 2014 and is used by online shoppers all over the world.
How Does the Piggy App Work?
Piggy was created by Nicholas Corrieri and John Anderson, who used cutting-=edge technology to put simplicity and automation at the forefront of the shopping experience.
This app helps you find the best deals, examining your savings on the purchases you already make - without adding an extra step to complicate the process.
Getting started is easy. All you need to do is quickly register for an account at joinpiggy.com. You provide your personal details, and then install the Google Chrome app.
You can either get the app on a mobile device or you can install the chrome extension. There are also extensions available for Internet Explorer, Firefox, and Safari, but it works best when used with Google Chrome.
The app works in a simple manner. It partners with over 3000 different retailers and other websites, including major shopping hubs like JCPenney, Sam's Club, and the Microsoft store. Booking a trip? You can even use Piggy for hotels and airlines, including Hilton Hotels.
When you shop, pay attention to your browser extension. It will light up and flash at you, telling you that there are coupons available for use. Click on the extension, and you'll see all of the coupons listed a swell as any cashback offers available through the discount app.
If you see some you like, simply click on the scissors icon next to the code in which you are interested. You can them paste these codes into the section for discount or coupon codes when you go to check out.
If you're a forgetful shopper, don't worry - Piggy will continue to remind you that you have savings to be used before you check out.
Piggy saves a lot of the legwork of deal hunting, finding the best promotional codes for you so that you don't have to spend hours scouring the internet for deals before you check out.
Is Piggy App Safe?
The Piggy app is extremely easy to use, but if you're like most consumers, you are probably wondering, "is joinpiggy.com safe?"
Although this program is, by nature, a marketing tool designed to get you to spend money, it's not likely to give you any viruses or scam you in any way.
Therefore, you can shop with confidence when you install the Piggy app. If you don't like the app for whatever reason, it's also easy to uninstall and remove.
Customer Service
There are minimal complaints related to Piggy, with most negative user reviews stemming from the length of time in which payouts are issued for cash back.
That being said, it's free money that you have to do little to no work to earn, so a small waiting period is really nothing to complain about.
On the whole, most customer reviews of Piggy are entirely positive. Users often forget they even have the extension installed until they try to purchase something online and Piggy pops up, offering significant savings.
Where Can I Sign Up for Piggy?
You can only register for Piggy by visiting the company website. If you install the app, the company is currently offering a bonus in which you can get $5 back on your first purchase.
What's interesting is that you can even visit the Piggy website from time to time to show how much money you are saving. All you have to do is visit your My Account page and click Check Earnings to see this data.
You can also save your favorite stores. By creating a list of Store Favorites in the My Account tab, you can earn money just by shopping at your favorite stores. Referral programs are also available in case you have friends that want to get in on the action.
Competitors and Alternatives
Piggy certainly isn't the only coupon app on the Internet. There are countless other players in the game, including Rakuten (Ebates), Honey, and more. However, Piggy has a user count of over 1.2 million satisfied customers, and has a five-star rating on the Chrome Web Store.
Customers like that this app is easy to use - all you have to do is install it and forget about it. The website is safe and offers rewards that are comparable to those of its competitors.
What's even better is that, if you are undecided between Piggy and its competitors, you can install multiple coupon or discount apps to see a side-by-side comparison of all the deals available.
The Bottom Line
If you're like most of us, you want to save money - but it can be tough to hold on to cash when life gets in the way.
You have bills to pay and things to buy, and while you can't always cut expenses easily, you can look for hacks that can help cut the costs of the things you buy the most.
There's nothing wrong in trying to hunt down the best deals. After all, there are so many better ways you could spend that money.
Whether it's buying an additional gift, paying a bit extra on this month's car payment, or investing in something nice for yourself, you deserve to save some money by joining Piggy.
If you have any experience with Piggy Coupons, please leave your reviews below.
You may also be interested in
Piggy Coupons Customer Reviews

Rafael G
You are a rip off of honey and I know for fact honey came first

HL H
I earned rewards 6 month ago. I never get any payment.
When I ask why? They say the earning is still locked/ not confirmed by stores I shopped
-- It is a scam to me.
1. No store will need to take 6 month to confirm!
even Piggy itself says up to 3 months to confirm.
2. All of my transactions are not confirmed (over 20 of them from different stores)
You judge by yourself if it is a scam or not!!