RetailMeNot Reviews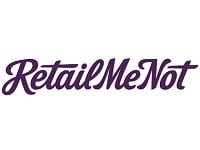 RetailMeNot is a company which describes themselves as the world's largest digital coupon marketplace, giving consumers from all over the world access to coupons from a wide variety of retailers.
How Does it Work?
One of the most popular uses of the internet for the average family and homemaker today is trying to find ways to save money, whether that means price comparisons, special deals, or through using coupons and discount codes.
RetailMeNot.com claims to provide a wide variety of savings in the form of coupon codes to their customers, unlike websites like Groupon.com, which qualify as daily deals sites and offer their customers a limited time special from local retailers, or Coupons.com which focuses on primarily on grocery coupons.
According to their website, they served more than 500 million visitors to their websites across the globe in the last twelve months alone, and claim that they give their customers access to hundreds of thousands of digital coupons and offers from retailers.
Their coupons range across a wide variety of popular categories, including Accessories, Art, Automotive, Baby Products, Beauty Products, Books, Clothing, and many other options.
To make it easier for their customers to navigate the extensive collection of coupons and deals they offer, RetailMeNot.com allows their members to "Favorite" certain stores, so that these retailers are given priority when you visit their website and go through their offerings.
There is also a free mobile application that you can take advantage of, so that when you are out on the go and shopping you can find any relevant coupons that you can use at the stores you are currently in.
They also provide something called "Deal Alerts," which will send you email notifications from your favorite stores so that you will never miss a discount offering from retailers you are loyal to.
Customers who have complaints or issues with the validity or accuracy of the discount codes you receive from RetailMeNot.com should contact their Customer Service department.
If you have any experience with RetailMeNot or their products, please leave your reviews below.
You may also be interested in
RetailMeNot Customer Reviews

Mike i
Cash back is a false promise
I was not able to get any coupons to work when I recently purchased a laptop from Lenovo. How, I was able to get a 10% cash back offer.
Sounds cool, right?
A day after getting an email "Lenovo has verified your purchase!" suddenly, my new never used before RetailMeNot account was flagged for suspicious activity. Fine, I reached out to Customer Care providing a receipt, and a screenshot with the system info and timestamp of me replying to get that decision appealed.
I was told that they are unable to appeal it because they outsource those decisions to a "Third party risk management company" and they are unable to tell me why I was flagged, only that I am suspended from all cash back offers. They hope I'll continue using them and building history... blah blah.
Sorry, that behavior is suspicious. One star, do not recommend.

Cheryl M
Not a valid code for Whole Foods
I tried to use the code on their website for Whole Foods. What a scam. I talked to store leadership at Whole Foods and he told me it was not a valid code and that the Whole Foods logo was used improperly.

Theresa S
No rewards in using it for years.
I haven't received any rewards and have clicked to earn so many percent, but no rewards have ever been delivered. Not something I'd recommend taking up any data space at all.

TellemJimBobJoeSentYa
Have ran several thousand dollars worth of purchases, dozens of transactions over the last few months using cash back and show zero earned, nothing. I've also tried a couple dozen times to purchase their discount gift cards and they are always canceled, moments after they show at paypal.
Always saying they're out, yet groups I'm in, buy them every day. I've tried numerous payment methods, emails, I've contacted them several times, sent scan copies of personal info and just get told they'll get back in 24 hours, weeks later, still waiting and crickets. Just checking out acts all glitchy. Idk what their problem is.
A few other discount gift card sites are just as frustrating with cancelling orders, no matter what of several payments I try. I found out the hard way not to use my credit union debit card testing places like this, as my money gets held for 12 days, every time a site cancels. It seems absurd they will not communicate what they want, like they don't want your business.
Extremely annoying wasting months of time, in dozens of attempts. I'm about tired of trying with them. I wish I simply knew wtf they want or need, to allow me to make purchases already. At least I have found 4 or 5 out of about 10 sites that work for me, although they all have something left to be desired, either long waits to get money to and cards back from, regular out of stock or low percent amounts.

Jenn L
Would give no starts if I can. The cashback offer is a total scam. They suspended my account for "suspicious activity" when all I did was email them to ask when I would receive my cash back. I was supposed to receive $70 cash back for spending over a thousand dollars on an item.
I have been trying to get my cash back since October 2018 and it is February 2019 now. Retailmenot is a ton of lies and filled with a load of nonsense. They say that they had a few successful cash backs which is probably a lie and pay attention to the key word "a few".
The fact that they don't even have a direct number to speak with a representative already shows us that they are unreliable. Trusted them instead of ebates which was a total mistake. Retailmenot is a scam with their cash back offer so DO NOT TRUST THEM!!!

kevin
I wanted to bought software 1 click and got a 20% discount!

L P
Retailmenot is pure trash
I recently signed up for this app/company and used it I believe twice, once for gift card mall and once for amazon. Today, on a day I need this trash the least, I receive an email stating I was in violation of their terms. It doesn't say how, it's very generic and they state they are suspending my account and I'm no longer to participate.
The only thing I can think of is using it toward gift card mall and gift card mall taking it upon themselves to cancel my order. If that's how you're going to treat customers, then so be it. There are plenty of other ways to score deals and what not.
You can use ebates, shopkick, drop....All ways to save. I'm not the type of person to commit fraud or cheat and I don't appreciate being accused of such a thing.

Chuck
Too confusing, tried several times to get what they were offering, too many dead ends. Keep it simple, a-holes!

Andrew
They make commission off your purchases
Pretty much a SCAM, not Amway level - but unscrupulous non-the less
Email thread below:
AUG 08, 2016 | 12:53PM CDT
Original message
Andrew wrote:
Why didn't I get my 5$ rebate?
This is a joke! This must be a scam.
Hi Andrew,
Thanks for your email. Unfortunately, we were unable to verify your purchase, so your submission doesn't qualify for the reward. It looks like your submission was rejected, because the purchase could not be verified as originating from RetailMeNot.
This can happen for one of the following reasons: cookies aren't enabled on your device, the link wasn't clicked on Step 2 of the instructions, you clicked another site after clicking the link in Step 2 of the instructions prior to making your purchase, or you used a non-RetailMeNot coupon on your purchase.
RetailMeNot receives a commission when you click through our links. The rebate is part of the commission we receive when you click through our links. Because we did not receive credit for the submission, we are unable to process a rebate for you. I apologize for the inconvenience.
Thanks,
Leah A.
My response :
Sounds like horseshoes to me Leah!
I hope your company goes belly up

Julie S
I use to work for a dot com company in a call center and retailmenot would alway use expired codes and pass them out like water and then we'd get tons of unhappy callers when we would NOT use their codes. Some of the codes were years expired sometimes. I think the consumer should be aware of what they're being offered. Only good codes that have been approved from the site should be allowed.
By the by, if the company or a representative would of come to the company themselves then I am sure we would of been able to come to some agreement instead of the process they operate.
Just saying...

Jeremiah T
I've been a fan of RetailMeNot since 2014 because of their great coupons it saves my life. This site is such a great, it helps thousands of people out there. Couponchief.com is one of the best in online but these two sites where you can find 10-60% discounts.

Lori