Bio Complete 3 Reviews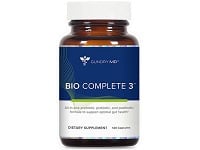 Bio Complete 3 Review: Legit or Scam?
Bio Complete 3 is a dietary supplement created by Dr. Steven Gundry, a doctor who is well-known for his promotion of gut health supplements.
Gundry states he believes that beneficial microbes in your digestive tract are the key to not just good digestive functioning, but overall health, too.
This new product claims a variety of benefits. But does Bio Complete 3 really work? Here's what you need to know.
What is Bio Complete 3?
With active ingredients like sunfiber, tributyrin, and Bacillus coagulans, this supplement is intended to improve gut health by providing a number of benefits.
Tributyrin is a unique form of butyrate, a fatty acid that beneficial probiotic bacteria release as they break down starches.
While you've likely heard of probiotics, butyrate is similar - except it's what's called a post-biotic.
Sunfiber, on the other hand, is a pre-biotic, or a food that is required to sustain the probiotics in your body.
Pre-biotics help support the bacteria, or bacillus coagulans, which provide a whole host of benefits to your body while they work.
These benefits include stopping food cravings, eliminating excess gas and bloating, fighting leaky gut, improving your ability to lose weight, fighting fatigue, and more.
One bottle of Bio Complete 3 contains a 30-day supply, with two capsules meant to be taken daily. The dosage is the same regardless of your weight or age.
Cost and Price Plans
On GundryMD.com you can buy one bottle of Bio Complete 3 for $69.95, including shipping.
You can also get a discount if you make a larger order ( 3 bottles for $188.85 or 6 bottles for $353.70).
You can also sign up for a subscription plan.
When you do this, you will receive an automatic monthly shipment of Bio Complete 3 in addition to unique discounts that lower the price to $41.95 per bottle (or more, if you buy in packages of three or six).
Customer Reviews & Complaints
One complaint about Bio Complete 3 is that there can be some pretty extreme side effects when you first begin taking these supplements.
This is particularly true if you take more than the recommended dosage, as the capsules are specially formulated and consuming too many can have a heavy impact on your digestive tract.
Symptoms such as bloating and gassiness are not uncommon when you begin to take fiber and probiotics, so bear this in mind.
While these symptoms are not usually serious, they can be unpleasant to deal with.
GundryMD currently has an A+ rating with the BBB.
The company has an average rating of 4.31/5 stars from over 2,500 customer reviews there, with 66 customer complaints filed in the last 12 months.
Customer Service
If you need to contact customer service at Bio Complete 3, you can call the customer support lie at (800) 852-0477.
All supplements bought through the Gundry MD website are backed by a 90-day money-back guarantee.
If you aren't happy with your purchase, you can call the customer support phone line to start your refund process.
You can buy Bio Complete 3 directly from the manufacturer as well as on Amazon.
The Bottom Line
To decide if Bio Complete 3 is right for you we recommend getting in touch with your doctor first to help you make the decision.
There is plenty of research demonstrating that probiotics and similar supplements can help regulate your digestive functioning and lead to ancillary benefits, like weight loss.
However, there are just as many studies that show that some of the ingredients in Bio Complete 3, like butyrate, can harm your intestinal barrier in high doses.
There are some claims that butyrate can contribute to obesity instead of helping with weight loss.
So, while taking supplements like Bio Complete 3 can be helpful for some people, for others, it might not be very effective.
If you have any experience with Gundry MD Bio Complete 3, please leave your reviews below.
You may also be interested in
Bio Complete 3 Customer Reviews