Emma Relief Supplement Reviews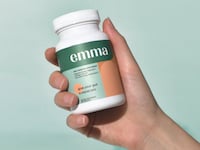 Emma Relief is a digestive supplement specifically tailored for women's digestive health.
Developed with Dr. Gina Sam, a gastroenterology specialist, it's claimed to aid with common GI issues like constipation, bloating, and irregularity.
Below we take a closer look at the ingredients in Emma Relief, Konscious LLC (the company behind the supplement), and customer reviews, to see if it lives up to its promises.
How Does Emma Relief Work?
The ads for Emma Relief feature a 30 minute presentation from Dr. Gina Sam where she promotes her "7 Second Morning Ritual".
In Dr. Sam explains the following:


Her credentials as a gastro expert
What's wrong with over the counter constipation treatments (fiber and probiotics)
The role of Archaea microorganism overgrowth in causing constipation
How Emma works to clear gut of bad bacteria


According to Dr. Gina Sam, Emma Relief works in 3 steps.


It speeds up the time it takes for waste to pass through the intestines, which helps your gut by keeping food from fermenting inside.

It roots out bad bacteria and parasites while simultaneously feeding the beneficial healthy bacteria.

It relaxes the intestinal muscles and calms nerves to provide smooth and easy waste elimination.


The ad for Emma Relief warns that without addressing these issues, methane gas build up released by Archaea can lead to conditions like SIBO, parasites, Leaky Gut, weight gain, and other issues.
Ingredients
Konscious states that the Emma Relief supplement differs from other treatments in that it relies on natural ingredients that have been used for centuries in traditional medicine.
Let's take a look at the key ingredients of Emma Relief.
Berberine
This alkaloid compound can be extracted from several plants.
It has traditionally been used to treat a variety of health problems and can be found as a key ingredient in many supplements.
For its use to address gut health, one study found it to improve symptoms associated with Diarrhea-Predominant Irritable Bowel Syndrome. [1]
Another study showed that herbal treatments which contained berberine as one of its ingredients were as effective as Rifaximin, the leading antibiotic, for the treatment of small intestinal bacterial overgrowth (SIBO). [2]
Deglycyrrhizinated Licorice (DGL)
Included in Emma Relief for its mucus producing properties that the company believes promote easier bowel movements.
There is research that supports the use of Licorice for healing some digestive issues, and its anti-ulcer and acid suppressing properties. [3], [4]
Star Anise
Konscious LLC claim that it helps release bile which aids in digestion. Star Anise has long been a staple of East Asian cooking and medicine.
It has anti-fungal, antibacterial and anti-inflammatory properties due its high content of flavonoids and polyphenols. There is some research supporting its use as a supplement. [5]
Quercetin
Another ingredient popular in many supplements, Quercetin is used in Emma Relief to support the gut barrier against leaky gut syndrome.
There is research that shows Quercetin supports the gut barrier. [6], [7]
Resveratrol
While there is some promising research on resveratrol's weight loss effects, much of it is done invitro or in animal studies.
Other ingredients in Emma Relief include: Vitamin D, Thiamin, Riboflavin, Niacin, Vitamin B6, Folate, Vitamin B12, Biotin, Pantothenic Acid, Magnesium, Zinc, Garlic bulb, Chicory root inulin, Larch arabinogalactan
Ingredient Summary
While there is scientific support for some of the claims made by Emma, it's important to first get a clear idea of what your health issues and needs are.
Gut issues can be difficult to diagnose and treatments often involve a combination of lifestyle changes, prescription medicine, and supplementation.
It's best to see a medical professional, nutritionist, or naturopath to get tested and properly diagnosed. This will help you set up a targeted treatment plan and avoid any potential side effects or interactions with medications.
Customer Service
If you have any issues or questions you can contact support at:
Email: [email protected]
Phone Number: 888-808-EMMA
The product comes with a 90-day money back guarantee. If you're unhappy with the supplement you can contact the company to initiate a refund.
Customer Reviews & Complaints
Much of the Konscious Emma Relief "Reviews" found online are from marketers promoting the product, so it takes some digging to find real customer feedback.
On some consumer advocate websites we found some negative customer reviews that mention issues with:


Long shipping times
Problems canceling orders
Not seeing fast results (although company does say it may take up to 3 months to fix long-term issues)
Customers felt the video presentation was misleading and designed to invoke fear


From our research we've also identified several red flags for Konscious LLC:
Their other popular product, Koncious Keto, has a significant amount of negative customer reviews on Reviewopedia and other review sites.
Customers often mention billing discrepancies, aggressive upsells, and refund delays.
They have an F rating with the BBB and 24 complaints submitted to that platform in the past 12 months. Company representatives do reply to BBB complaints and attempt to resolve issues via refunds.
Another potential red flag is that the address listed on EmmaRelief.com may be for a virtual office service and the website is registered out of Puerto Rico.
Finally, we do agree with some of the customers who felt the marketing video was fear based.
While Dr. Gina Sam does present factual information, the presentation, along with the graphics, are purposely designed to raise viewer anxiety, simplify complex problems, and elicit urgency to make a quick sale.
Is Emma Relief Worth It?
Depending on the health conditions it's used for, Emma may provide some relief but probably should not be relied upon to treat any recurring or persistent conditions.
If you do suffer from SIBO or IBS you should consult with your physician or nutritionist to come up with a comprehensive health plan. In most cases it will require a multi-pronged approach.
Some nutritionists and naturopaths recommend protocols that may include:


A Hydrogen Breath Test ([9]
Taking specific pre or probiotics
Possibly a round of antibiotics to kill the existing bacteria
Digestive Enzymes
Supplementing with Berberine & other antimicrobials like Allicin
Rectifying other vitamin or mineral deficiencies.
A diet designed to starve out bad bacteria (may include Elemental Diet, Candida diet, Keto Diet, or most likely a FODMAP diet)


So while the Emma Relief supplement has some of the ingredients commonly used in an herbal approach to treating gut issues, there are many more factors at play that may require consultation with a healthcare professional.
If you have any experience with the Emma Relief Digestive Supplement, please leave your reviews below.
You may also be interested in
Emma Relief Supplement Customer Reviews

Mia
The customer service number is the correct number, but the phone hangs up on you . This product DOES NOT WORK!!! Can't talk to anyone! Don't waste your money...