Gundry MD Total Restore Reviews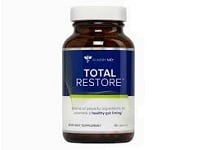 Total Restore is a dietary supplement by Gundry MD aimed at individuals afflicted with a condition called "leaky gut" syndrome, which is believed to affect many individuals and cause a wide range of varying symptoms.
Gundry claims Total Restore can also help combat achy muscles and joints, boost energy, and fight out-of-control food cravings.
How Does It Work?
Gundry MD is headed by Dr. Steven Gundry, a pediatric heart surgeon and director of the International Heart & Lung Institute in Palm Springs, CA.
He states that in his years working as a heart surgeon, he's come across unconventional yet effective knowledge on medicine and nutrition, which he then implements in his products.
Each bottle of Total Restore contains 90 capsules and is intended to be taken with each meal, or 3 per day.
Gundry states that user should feel the effects of Total Restore after a couple days, with a more dramatic improvement in digestion and health after the first 2-3 weeks or so.
Half of the ingredients in Total Restore work directly to combat indigestion and other issues related to the intestinal tract by decreasing levels of endotoxin produced by bacteria.
Endotoxins have the potential to cause a whole host of problems associated with symptoms of leaky gut syndrome.
The other half of the ingredients promote general wellbeing and health by providing the problem with vital nutrients.
Total Restore is made with all-natural ingredients and is designed to alleviate a number of these symptoms including reducing the amount of gas produced in the stomach, bloating, diarrhea, and constipation.
Gundry states that Total Restore is unlikely to induce any side effects thanks to the fact all their ingredients are made from natural sources.
For more information on the product's effects, it's always a good idea to consult a physician.
Cost and Price Plans
Each jar of Full Restore costs a little over half a hundred dollars on average, but on their website, you can get a single bottle for about just under a hundred dollars.
Gundry MD's website also includes various bundle package deals where buying multiple Total Restores decreases the price of each by a couple dollars.
This can be a little pricey for some, but if you and your physician both agree this product will work best for you, the expenses will be well worth it.
Customer Service
Gundry MD offers a 90-day return policy, cash back guarantee with no questions asked.
To order a refund or ask any question, you can contact the company's number at (800) 852 - 0477 or follow their Instagram and Facebook.
Also, seeing as Steven Gundry himself is the face of the company, you can contact him as well on both his twitter and facebook.
Customer Reviews & Complaints
Gundry MD, and number of their products including Total Restore, have received a polarized batch of critiques and reviews with customers leaning towards dissatisfied.
Most of the satisfied customers praise the quality of service and the effectiveness of their products with mid-ranged reviews saying there were multiple complications before getting their order.
A significant number of individuals who gave the company and Total Restore bad reviews complained about how the product was extremely ineffective and called Gundry MD "a scam" and "money sucking".
There were many any complaints about how their consent forms rope customers into payment agreements customers didn't intend on agreeing to.
Competitors and Alternatives
As mentioned, the gut treatment market is extensive with a number of product having their own unique ways of tackling symptoms.
CBO finisher made by Equilibrium is a daily probiotic. It is designed to strengthen your gut lining along with increasing your digestive system's ability to absorb nutrients.
The reviews for the product have been consistently positive across the board with minor complaints about its price. The price does clock in around a hundred dollars, twice more than Total Restore, so these complaints are warranted.
Still, customer satisfaction for the product is still higher than that of Total Restore in terms of general effectiveness.
Another effective all-natural supplement is Restore from Integrated Health. It claims to be a new generation supplement which has been scientifically proven to increase gut health.
Its ingredients are designed to encourage the growth of good bacteria and discourage the growth of bad bacteria.
Rather than being a probiotic (product already contains good bacteria), it is a prebiotic (ingredients create an environment in the intestines designed to promote good bacterial growth).
They claim this approach to gut health is much better than any other approach saying it's based off of modern immunological research.
Reviews for the product have been fairly positive with many customers proclaiming the product to be effective. The product tends to have a wide range of prices based on size, the smallest being $20-$30 and the largest at over $100.
Where to buy?
You can purchase Total Restore right on the Gundry MD website or on Amazon.
The Bottom Line
It's estimated that around 80% of individuals in America seek medical help regarding gut related symptoms. So the market for gut related treatments is vast to say the least.
If you're suffering from gut related issues and need an all-natural cure, then Gundry MD's Total Restore might just be the answer.
Total Restore has potential, but there's not enough empirical research done on the product to guarantee it will work for everyone.
It's also a bit of a gamble considering the product's cost, although it certainly isn't the most expensive on the market.
It's a good idea to consult with your doctor on what the best course of action is, and to see which supplements work best for you based off your health and condition.
If you have any experience with Gundry MD's Total Restore, please leave your reviews below.
You may also be interested in
Gundry MD Total Restore Customer Reviews