The Oxford Club Reviews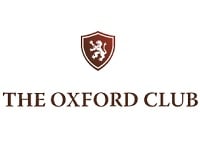 The Oxford Club is a private investment club which provides members with investment newsletters, reports, and other information on investment opportunities from investment director Alexander Green and the company's team of financial experts.
How Does it Work?
Alexander Green is the author of multiple newsletters and books concerning investment and wealth in the United States and has over 20 years of experience working on Wall Street.
The Oxford Club has been around for decades and can trace its roots back to the 80's when it was first acquired by The Agora company. This publishing group overseas a collection of independent companies such as
Agora Financial
Laissez Faire Books
Stansberry Research
Common Sense Publishing
Money Map Press
Wall Street Daily
Bonner and Partners
Institute of Natural Healing
Banyan Hill Publishing
Omnivista Health.
Cumulatively they have published hundreds of books and newsletters across a variety of niches and amassed close to a million subscribers.
Newsletters
The Oxford Club's flagship product is The Oxford Communiqué with Alexander Green.
This monthly newsletter claims to show you how to maximize your income, minimize risk, and lower your tax liabilities.
Each month you will be presented with Alexander Green's new investment opportunity. This includes a detailed analysis along with instructions of when to buy/sell, and for how much.
In their advertising they claim that, over the last 22 years, an investment of 100,000 would have yielded $921,000 if you followed The Oxford Communiqué picks. The promotion for the newsletter also tempts readers with a promise to reveal a $3 stock that will be the foundation of your Single-Stock Retirement Plan.
The Oxford Income Letter - This newsletter is produced by the company's Chief Income Strategist, Marc Lichtenfeld.
The focus is on dividend stocks and REITs, currently promoting their report - "The Great 2021 Real Estate Redo: Three REITs for MASSIVE Income"
VIP Trading Services
These 10 high end services are developed by the experts to provide you with their latest tips and strategies, and supposedly give you the best chance at succeeding in the market.
Each service is geared towards a particular niche or specific trading strategy developed by one of the experts. For example, one of these focuses on the latest trends, another on trading bonds, one on microcap stocks and so on…
The main thing to consider with these services is that they are priced much higher than the Oxford newsletters. With the average subscription cost at $4,000 per year.
We would definitely recommend exercising extreme due diligence before signing up for one of these services. It'd be wise to vet the Oxford Club through their other lower cost offerings before committing to spending this much money.
Further, one of the main criticisms against the company is that some subscribers felt these lower cost newsletters were just a vehicle for the promotion of higher costing services.
The Oxford Growth Investor
Written by Oxford Club financial strategists Matthew Carr and David Fessler, this newsletter shares their "RPM Investment Strategy" for rapid growth.
Cost and Price Plans
A Premium Subscription to The Oxford Communiqué costs $99 and includes digital (email and website) and print access. This includes four bonus reports, one of which is the popular, "The Gone Fishin' Portfolio."
Deluxe Subscription - $129 Includes digital (via email and website) and print subscriptions to The Oxford Communiqué.
Standard Subscription $49 - Includes digital-only subscription to The Oxford Communiqué.
Following your 1 year trial period each subscription will automatically renew for $79.
Note: All memberships at The Oxford Club are automatically renewed, so if you do not wish to continue your membership after the first year, you must cancel your subscription in advance. This applies to the higher priced VIP services as well.
Customer Service
If you would like to contact their member services team in regards to canceling your account or pausing auto renewal you can do so by calling 800-992-0205 or 443-353-4056, Monday through Friday from 9 a.m. to 5 p.m. ET.
You can also use their contact form at OxfordClub.com/contact-us/.
The company's physical address is listed as:
The Oxford Club
105 W. Monument St.
Baltimore, MD 21201
Newsletter subscriptions come with 365 day full refund policies, however VIP services are non refundable. In some cases, if you are unhappy, you can change your subscription to one of the other VIP Research programs.
Competitors and Alternatives
There is no shortage of investment services available to you, whether they're online or through your local broker.
Oxford Club is most often compared vs The Motley Fool and their Stock Advisor service. The Motley Fool claims to have returns of +598% against the S&P 500 returns of +146%.
The service costs $199 per year. While some traders enjoy their picks the company has its share of complaints and is rated lower than Oxford Club on some review sites.
Online Customer Reviews & Complaints
Given that Agora and The Oxford Club have been around for many years the companies have amassed a lot of online feedback. Unfortunately a lot of that is in the forms of complaints.
For instance, currently the BBB has an alert on its profile of the company. This was issued due to an alarming pattern of complaints that include allegations of:
False advertising
Refund issues
Customer service issues
Billing problems
and not delivering on claimed results
The BBB does state that as of 2020 the company responded to these complaints and is working to improve their customer service. At the time of this review their BBB accreditation has not been restored.
You can find additional complaints on this review page as well, with customers echoing similar dissatisfactions.
Furthermore, the parent company, Agora, along with some of their most popular subsidiaries like Stansberry Research and Money Map Press all have a history of poor reviews, exaggerated marketing tactics, and some with legal troubles.
Concerns About Oxford Club
Some of the stocks recommended by The Oxford Club are microcap stocks, or stocks that are generally very cheap per share. These stocks are often criticized because of how easy their prices are to manipulate.
For example, a company could buy a large amount of shares at at cheap price, then encourage others to purchase the stock to instigate a rise in the share price.
Once the price has risen significantly, the company can then sell their shares, resulting in the stock price dropping.
This is called a pump and dump scheme and, if provable, is illegal according the SEC.
It's important to double check all stock recommendations that you receive, as ultimately all investments, gains, and losses will be your responsibility.
The Bottom Line
An important thing to keep in mind is that there is a difference between investing and trading stocks. Thus it's important to carefully allocate funds based on your long term financial goals.
There are hundreds of newsletters, software products, trading platforms, and gurus who claim to show how to beat the market. It's a huge industry that generates hundreds of thousands of dollars.
It's easy to get swept up in the advertisements for The Oxford Club products; they use many tactics to appeal to emotions like promising incredible returns, proven trading strategies, and expert recommendations.
They've also teamed up with popular conservative personality Bill O'Reilly for some of their promotions.
However, many studies have shown that very few active investors can consistently outperform a benchmark like the S&P 500. The S&P 500's average long-term annualized return is around 10%.
A report from Dalbar Associates found that over the 20 years ending December 31, 2019, the average equity fund investor underperformed the market by close to 2% annually or almost 30% cumulatively.
This is why most investors should take the time to educate themselves as best they can and seek out stable investments that will steadily perform over the long term.
If you have any experience with The Oxford Club or their products, please leave your reviews below.
You may also be interested in
The Oxford Club Customer Reviews