Agora Financial Reviews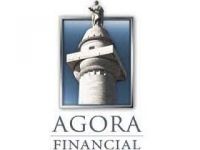 Agora Financial is a website and company that publishes information for their members on a variety of topics, which include many different newsletters both free and paid that members can opt into.
This company may be best known for their financial publications, which include a wide variety of approaches toward finances and investments, from traditional stock investments to penny stock options all the way to their newest publication, that has to do identifying potentially valuable coins.
Their newest publication asks a very basic question, "Do you have any of these coins in your pocket?" Because according to their independently conducted research, holding on to certain coins that are in production right now might be one of the safest and easiest investment opportunities to come along in more than 30 years.
Their video presentation says that in 1964 and in 1982, there was a certain type of coin produced that eventually rose so dramatically in value, that if you would have know what coins these were in 1964 and saved them, they would now have increased 616% in value.
In addition, these coins currently would not be difficult to find. They say that if you've purchased anything in the last 24 hours, or even just flip over your couch cushions, you probably have one of these coins.
Purchasing access to their publication will get you access to all the information you need to know what specific coin to find, how to find them, and what to do with them after you have found them.
Customers who questions about what else they have to offer, or whether they offer a refund policy should they have any complaints about what they receive can submit a question to their website, call their toll free number 1-800-708-1020, or mail them at the address 808 St. Paul St., Baltimore, MD 21201.
If you have any experience with Agora Financial or their products, please leave your reviews below.
You may also be interested in
Agora Financial Customer Reviews

Christi B
This is a scam!!! Don't waste your money!!!
I admit I had $$ in my eyes from the sales inflated propaganda that they use. I went in with the pretense that if I followed their business suggestions, I would be making a nice profit. Little did I realize what I actually signed up for. The salesperson was not very clear as to what I was investing in and to be honest was deceptive at best. They sold me Tim Sykes access to his way of buying and selling stocks. I watched his emails and watched his advice and very rarely did anything make money or actually make a trade. I bought into it and was told that I could cancel. Well, I missed the cut off date (my bad) and the second charge to my credit card. I take responsibility for that. As soon as I received this last statement, I phoned the number listed on the credit card statement. I asked to cancel my subscription, they said no problem we will credit your account. They cancelled one thing, but no money was credited. When I called back, he told me oh no, you cancelled this- not specifically the Tim Sykes report. How was I suppose to know? I called the number that was on my bill. They should have told me what this was cancelling. I assumed (wrong) that this was an umbrella and included all of the "companies". There are too many to name! I was told my money was not refundable. Then after much "discussion" the salesperson did give me my money back on the last "installment".
One does not make money with these people. Another major complaint I have is I received all of these emails from different people saying things like: do this or else, you will lose all of your money, the dollar will cease to exist at a certain date, buy gold and many, many more, too numerous to list. I was so overwhelmed by all of these unsolicited emails that I got very discouraged and disillusioned. I would unsubscribe and they would be gone for about a week and be right back spamming me. If I paid attention to all of these "newsletters" I'd be broke! Everyone of these "emails" only wanted you to invest in their systems which meant more wasted money.
Therefore, I caution no WARN everyone to STAY CLEAR of this company. Stay with your Edward Jones and such, at least they are accountable. This company is not even rated on the BBB. They have had over 350 complaints with the BBB in just the last 3 years; most of them over their sales and misrepresentation of the product. I even did research on Tim Sykes and it was positive, but he didn't perform at all. I am glad I got back the money for my last "installment" but they definitely prey on the inexperienced people.
I can't say enough terrible things without swearing so I just can tell you not to waste your hard earned money with this company! Flush it down the toilet you'll get more satisfaction.
When they recommend an "option", they don't explain what you are actually buying. They often buy on the margin and make it sound like you are buying the stock. Very deceptive practices especially for those not versed in the stock market. This company is only out for your dollars. They could care less on the performance of what they are selling. All of their sales pitches are a once in a lifetime occurrence; not a norm. So, take my advice! STAY AWAY FROM THIS COMPANY!!!!!

Agora F
I would not recommend Agora Financial
Me and by boyfriend used Agora Financial's services over 5 years ago.
Soon after signing up for their services we decided to upgrade to Platinum Reserve. It costed quite a lot - around $4000 as far as I remember.
We received a very little return and decided not to invest anymore.
If you thinking about investing through their services, check the reviews first: https://agora-financial.pissedconsumer.com/review.html

Rick S
I have been a supporter of Bill Bonner and Jim Rickard for a while as they are undeniably smart. Although I am now questioning how successful investors and honest they are. The trades on Strategic Intelligence since inception are overall loosing money or at best a wash. Also recently I subscribed to Jim Rickard's Project Prophesy based on insider's suspicious trading which is a good idea. The sale pitch presents 15 to 20 option trades with high returns on a short number of days. Upon accessing the subscription you can realize that those trades were never placed and were probably only back tested and that in between the many open/closed trades there are mostly losing trades and a few winning trades for an overall huge loss. Nobody can trade that and of course the customer service sticks to the non-refundable claim despite the flagrant misrepresentation.

JimButler
they are scam artists at best. I used a credit card to sign up for a program and paid $1785. Every investment they recommended tanked so I lost the program cost plus everything I invested.
The sad part is they then used my credit card info and put thru another charge of $1000. I disputed the charge without success. They told the credit card company that I had agreed to a lifetime subscription..They claimed I had talked to some dude named Wagner. I never talked to anyone and never heard of Wagner. I was sending nasty emails calling them liars and con artist. Now they have blocked all my emails so they come back as undeliverable.s Nice folks!
41785

austin l
Paid him 2000 and he did nothing for me fast talking scam artist

orgorg
I bought it. It did no good.
I paid thousands for a lifetime membership and they were supposed to make me money. They did not. After a few years they always wanted more money from me to give me more info. They have some good info that will make some people money but you may have to wait 6 years before you start making it. I did not make any money with them but I am more of a trader than an investor.

carlos B
The Doug Casey is a scam because in the video he said that you don't need to know anything about pot or nothing about stock market which is not true otherwise you end up like me losing or got take away the $3000 dollars Casey platinum subscription by this company Agora Financial so if you don't have at least $15000 to invest don't do it because they're gonna still your money and by the way the 6 pot stocks are CBWTF, IIPR, TWMJF, GRWG, KSHB, ABCCF , So don't spend any money in this crap .
Bye.

Victor Z
Lotta time and money needed.
Their main pitch is that one of their many many 'Supposed' experts will advise you on their particular investment schemes that will make you a lot of money on a small and even less that a dollar price make a steady nice profit and in some cases a millionaire in t very short time. Any where from a week to a year. It's not that they give you a particular stock or stocks to invest in but you make a decision based on your guess from info they give you which is usually, well not usually but always much out of date. They use a lot of graphs which can't be verified. Now the scam; Each and every one of their many persons has a large entry fee anywhere from $4,000 down to $37 bucks to get their info every Tuesday report. This pitch is made time after time and that is where they make their money, not investing in stocks. Now that they have your email address the all take, and at times new people, take a shot at "the entrance fee." Do not buy their tryst as there is no refund even stating they will give you an extra year to try some more at no charge if you can prove you didn't make their expectations. As Barnum & Bailey use to say "there is a sucker born every minute."
There is some good info given on different types of stock to invest in. One should not have to pay for this as they offer some in free mails.

martin
Lots of publications and promises and the one's I have tried never delivered. DO NOT WASTE YOUR MONEY Check out the reviews on stockgumshoe