Nutra Complete Reviews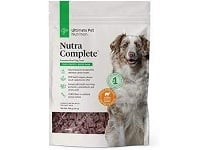 Nutra Complete dog food from Ultimate Pet Nutrition is a freeze dried dog food gaining popularity in the raw dog food world.
The founder of Nutra Complete, Gary Richter, is a veterinarian by trade that decided to develop freeze dried dog food with the benefits of a raw food diet.
How Does it Work?
Richter states this food, which mimics what your dog would eat in the wild, can be served one of two ways. The feeding instructions state that the food can be served dry or with water added (two cups of water per one cup of food).
When you purchase Nutra Complete, it will be delivered to your home in a freeze dried, dehydrated condition. This preservation takes place to conserve the nutrients in the food.
Many other dog foods on the market heat the ingredients to a high level, which takes away a great deal of nutrition. By freeze drying, you can retain the nutrients and pass them on to your pet.
What Are The Ingredients?
Nutra complete is made with real ingredients, making it appropriate for puppies or adult dogs. The elements that make up each serving size include:
Beef
Beef Liver
Beef Kidney
Beef Bone (Ground)
Flax Seed
Dried Kelp
Blueberry
Carrot
Sweet Potato
Spinach
Broccoli
Chicory
Salt
Cranberry
Yeast Culture
Pumpkin Seed
Ginger
Potassium Chloride
Taurine
Zinc Amino Acid Complex

Inulin
Diatomaceous Earth
Iron Amino Acid Complex
Vitamin E Supplement
Yucca Schidigera Extract
Niacin Supplement
Copper Amino Acid Complex
L-Carnitine
Manganese Amino Acid Complex
d-Calcium Pantothenate
Thiamine Mononitrate
Sodium Selenite
Vitamin A Supplement
Riboflavin Supplement
Pyridoxine Hydrochloride
Biotin
Vitamin B12 Supplement
Folic Acid
Vitamin D3 Supplement
Mixed Tocopherols (Preservatives)
What Does It Cost?
Nutra Complete comes in a bag size of 16-ounces, shipped directly to your home. Although you can purchase one at a time, you are privy to a significant discount if you are buying in bulk.
One Bag - $29.95
Three Bags - $80.85
Six Bags - $149.70
Shipping for the purchase of one bag of food is $4.95. However, if you purchase the three or six bag options, you qualify for free shipping.
Nutra Complete is also covered by a 90-day refund guarantee. Therefore, if your dog doesn't like the food or you are not happy with your purchase, you can request to have your money refunded to you.
How Is The Customer Service?
Ultimate Pet Nutrition offers several forms of contact for any customer service issues you may encounter, including a refund request.
Phone Number: 800-604-5827
Email: [email protected]
Additionally, you can reach them through:
Online Contact Form
Facebook
Twitter
Instagram
YouTube
Pinterest
However, there have been complaints from customers regarding the lack of human interaction that they get when they call the provided phone number.
At times they have only received an automated response and have struggled to connect with a representative of the company.
Online Customer Reviews & Complaints
Ultimate Pet Nutrition, the company behind Nutra Complete, has very high customer ratings on several platforms with a 4.7-star average for the company on one popular review site, with many customers praising the effects the food has had on their pets.
Additionally, the Better Business Bureau (BBB) rates the company with 4.2 stars, with minimal complaints and an A+ accreditation.
Because you can only purchase Ultimate Pet Nutrition products, including Nutra Complete, through their company website, there are a limited number of retailer reviews.
Customers appreciate the joint support that the food provides to their pets and the lack of recalls (at this time) that the company has experienced.
The reviews also express the appreciation that customers have in purchasing products for other pets in the home as well, including cat food and supplements.
Competitors and Alternatives
Several products are similar to Nutra Complete in what they provide, including the following:
Nutra Complete vs. Dr. Marty: Both product lines come as freeze dried and can be served in various ways. However, Dr. Marty's has a smaller ingredient list than Nutra Complete.
Vs. The Farmer's Dog: The Farmer's Dog is not freeze dried but is personalized to your pet's health and nutrition needs. Each feeding comes pre-packaged with no additional effort needed.
Vs. Ollie: Like The Farmer's Dog, Ollie is pre-packaged and fresh, not dried. However, their meals are cooked at low temperatures to retain the nutrients.
Is Nutra Complete Sold in Stores?
You can purchase Nutra Complete from their official website only. Ultimate Pet Nutrition products are not sold in popular chain stores like Petsmart and Chewy.
Is Nutra Complete Worth It?
It can be challenging to find the right pet food for your cat or dog. You want the best for them, but you also don't know what they will like or what they need nutritionally.
Having the ability to input your pet's circumstances and get a customized solution for their daily meals can put your mind at ease.
There are many options like Nutra Complete on the market. Although we appreciate having various options to choose from, we also greatly enjoy the top ratings that the company has received from current and previous customers.
It is hard to beat the top scores that independent review sources give Nutra Complete. It isn't often that you see a company that has such strong and positive online ratings.
Because of this and the money-back guarantee that Ultimate Pet Nutrition offers, we believe Nutra Complete dog food may be worth it.
As always consult with your veterinarian about making any kind of drastic switches in your pet's diet especially when switching them to raw foods.
If you have any experience with Nutra Complete dog food, please leave your reviews below.
You may also be interested in
Nutra Complete Customer Reviews