Nutra Complete Dog Food Reviews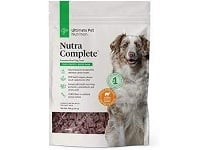 Nutra Complete Review: Worth Buying?
Nutra Complete from Ultimate Pet Nutrition is a freeze dried dog food that's growing in popularity amongst dog owners looking to improve their dog's health.
How Does it Work?
Ultimate Pet Nutrition is a premium brand launched by Dr. Gary Richter, a veterinarian that decided to develop pet products based on his years of firsthand experience.

He states his company uses only the highest quality ingredients and the latest pet nutrition science to develop their foods and supplements.
However, this high quality comes with a hefty price tag; below we take a closer look at the ingredients and product claims to see if it's really worth the cost.
Benefits of Freeze Dried Dog Food
Proponents of raw/freeze dried foods, such as Nutra Complete, claim there are incredible benefits to this way of eating versus traditional kibble.
This belief stems from the fact that regular kibble is subjected to extremely high levels of heating and over processing leading to a degradation of nutrition and a host of other negative issues.
Dr. Richter states that this high heat super cooking leads to the creation of Advanced Glycation End Products (AGEs). While this is a new field of study, there is research to support these assertions.
These compounds are formed when proteins are cooked in the presence of sugars, often occurring during many common food processing techniques for both pet and human food.
The accumulation of AGEs in the body has been linked with chronic inflammatory diseases in humans and other species.
However this is exacerbated in dogs, with one study showing that these compounds were found at levels 122 times higher for dogs than the average intake for adult humans.
Most likely because dogs eat the same food or type of food for the duration of their lives, which is a good reason to carefully research your dog's food.
Nutra Complete is also formulated with added fruits, vegetables, vitamins and minerals to meet the Food Nutrient Profiles set by The Association of American Feed Control (AAFCO).
The end result is a food which mimics what your dog's ancestor might have eaten in the wild and can be served one of two ways.
The feeding instructions state that the food can be served dry or with water added (two cups of water per one cup of food).
Concerns With Freeze Dried Foods
Freeze dried dog foods & treats are intended to offer the benefits of a raw food diet with the convenience of kibble.
Yet there is still an ongoing debate about the benefits vs risks of raw feeding, and most vets avoid recommending them due to several concerns.
The first being the increased risk of exposure to harmful bacteria like Salmonella, Campylobacter, and E. coli.
This applies to both pets and their owners as the bacteria can spread in the places it's handled, your dog's saliva, and their waste.
Since freeze dried dog foods are never cooked, they potentially carry the same risks associated with consuming/handling any raw meat.
One often cited raw dog food study concluded that "Bacterial contamination is common in commercially available raw meat diets…".
However, to be fair, that study did also find non-type-specific Escherichia coli in the non raw food they tested.
Also of interest, one small sample size study found that "The freezing and drying processes may reduce, but not eradicate, the bacterial contamination in raw pet food."
However, despite veterinary protests and FDA warnings, the drive to feed dogs a more "primal" diet is strong, and is reinforced by the belief that dogs should eat like wolves, which is further propagated by companies' marketing campaigns.
Proponents of raw feeding will point out that the high acidic contents of dog's saliva and digestive tracts are adept at neutralizing ingested bacteria.
Stating that if you treat your pet's raw foods with the same precautions as you would handling any raw meat you will avoid many of these dangers.
Furthermore, many of the high profile pet food recalls have come from non freeze dried standard commercial dog foods.
Nutra Complete Ingredients
Nutra complete is made with real ingredients, making it appropriate for puppies or adult dogs. The elements that make up each serving size include:


Beef
Beef Liver
Beef Kidney
Beef Bone (Ground)
Flax Seed
Dried Kelp
Blueberry
Carrot
Sweet Potato
Spinach
Broccoli
Chicory
Salt
Cranberry
Yeast Culture
Pumpkin Seed
Ginger
Potassium Chloride
Taurine
Zinc Amino Acid Complex

Inulin
Diatomaceous Earth
Iron Amino Acid Complex
Vitamin E Supplement
Yucca Schidigera Extract
Niacin Supplement
Copper Amino Acid Complex
L-Carnitine
Manganese Amino Acid Complex
d-Calcium Pantothenate
Thiamine Mononitrate
Sodium Selenite
Vitamin A Supplement
Riboflavin Supplement
Pyridoxine Hydrochloride
Biotin
Vitamin B12 Supplement
Folic Acid
Vitamin D3 Supplement
Mixed Tocopherols (Preservatives)
Where to Buy Nutra Complete Dog Food?
Nutra Complete is sold in select west coast retailers. You can check their website to find a possible option near you.

Cost and Price Plans
Nutra Complete comes in a bag size of 16-ounces, shipped directly to your home.
Although you can purchase one at a time, you are privy to a significant discount if you are buying in bulk.


One Bag - $59.95
Three Bags - $170.85
Six Bags - $323.70


Nutra Complete is also covered by a 90-day refund guarantee.
Therefore, if your dog doesn't like the food or you are not happy with your purchase, you can request to have your money refunded to you.
Customer Service
Ultimate Pet Nutrition offers several forms of contact for any customer service issues you may encounter, including a refund request.


Phone Number: 800-604-5827
Email: [email protected]


However, there have been some complaints from customers regarding the lack of human interaction that they get when they call the provided phone number.
At times they have only received an automated response and have struggled to connect with a representative of the company.
Customer Reviews & Complaints
Ultimate Pet Nutrition, the company behind Nutra Complete, has very high customer ratings on most review websites.
The company has a 4+ star average for the company on Reviewopedia and Truspilot, with many customers praising the effects the food has had on their pets.
Additionally, the Better Business Bureau (BBB) rates the company with 4.2 stars, with minimal complaints and an A+ rating.
Because Ultimate Pet Nutrition products are primarily sold through their website there are a limited number of retailer reviews.
Positive customer reviews on Reviewopedia mentioned the joint support that the food provides to their pets and the lack of recalls (at this time) that the company has experienced.
The complaints for Nutra Complete mainly center around the product's extremely high cost. If served as your dog's main food it would probably be too expensive for most customers.
Competitors and Alternatives
Several products are similar to Nutra Complete in what they provide, including the following:


Nutra Complete vs. Dr. Marty - Both product lines come as freeze dried and can be served in various ways. However, Dr. Marty's has a smaller ingredient list than Nutra Complete.


Nutra Complete vs. The Farmer's Dog - The Farmer's Dog is not freeze dried but is personalized to your pet's health and nutrition needs. Each feeding comes pre-packaged with no additional effort needed.


Nutra Complete vs. Ollie - Like The Farmer's Dog, Ollie is pre-packaged and fresh, not dried. However, their meals are cooked at low temperatures to retain the nutrients.
The Bottom Line
It can be challenging to find the right pet food for your dog. You want the best for them, but you also don't know what they will like or what they need nutritionally.
Furthermore, the endless debate between raw or cooked food often leaves customers even more confused and under the influence of scare tactics from both sides.
While there is scientific evidence to support both arguments, one area where both can agree is that ingredient and manufacturing quality are crucial.
So you should try to find brands that use USA sourced proteins, adhere to the best practice manufacturing standards, and meet AAFCO nutritional guidelines.
Some premium brands will even go as far as using human grade and ethically raised ingredients.
Nutra Complete states they meet these requirements and has many positive customer reviews online.
However, the high cost of the product may make it only feasible as a topper or food mixer to supplement your dog's nutrition.
As always, consult with your veterinarian when making changes to your pet's diet, especially when switching them to raw foods. Changes should be made gradually and incrementally to avoid potential intestinal distress.
If you have any experience with Nutra Complete Dog Food, please leave your reviews below.


You may also be interested in
Nutra Complete Dog Food Customer Reviews