Dr. Marty's Nature's Blend
Dr. Marty's Nature's Blend Reviews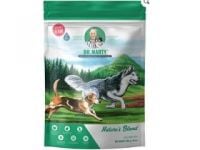 Dr. Marty's Nature's Blend was created by Dr. Martin Goldstein, also known as Dr. Marty. He states that his mission to help boost your pet's health started when he himself had poor health in his 20s.
He then then discovered a macrobiotic diet as being highly beneficial for overall health. Since then, he claims his aches and pains have been gone and he lost twenty pounds. He then tried the macrobiotics diet on one of his client's dogs, and discovered similar results.
How Does Dr. Marty's Nature's Blend Work?
Dr. Marty Dog Food claims to be a breakthrough in veterinary science and focuses more on preventing the deterioration of your pet's health rather than curing a disease. As such, Dr. Marty insists on only using the best ingredients for your dog, rich with multiple protein sources and never any cereals, grains, or fillers.
Nature's Blend is freshly made in the USA and densely packed with vitamins and minerals. The Premium Freeze-Dried Dog Food is a nutrition-packed formula is a blend of various meats, fish, ranch-raised beef, duck, and other protein sources with fruits and vegetables for a balanced diet. &nbsp
&nbsp
The formula is freeze-dried to retain the nutritional value of the food. Uunlike other companies that cook the food intensively, Premium Freeze-Dried Raw Dog Food is designed to imitate the food that your dog would eat in the wild.
Customer Service
You can find this particular brand in stores and on their website, DrMartyPets.com. Dr. Marty's Nature Blend claims it's designed for the overall diet for dogs of all breeds, so you do not need to choose one specific to your dog's breed.
If you do purchase from their website and your dog's health does not improve, you can return the unused portion within 90 days from purchase. Dr. Marty's offers a warranty worth 100% of the purchase price, effective starting the day the product is shipped from their fulfillment center.
A portion of each purchase goes directly to the Freedom Service Dogs of America.
Cost and Price Plans
A bag of Nature's Blend (net weight 454g) costs US$59.95, which puts it in the premium priced pet food category.. You can save up to 10% when you buy larger quantities from their website.
Online Reviews/Complaints
Online reviews of Dr. Marty's Nature Blend are mostly positive. People love the product because their dog's feeding habits become better. Reviewers report that their pets gained weight, became more energetic and healthier.
Some reviewers testified that their pets' liver enzymes improved dramatically after two weeks of eating Nature Blend, and that their pets have more energy and sleep better.
As for negative reviews, some people found Dr. Marty's Nature Blend too expensive and are are looking for an alternative freeze-dried blend that is both high-quality and more afffordable.
Competitors and Alternatives
Tender and True also use organic recipes, but are priced simlarly. However some retailer stores offer a large discount if you are a member.
Fromm Gold Adult Dog Food have several lines of dog food which are based on your dog's breed and can be cheaper, depending on the line.
Orijen Tundra is also an alternative of Dr. Marty's Nature Blend. Their pet food line is grain-free, has 80% protein and 20% fruits, and is generally more affordable.
Where to Buy Dr. Marty's Nature's Blend?
You can find Dr. Marty's Nature Blend at their website at DrMartyPets.com/contact/, or you can email them at [email protected] On their website they often offer discounts when you subscribe to their newsletters.
If you have any experience with Dr. Marty's Nature's Blend, please leave your reviews below.
You may also be interested in
Dr. Marty's Nature's Blend Customer Reviews