The Farmer's Dog Reviews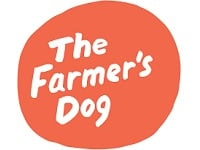 The Farmer's Dog is a pet food brand that states their aim is to replace standard dog kibble with a freshly-cooked meal delivery service.
How Does It Work?
The company offers a straightforward approach to delivering fresh and healthy dog meals to customers.
At TheFarmersDog.com, customers create an online profile for themselves and their pet by providing some basic information such as their name, email address and zip code, as well as their dog's age, weight, sex and breed. This process takes less than five minutes.
From there, customers will be asked to evaluate their pet's body type, activity levels and eating preferences, after which they can choose the meal plan they prefer.
Meal portions are determined by your dog's caloric needs, which are calculated by the breed, age, and weight.
Once ordered, the daily pre-portioned meals will arrive in an insulated box to keep the food fresh and include feeding instructions.
The first order will contain enough meals for a two week test trial. Afterwards, meals will be billed and shipped every 3 weeks.
Note: Be advised that The Farmer's Dog is a subscription service that is auto-renewed. If you wish to cancel or pause your plan you will have to manually do so in your account settings.
Products and Ingredients
The Farmer's Dog meals are gently cooked then flash-frozen to protect nutritional integrity. Since the ingredients do not contain any preservatives you have to follow safe handling and storage procedures, just as you would for other fresh food.
The meals need to be kept refrigerated or frozen before feeding. Farmer's Dog includes a helpful guide with instructions on storage and feeding.
There is no cooking required. You can simply serve the meals straight from the fridge, with the option of adding a bit of hot water if your dog prefers it.
The main selling point of Farmer's Dog meals is that you will be feeding your dog real food. The company goes on to state that the meals are:
Vet Developed Human Grade Food
Prepared in USDA Certified Kitchens
Gently Cooked to Maintain Nutritional Integrity
Nutritional Profile Exceeds AAFCO Industry Standards
Regularly Tested for Dangerous Pathogens & Nutritional Adequacy
The Farmer's Dog meals feature four main recipes to choose from: turkey, chicken, beef and pork. The ingredients for each blend are as follows:
Turkey - USDA Turkey, Chickpeas, Carrot, Broccoli, Parsnip, Spinach, Fish Oil,

TFD Nutrient Blend [tricalcium phosphate, sea salt, vitamin B12 supplement, choline bitartrate, taurine, zinc amino acid chelate, iron amino acid chelate, vitamin E supplement, copper amino acid chelate, thiamine mononitrate, riboflavin, potassium iodide, pyridoxine hydrochloride, vitamin D3 supplement, folic acid]


Pork - USDA Pork, Sweet Potato, Potato, Green Beans, Cauliflower, USDA Pork Liver, Fish Oil, TFD Nutrient Blend.


Chicken - USDA Chicken, Brussels Sprout, USDA Chicken Liver, Bok Choy, Broccoli, Fish Oil, TFD Nutrient Blend


Beef - USDA Beef, Sweet Potato, Lentils, Carrot, USDA Beef Liver, Kale, Sunflower Seeds, Fish Oil, TFD Nutrient Blend
Additional Ingredient Information
One independent dog food investigator has concluded that The Farmer's Dog maintains the following standards:
All ingredients originate in North America and Europe.
All packaging is BPA free and recyclable
No Denaturing, HPP or Bacteriophages
Ingredient suppliers are required to provide certificates of analysis including microbiological testing, toxin evaluation and nutritional specifications.
All incoming ingredients have been tested for pathogens and arrive with a certificate of analysis.
Every batch of pet food is tested for microbial contamination and certain vitamins and minerals.
All recipes are tested quarterly for a complete nutritional profile.
Health Benefits of Fresh Food vs Dry Kibble
Farmer's Dog claims that after switching to their brand your dog may experience:
Improved Digestion
Stronger Immune System
Healthier Skin
Shinier Coat
Increased Vitality
TheFarmersDog.com provides links to studies and articles regarding the pet food industry, and some of those findings are truly troubling.
The pet food industry is regulated but still rife with misinformation and marketing tactics that deliberately confuse customers and obfuscate the ingredients of the food.
One study tested 52 pet foods and found that 20 of them were potentially mislabeled, and that 16 contained meat species that were not included on the product label.
While animal feed and pet foods are regulated by the USDA, under the AAFCO [Association of American Feed Control Officials] guidelines pet manufactures can still get away with using sub-standard ingredients.
For instance, the AAFCO states
"Meat and meat byproducts not directly suitable for animal food that are designated as 4-D (dead, dying, diseased or disabled). These are considered adulterated—unless processed in a manner that rids them of disease-causing microorganisms prior to becoming animal feed. This is most often done by rendering, which subjects the materials to heat and pressure to eliminate harmful bacteria."
While this type of animal feed may be rendered to eliminate bacteria, there is a possibility that some harmful contaminants can still work their way into the food.
These may include denaturing agents, cattle tags, packaging materials and chemicals, harmful medications such as antibiotics, steroids, and preservatives such as ethoxyquin, BHA, and BHT, and sodium pentobarbital, which is used to euthanize animals.
These kinds of meats are allowed to be used in kibble but not in fresh or raw pet foods.
For these reasons it's important to research your dog's food. Usually the price point is a good place to start since cheaper brands are more commonly using low quality ingredients.
Cost and Price Plans
The cost of each Farmer's Dog meal plan will vary since each meal plan is customized according to your dog's age, weight, activity level, and other factors.
You will be able to determine the price of your plan after you have filled out the questionnaire on TheFarmersDog.com.
While you can choose which meals you want in your dog's plan, at this time there does not appear to be an option to customize the meals themselves.
Because of this, if your dog has certain sensitivities your food options through Farmer's Dog may be limited. The company also does not cater to a prescription diet at this time.
TheFarmersDog.com offers a 20% off discount on your first purchase. If you're not happy with the food you can send it back or donate it to a shelter.
To determine the approximate cost of The Farmer's Dog meal plans we ran their questionnaire for two different sized dogs.
As an example, to feed an 85lb Active Malamute would cost $13.49/day, while to feed a 35lb active Aussie Shepherd would amount to $6.55/day.
Customer Service
For more in-depth information about the company's products and services, you can get in touch with them via email at [email protected] or through their Instagram and Facebook accounts.
You can also reach them by phone 646-780-7957.
Online Customer Reviews & Complaints
Generally, The Farmer's Dog has very positive customer reviews.
Customers commonly praise the company's focus on the quality and freshness of dog meals, how conveniently the meals are pre-packed for daily use, and the fast and reliable shipping.
However, there are still some negative reviews given regarding the high pricing of meals, limited protein options, container issues, and lack of available options for prescription diets.
The Farmer's Dog is not accredited by the BBB but has an A+ rating there. They do have some complaints on that platform which mainly deal with meal shipping and scheduling issues.
On a positive note, those complaints have been responded to and resolved by a customer service agent.
Note: Some Farmer's Dog negative reviews mentioned running out of food too quickly during the trial period. Keep in mind that the The Farmer's Dog guidelines call for gradually mixing the food in with your dog's current food, and not replacing it completely from the start.
Where to Buy?
Customer can order The Farmer's Dog meals at TheFarmersDog.com.
The company states they do not sell through retailers to as a strategy to reduce costs, citing their commitment to investing more in their food's quality rather than paying fees to retailers.
Competitors and Alternatives
If you like the concept of The Farmer's Dog but are considering other options, there are a few alternatives worth noting.
The Farmer's Dog vs Just Food for Dogs - Just Food offers a similar product of cooked meals with real food ingredients, and often has more options and at a lower price point.
The Farmer's Dog vs My Ollie - My Ollie also provide cooked meals with real ingredients, and offer more protein options.
The Farmer's Dog vs NomNomNow - Fresh Food meals are also available for cats with this service.
A final alternative is The Farmer's Dog DIY meal plans, which are a particularly good option for those whose main concern is the high price point the meals.
The DIY meal plans will provide you with the recipes, an ingredients list, portion guidelines to prepare the meals, as well as packets of The Farmer's Dog nutritional blend to allow you to prepare the meals yourself.
This option requires a bit more time but saves on the budget.
The Bottom Line
If you consider the vast amounts of diseases and illnesses that dogs are susceptible to, it may make sense to feed your dog a premium food.
With the amount of recalls and contaminations found in budget brands, switching to a company that uses human grade food and regularly tests their products is a good bet.
If it's in your budget then you should definitely consider feeding your dog a premium food. While the initial costs will be higher it may save you money in the long run by keeping your dog healthier.
We believe that The Farmer's Dog makes a good case for their product, is regularly recommended by industry experts, and keeps their promise of providing food according to USDA standards.
If you have any experience with The Farmer's Dog or their products, please leave your reviews below.
You may also be interested in
The Farmer's Dog Customer Reviews

Marel T
Don't expect any communication - - so don't order!
I tried to send an email regarding the "Trial for $64.40 had to pay $1.00 to get one what the heck? There was no order number for any kind of questions or communication. Really? Wanted to know who would be the delivery agent? Nothing! All the customer concerns were not available. I am sure this "Review" will not be published. All goes for thefarmersdog benefit and nothing for the customer I canceled.

Marianne W
I have been feeding my two dogs Farmers Dog for 3 years and I love it. The food is fresh and great quality and the customer service is excellent

Neil M
My son buys this for his dog and she loves it. I have to put it in her dish some days and have to say the packaging is quite awful.
I can never serve it without getting my hands covered in the stuff. For such a well positioned product at a high price, how come they haven't figured out the packaging.
Is there a specific dispenser the bag sits in that squeezes the food out or are you left to push contents down and out, then use a knife to fish out the remaining food and cover yourself in the process?
Not a fan!

DAWN B
loved the product, however it is expensive and delivery was an issue. I received notification that delivery was made but it was not made to my home address but dumped outside a side gate of the community I lived in.
I only found out when a nice young man in the community saw the delivery guy dump it outside of the side entrance gate of the community. I understand that could happen once with a new driver since I had been receiving it months correctly before. I called and gave explicit directions to front gate and provided a gate code.
It happened again and the food had thawed by the time we found it. Each time I called and gave instructions again. Third time ....same thing dumped outside the gated community instead of delivering it to my home. I have two dogs and spent 200.00 monthly just to have it dumped in bushes next to a side gate to be stolen or eaten by the wild animals in the area.
DONE I am now ordering from another company who knows how to properly deliver and read directions.

Jim C
Its not fair that people who might be willing to invest this amount of money in a product for the well being of their beloved pets should have such a difficult in time trying to contact the seller. I just recently signed up for farmers dog (haven't even finished the trial order) and just have a few simple questions.
One would think that such a lucrative operation would have at least decent customer service. I'm so frustrated and annoyed that I am seriously considering cancellation. The problem with that is "farmers dog" also makes that an "act of congress". Although, since I haven't had time to evaluate the product, I'd rather give it a chance, and stick with it, at least until the trail is over.
This company's lack of consideration with customer service is truly unacceptable. I'm so frustrated that I wish I'd never heard about farmers dog. The irony of this review is that "at this point" it has nothing to do with the product, only the lack of customer service. Its not right!

Mabelline
I need to CANCEL my account but can never get through to the company. The phone number (646-780-7957) never works -- that they don't even have an 800 number should be a clue. There is no way to email them because the site redirects you to "create another account"??? Can't find an address to mail them either.

Gregory L
I was unsure of the claims on the Farmers dog website but decided to give it a try just to see if Bella would eat (she's been a rather picky eater at times). I ordered a 2 week supply and when I fed her the first time, she ate it like I've never seen her eat before.
She LOVES it. She finished the meal, licked the bowl, licked the outside of the bowl, licked the place mat it sits on and then went back and licked the bowl again. We got her a 3 blend order of beef, chicken and pork and she loves all three. I will continue to order this for a month at a time.
The only drawback I see is that you need to make sure you have enough storage space in between feedings. That's why I order a month of meals instead of the 2 month order.

Jean M
Heads up on billing practices
After completing the lengthy questionnaire process to order this food, was told my prepaid card would not be accepted. Now obviously, my prepaid Visa card is just that: prepaid. So they know there absolutely going to get their money there. But they won't accept that. Because they don't want my payment. They want the ability to reach into my pocket and take *further* payments, without my permission.
Wrote owner and they said they were "working on being able being able to accept prepaid cards". (This was a Visa, btw.) I pointed out that as a business owner I know that they can take these payments just like any other Visa card, and they don't have to "work on being able" to take them, they just have to stop deciding they won't. He said yeah but they had gotten several "scam trials" so they could not, but not to worry, they would cancel when asked.
Right. So two questions:
1) if you don't mean to take more money than I mean to give you, why do you need an open-ended payment instead of a single assured one? And
2) what is a "scam trial"? I'm about to pay you over $135 for one week of dog food for two medium dogs and if I'm not willing to give you a blank check instead of a single payment for that I'm "scamming" you? Isn't the point of a trial that we get to try it before we pay for more? Is your premise that you're going to be taking a loss for a week of food that costs what the USDA says should easily feed a family of four?
Heads up, folks. I will not do business with this type of company. Subscriptions are the new way for companies to take more money than you mean to spend. How many of us have NOT had trouble cancelling something like this?
I will never buy another subscription on an open card instead of one I control. If a business owner feels he is entitled to have his hand in my pocket instead, he can just stamp his little feet all he wants: not going to happen.

Nedra J
My picky senior dog didn't like their food, but they were great about canceling. It was fresh too.

Sheila W
I feel that I am owed some type of resolution
I was receiving food for my dog Tina.  The caloric content had to be increased after a conversation with a rep from Farmer's Dog.  Tina's calories were increased because she stayed hungry after eating.  Following the caloric increase, this still was not ample as I mentioned in an email to Julie and customer support.  I was having to feed one and a half packs at each feeding which depleted her food and I had to purchase food to make on my own. 
As I mentioned, I am a senior in not great health on SS.  This was quite stressful for me financially.  Then, I had a conversation with Julie about other possibilities such as selecting the Optimal Plan and adding to it instead of full prepared packets of food each week.  I mentioned that I would revert back to her once I made a decision and to put all on hold.
Well, without notice, apparently a box was sent out which I never received because I was not expecting any deliveries and I had not been at home for several days taking care of personal family matters. 
On top of this, Tina's beef recipe apparently was tainted with blue plastic that had gotten into her food recipe.  Then, I was told that I would receive a free order of food for her ... which I have not.  My card having been charged without permission ... only to be told that a refund would be forthcoming up to 10 days ... so, I have no cash in my account because of Farmer's Dog error and then I have to wait for my money and Tina has no food. 
Come on, guys.  This is not right. 
Thank you.
Sheila W

Ronald S
The food stinks! My dog takes one whiff and walks away. I tried it, cancelled my subscription and they still sent $150 more that I can't use. Don't buy it! They suck big time.

Ruthanne
Our Boxador is a picky eater. We have tried everything! Thought we would give a stab at farmers dog and lo and behold she LOVES it!!!! Fresh and delivered right to your door. A little pricey but for a healthier longer life——she's worth it!!!!!

Judy C
Comparison: The Farmer's Dog, My Ollie, Pet Plate dog foods
All of these specialty dog foods have the following in common. They are expensive. Each order is near or over $100. They must be ordered on their websites. They are delivered to your door by UPS or Fed Ex. They arrive frozen. Or they should at least arrive cold. If they are not cold to the touch, notify them and they'll replace the order. They're packed in dry or ordinary ice but not much of it, so it'll be water by the time you get it. All of them are working on shipping packaging so it might be better by now. Takes up to four days to get to you. They say you can refreeze if they are defrosted. They take up a LOT of freezer space because you get a 2-4 week supply. You must sign up for varying schedules of automatic delivery. Any changes to your delivery schedule must be made on their website. You can suspend delivery for up to 6 weeks for My Ollie. You can halve the order for one of them, can't remember which. You can cancel them on their websites. They all meet minimum requirements nutritionally.
The Farmer's Dog food comes in a flat plastic pouch. Lots of them. It's a real pain squeezing it out of the pouch in the proper amount because, depending on your dogs size you will use only part of it. And the servings aren't marked on the pouches. You'll have it on your hands by the time you're done. The food looks like wet dog food but smells better.
My Ollie comes in a flat plastic container. Lots of them. They send you a lid for the containers which is reusable and a scoop for measuring. The food looks grainy in texture, which is a bit weird, and smells like real food. It's real easy to measure and serve.
Pet Plate used to come in smaller containers than the others which was convenient if you have a small to medium size dog. Now they ship in much larger containers which take forever to defrost, but unlike the others above, Pet Plate suggests defrosting in the microwave if necessary. The food looks like chunks of veggies and meat mush. The amount of carrots in this food varies from a few pieces to a lot of pieces. The chicken variety is mushy. The lamb variety has a surcharge. They have beef, too.
My dog loved all of them but he'll eat anything he can fit down his throat.