The Farmer's Dog Reviews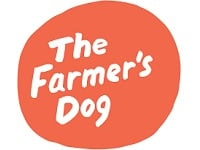 The Farmer's Dog is a pet food brand that states their aim is to replace standard dog kibble with a freshly-cooked meal delivery service.
How Does It Work?
The company offers a straightforward approach to delivering fresh and healthy dog meals to customers.
At TheFarmersDog.com, customers create an online profile for themselves and their pet by providing some basic information such as their name, email address and zip code, as well as their dog's age, weight, sex and breed. This process takes less than five minutes.
From there, customers will be asked to evaluate their pet's body type, activity levels and eating preferences, after which they can choose the meal plan they prefer.
Meal portions are determined by your dog's caloric needs, which are calculated by the breed, age, and weight.
Once ordered, the daily pre-portioned meals will arrive in an insulated box to keep the food fresh and include feeding instructions.
The first order will contain enough meals for a two week test trial. Afterwards, meals will be billed and shipped every 3 weeks.
Note: Be advised that The Farmer's Dog is a subscription service that is auto-renewed. If you wish to cancel or pause your plan you will have to manually do so in your account settings.
Products and Ingredients
The Farmer's Dog meals are gently cooked then flash-frozen to protect nutritional integrity. Since the ingredients do not contain any preservatives you have to follow safe handling and storage procedures, just as you would for other fresh food.
The meals need to be kept refrigerated or frozen before feeding. Farmer's Dog includes a helpful guide with instructions on storage and feeding.
There is no cooking required. You can simply serve the meals straight from the fridge, with the option of adding a bit of hot water if your dog prefers it.
The main selling point of Farmer's Dog meals is that you will be feeding your dog real food. The company goes on to state that the meals are:
Vet Developed Human Grade Food
Prepared in USDA Certified Kitchens
Gently Cooked to Maintain Nutritional Integrity
Nutritional Profile Exceeds AAFCO Industry Standards
Regularly Tested for Dangerous Pathogens & Nutritional Adequacy
The Farmer's Dog meals feature four main recipes to choose from: turkey, chicken, beef and pork. The ingredients for each blend are as follows:
Turkey - USDA Turkey, Chickpeas, Carrot, Broccoli, Parsnip, Spinach, Fish Oil,

TFD Nutrient Blend [tricalcium phosphate, sea salt, vitamin B12 supplement, choline bitartrate, taurine, zinc amino acid chelate, iron amino acid chelate, vitamin E supplement, copper amino acid chelate, thiamine mononitrate, riboflavin, potassium iodide, pyridoxine hydrochloride, vitamin D3 supplement, folic acid]


Pork - USDA Pork, Sweet Potato, Potato, Green Beans, Cauliflower, USDA Pork Liver, Fish Oil, TFD Nutrient Blend.


Chicken - USDA Chicken, Brussels Sprout, USDA Chicken Liver, Bok Choy, Broccoli, Fish Oil, TFD Nutrient Blend


Beef - USDA Beef, Sweet Potato, Lentils, Carrot, USDA Beef Liver, Kale, Sunflower Seeds, Fish Oil, TFD Nutrient Blend
Additional Ingredient Information
One independent dog food investigator has concluded that The Farmer's Dog maintains the following standards:
All ingredients originate in North America and Europe.
All packaging is BPA free and recyclable
No Denaturing, HPP or Bacteriophages
Ingredient suppliers are required to provide certificates of analysis including microbiological testing, toxin evaluation and nutritional specifications.
All incoming ingredients have been tested for pathogens and arrive with a certificate of analysis.
Every batch of pet food is tested for microbial contamination and certain vitamins and minerals.
All recipes are tested quarterly for a complete nutritional profile.
Health Benefits of Fresh Food vs Dry Kibble
Farmer's Dog claims that after switching to their brand your dog may experience:
Improved Digestion
Stronger Immune System
Healthier Skin
Shinier Coat
Increased Vitality
TheFarmersDog.com provides links to studies and articles regarding the pet food industry, and some of those findings are truly troubling.
The pet food industry is regulated but still rife with misinformation and marketing tactics that deliberately confuse customers and obfuscate the ingredients of the food.
One study tested 52 pet foods and found that 20 of them were potentially mislabeled, and that 16 contained meat species that were not included on the product label.
While animal feed and pet foods are regulated by the USDA, under the AAFCO [Association of American Feed Control Officials] guidelines pet manufactures can still get away with using sub-standard ingredients.
For instance, the AAFCO states
"Meat and meat byproducts not directly suitable for animal food that are designated as 4-D (dead, dying, diseased or disabled). These are considered adulterated—unless processed in a manner that rids them of disease-causing microorganisms prior to becoming animal feed. This is most often done by rendering, which subjects the materials to heat and pressure to eliminate harmful bacteria."
While this type of animal feed may be rendered to eliminate bacteria, there is a possibility that some harmful contaminants can still work their way into the food.
These may include denaturing agents, cattle tags, packaging materials and chemicals, harmful medications such as antibiotics, steroids, and preservatives such as ethoxyquin, BHA, and BHT, and sodium pentobarbital, which is used to euthanize animals.
These kinds of meats are allowed to be used in kibble but not in fresh or raw pet foods.
For these reasons it's important to research your dog's food. Usually the price point is a good place to start since cheaper brands are more commonly using low quality ingredients.
Cost and Price Plans
The cost of each Farmer's Dog meal plan will vary since each meal plan is customized according to your dog's age, weight, activity level, and other factors.
You will be able to determine the price of your plan after you have filled out the questionnaire on TheFarmersDog.com.
While you can choose which meals you want in your dog's plan, at this time there does not appear to be an option to customize the meals themselves.
Because of this, if your dog has certain sensitivities your food options through Farmer's Dog may be limited. The company also does not cater to a prescription diet at this time.
TheFarmersDog.com offers a 20% off discount on your first purchase. If you're not happy with the food you can send it back or donate it to a shelter.
To determine the approximate cost of The Farmer's Dog meal plans we ran their questionnaire for two different sized dogs.
As an example, to feed an 85lb Active Malamute would cost $13.49/day, while to feed a 35lb active Aussie Shepherd would amount to $6.55/day.
Customer Service
For more in-depth information about the company's products and services, you can get in touch with them via email at [email protected] or through their Instagram and Facebook accounts.
You can also reach them by phone 646-780-7957.
Online Customer Reviews & Complaints
Generally, The Farmer's Dog has very positive customer reviews.
Customers commonly praise the company's focus on the quality and freshness of dog meals, how conveniently the meals are pre-packed for daily use, and the fast and reliable shipping.
However, there are still some negative reviews given regarding the high pricing of meals, limited protein options, container issues, and lack of available options for prescription diets.
The Farmer's Dog is not accredited by the BBB but has an A+ rating there. They do have some complaints on that platform which mainly deal with meal shipping and scheduling issues.
On a positive note, those complaints have been responded to and resolved by a customer service agent.
Note: Some Farmer's Dog negative reviews mentioned running out of food too quickly during the trial period. Keep in mind that the The Farmer's Dog guidelines call for gradually mixing the food in with your dog's current food, and not replacing it completely from the start.
Where to Buy?
Customers can order The Farmer's Dog meals at TheFarmersDog.com.
The company states they do not sell through retailers to as a strategy to reduce costs, citing their commitment to investing more in their food's quality rather than paying fees to retailers.
Competitors and Alternatives
If you like the concept of The Farmer's Dog but are considering other options, there are a few alternatives worth noting.
The Farmer's Dog vs Just Food for Dogs - Just Food offers a similar product of cooked meals with real food ingredients, and often has more options and at a lower price point.
The Farmer's Dog vs My Ollie - My Ollie also provide cooked meals with real ingredients, and offer more protein options.
The Farmer's Dog vs NomNomNow - Fresh Food meals are also available for cats with this service.
A final alternative is The Farmer's Dog DIY meal plans, which are a particularly good option for those whose main concern is the high price point of the meals.
The DIY meal plans will provide you with the recipes, an ingredients list, portion guidelines to prepare the meals, as well as packets of The Farmer's Dog nutritional blend to allow you to prepare the meals yourself.
This option requires a bit more time but saves on the budget.
The Bottom Line
If you consider the vast amounts of diseases and illnesses that dogs are susceptible to, it may make sense to feed your dog a premium food.
With the amount of recalls and contaminations found in budget brands, switching to a company that uses human grade food and regularly tests their products is a good bet.
If it's in your budget then you should definitely consider feeding your dog a premium food. While the initial costs will be higher it may save you money in the long run by keeping your dog healthier.
We believe that The Farmer's Dog makes a good case for their product, is regularly recommended by industry experts, and keeps their promise of providing food according to USDA standards.
If you have any experience with The Farmer's Dog or their products, please leave your reviews below.
You may also be interested in
The Farmer's Dog Customer Reviews