Nutra Complete Reviews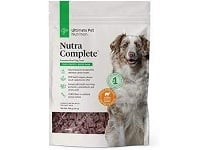 Nutra Complete Customer Reviews

Lydia W
I was so tickled at my yorkies reaction. They usually sniff their food and decide whether to stay or walk away. I crumbled it to mix with regular food and dampened it. By the time I walked back to the kitchen and turned around, they were both there, just wiggling. I walked them back to the feeding station to tell them to eat and it was gone !!! They have never eaten that fast. When they hear me open the bag, they are at my feet ready to fill their little tummies. Millie is 12 and has a little pep in her step now. Cooper is 6 and a picky eater. He loves it too.

Wendy
Roxy loves her new dog food, that is a win in itself because she would sometimes ignore her food days at a time and that always made me worry. Now she eats it as soon as I give it to her, twice a day. Needless to say she is gaining some weight, so I made need to regulate it a little more. I haven't noticed much difference in her energy level, but she is youngish and I don't think she ever had a lack of energy. What I have noticed is her fur is much softer. All in all I have to give the food an excellent review, I just wish if was a little more affordable. I am going to have to mix it with other food to keep her on it, but I suppose you get what you pay for.

Jackie
Since using this food my dog is scratching less which was one of our biggest issues. He's an older dog and seems now to have a little more spunk. He obviously loves the taste because he devours it when fed.

Eric
My dog loves the food and is more energetic
So far I am really happy with the food. I am feeding a 13 year old yellow lab. She loves the food and licks the bowl clean at every meal. I think she is more active than she has been and is happier.