Ultimate Pet Nutrition Reviews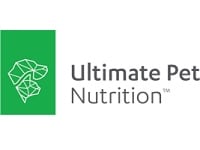 Ultimate Pet Nutrition, headed by Dr. Gary Ritcher, is a company marketing a line of pet food, pet nutritional supplements, and treats intended to improve pet health.
Dr. Ritcher is a leading holistic veterinarian in the pet nutrition movement. Along with his book, The Ultimate Pet Health Guide, he has developed a powerful canine supplement called Nutra Thrive.
Products and Ingredients
The company's product line aims to address a wide range of health issues and deficiencies that a modern dog may experience. They claim to do this through the use of:
Science backed ingredients
Grain free products
US based manufacturing
Independent 3rd-party product testing
Below we take a look at some of their best selling products to see what they can offer your furry friends.
Nutra Thrive For Dogs
Nutra Thrive is a bacon flavored powder supplement that provides 40 different healthy ingredients to support your dog's whole body in a number of ways.
This canine supplement features a blend of four different probiotics to help balance the good and bad bacteria of your dog's gut.
A healthy microbiome can improve and support a wide variety of bodily functions, even dental health and bad breath. It also contains antioxidants, vitamins, and digestive enzymes that promote healthy digestion and are easy to absorb.
Along with digestive support, Nutra Thrive also contains a special immune boosting Superfood Blend that includes a blend of medicinal mushrooms and plants to provide necessary vitamins and minerals.
As well as a Super Canine Blend that provides essential vitamins and minerals that help boost your dog's mood and energy, improve joint health, and support their heart and kidneys.
This is Ultimate Pet Nutrition's flagship product and the one you've probably seen the most advertisements for.
It also has many positive reviews with customers claiming this supplement helped with issues such as:
Weight loss
Increasing energy
Stimulating appetite
Healthier looking coat
And even with dental hygiene
The company also makes a Nutra Thrive formula for Cats. For more info check out our in depth Nutra Thrive For Dogs Review.
Nutra Complete Dog Food
This is a high end dog food that can be used as a primary food or as a topper. The blend is 100% freeze dried and features a combination of raw beef, fruits, and vegetables.

They claim it includes 40 Veterinarian-Approved Ingredients that will maintain optimal digestion, energy levels, and your dog's immune system.

Further, Ultimate Pet Nutrition explains that one of the key benefits to using freeze dried versus traditional kibble is in avoiding the consumption of Advanced Glycation End Products (AGEs).

Traditionally prepared dog food undergoes several rounds of extreme high heat cooking; this becomes an issue for two reasons.
First off, it strips the original ingredients of nutritional value forcing the companies to re-add nutrients after the cooking process.
Secondly, and more importantly, high heat cooking of animal proteins in the presence of sugar undergoes a chemical process known as the Maillard Reaction.
The negative outcomes of this, in regards to dog food, are the potential loss of essential amino acids that dogs rely on their diet for, and the creation of these Advanced Glycation End Products.

The prolonged ingestion of AGEs can lead to states of inflammation and the potential development of some cancers.
Studies have also linked them to a whole host of other issues in dogs and this research is behind the increased drive towards raw/human grade food diets for dogs.
While this dog food is appealing the one drawback is the high price, leading most customers to use it as a meal topper or feeding a 50/50 blend of Nutra Complete and their current dog food.
For more information check out our detailed review of Nutra Complete.

Some of Ultimate Pet Nutrition's other notable products include:
Nutra Bites - A line of freeze dried dog treats, available in several protein types.
Juve Flex - Advanced Canine Joint Supplement
Canine Comfort - Calming and Relaxation Support
Cost and Price Plans
As mentioned above, Ultimate Pet Nutrition has positioned itself as a premium pet food brand and that is reflected in their prices.
Their products do come with some options for discounts if you buy in bulk or join their membership program.

For reference:

1 16oz bag of Nutra Complete costs $59.95
1 jar containing 30 scoops of Nutra Thrive costs $69.95
Customer Service
If you have any questions or issues you can reach out to a representative via multiple channels. You can email the company at [email protected] or call them at (800) 604 – 5827.
You can also send a message through their contact page at UltimatePetNutrition.com/contact/ .
Ultimate Pet Nutrition backs all of their products with a 90 Day Refund Promise. Their website states that if you do not see a difference in your pets health using their products you can reach out for a refund.
If you are returning a product you will have to ship it back at your own expense.
Where to Buy?
You can get their products directly from their website or through select brick and mortar locations.
Most are located in California, where the company is headquartered, and in other pet stores across the west coast. Use their website to check for a location near you.
Online Customer Reviews & Complaints
For the most the feedback is very positive for the products themselves. Anecdotally, there are many online stories of pets experiencing incredible reversals in health conditions.
However there are still some reasons to be skeptical, for instance some of the positive feedback comes from websites that receive commissions for promoting Ultimate Pet Nutrition products.
Also, we have not seen Ultimate Pet Nutrition listed on some of our sources for best dog food brands.
The company is accredited by the BBB with an A+ rating. There they maintain a customer rating of 4.16/5 stars from 961 customer reviews.
There are some complaints that pop up from customers regarding the website and the ordering process. Some users claimed to have mistakenly ordered more than they originally intended via upsell offers - then had to go through the tedious process of obtaining a refund.
However the main complaints for Nutra Thrive and Nutra Complete are based on the prohibitive costs of the products, especially if you are shopping for a large breed.
For instance some customers have stated that if feeding solely Nutra Complete a 50lb+ dog could go through 3 bags in a little over a week.
Competitors and Alternatives
As interest in pet health continues to rise alongside increased consumer spending there's been a correlating rise in boutique and health focused dog food brands.
Some leading trends have been towards grain/gluten free dog foods, human grade ingredients, and raw food diets for dogs. However, it's important to do your own research and consult with your veterinarian before making any drastic changes to your pet's diet.
Some popular alternatives to big store brands include: Ollie, TruDog, and The Farmer's Dog.
Is Ultimate Pet Nutrition Legit?
Based on the positive reviews we believe these products may have a place in your pets diet.
For example a dog that has lost interest in their current food may benefit from a high nutrient topper such as Nutra Thrive. Or you could mix in the higher quality freeze dried food as ¼ or ½ mix with their current food.
But as stated above Ultimate Nutrition Products are expensive and you might be best served to find a lower priced alternative for your pet.
As always carefully check the ingredients of any new foods against any possible allergies your pet may have and consult with a vet before making serious changes.
If you have any experience with Ultimate Pet Nutrition or Nutra Thrive, please leave your reviews below.
You may also be interested in
Ultimate Pet Nutrition Customer Reviews