Nutra Complete Reviews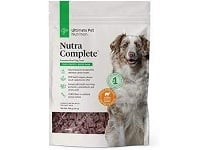 Nutra Complete Customer Reviews

Gary
It Really helped our 14 year old chihuahua
All of our dogs Love the food now at first there were a couple (a male and a female chihuahua) Both wanted to role their bodies in the food like animals do with other dead animals. Then they started eating it and they Love it now. The best example of Your food is we have a 14 year old long hair chihuahua that we rescued when she was very young (less than a year old the vet said about 5 months old) she looked like she had been hit by a car. Now at 14 she was not moving well and had lost her energy and didn't want to eat anything unless it was real soft! We started feeding her Nutra Complete and now she is very active for a 14 year old and eats all the time, her long black coat is starting to shine again and she has dark blue eyes and they are bright again. I don't believe anything unless I see results the result in this one dog is great. Now if it helped reverse the Pannus in our German Shepard I would call it a miracle food He has had Pannus since he was two he is now six. I will keep using Nutra Complete with all our dogs we have seven and four are rescues!!!!!!!

Joe W
Can't believe the change.
My Jack Russell/mix started on Nutra Complete about 6-7 weeks ago. He gets it in the morning and his regular food in the evening. He is a new dog. As a rescue who is now 6, he is more like he was 4 years go. And his poop doesn't stink. He is regular. And on top of all that he loves the food. Though it is expensive on a teacher's salary, I am glad I can give it to him in the morning. And it is making a big difference. I can't get used to his excitement at 6 AM when I feed him... he jumps literally 3-4 feet into the air when I go to bring him the food. And he sits quietly and patiently for the three minutes that it has to sit before I feed it to him.

Elaine B
I always have cooked for my dog CJ (Captain Jack). He will be 8 year's old in June. He is about 15 pounds. He is very fussy and I couldn't believe how he took to Nutra Complete. I top it on his ground turkey in the evening meal and he LOVES it!
I don't even have to worry about him taking his heartworm and flea tick pills. I just put the pills in with the Nutra Complete and they're gone! So glad I found you on the internet. I also enjoy all the tips sent my way. Thank you very much. Elaine & CJ

Margie W
Cali loves her Nutra Complete
I have a 6 month old Havanese puppy. She loves her Nutra Complete! She knows the bag that sits on the counter and in the morning she sits and waits for me to take her portion and mix with warm water. When it is ready I have her lay down and pray to be grateful for all the blessings we will receive today, then eats her Nutra Complete, licking the bowl dry.

Doris
My dog Annie, was having issues using her hind legs. One day she was fine and overnight she couldn't use her hind legs and scooted dragging her body to get around. I took her to the vet and said it was inflammation and arthritis. Her prescribed anti inflammatories and pain meds. That helped but she still dragged her body. I put her in a wagon to help get her outside. My hair dresser told my to try Nutra Thrive, she swears by it. So I researched the web page and ordered it. She has now been on it for about 6 months and runs and is more frisky than when she was younger. She is a corgi and 8 years old. I have recommended this to everyone that I know who has pets. I give it to my other dog who is only 3 years old. So very glad to have found this product. The love the treats too. We use the dog food as treats also.

Karen A
The effect Nutra Complete has had on my dog.
My 9 1/2 year old collie loves her new dog food. She can't wait to eat each morning. She has more energy and is more playful.
My only problem is with the cost. It is too expensive so I have to continue mixing the organ meat with the Merrick dry food I fed her previously.

Mary L
My dog LOVES this food. He is a Doodle and they are picky eaters.
The food is easy to prepare and smells great.
My dog has had less gas and smaller poops (and who doesn't love that?)
I hope this food becomes wildly popular so maybe the price will come down. I feed my dog half his daily intake with Ultimate Pet Nutrition. I wish I could exclusively feed my dog this product but I just can't afford it right now.
This is honestly one of the best products I have ever tried. I am a nurse practitioner and I feel the ingredients and the preparation are the BEST money can buy.

Roxanne F
I bought this dog food for my two Yorkies and my Pomeranian. While waiting for the food to arrive I purchased a Rottweiler puppy for my brother. My three dogs ate it like it was a treat. And my brothers puppy chewed it right down. They all four loved it. Which is great!
Only thing negative it's way too expensive for me to continue to purchase it. Being retired I don't have the money to purchase it. If they bring down the price. I would purchase it in a heart beat.

B. H
The tastiest and most nutritious dogfood ever
I cannot rave enough about this dogfood. My dogs love it, and the best part is that it is the most complete nutrition they can get. It is easy to prepare, convenient to use, and by far the best dogfood my dogs have ever eaten. If they could talk they would echo my words. Thank you for an excellent product.

Dave
Rascal loves Nutra Thrive!
Our Shishon puppy came to us at 8 weeks old on a diet of dry kibble from a brand highly recommended by our veterinarian. For several months he gobbled up his every meal. Then suddenly one day he lost interest in eating. We found Nutra Complete a month ago, and he all but dances with excitement when he hears me mixing the freeze dried food with water.

Marco
My Sebastian Polish Lowland Sheepdog PON'S love the food so far I just start give to him the first 3 bags mixed with his previous food followed the instructions came with that, a soon it'll finish I'll give only the Nutra Complete

Lydia W
I was so tickled at my yorkies reaction. They usually sniff their food and decide whether to stay or walk away. I crumbled it to mix with regular food and dampened it. By the time I walked back to the kitchen and turned around, they were both there, just wiggling. I walked them back to the feeding station to tell them to eat and it was gone !!! They have never eaten that fast. When they hear me open the bag, they are at my feet ready to fill their little tummies. Millie is 12 and has a little pep in her step now. Cooper is 6 and a picky eater. He loves it too.

Wendy
Roxy loves her new dog food, that is a win in itself because she would sometimes ignore her food days at a time and that always made me worry. Now she eats it as soon as I give it to her, twice a day. Needless to say she is gaining some weight, so I made need to regulate it a little more. I haven't noticed much difference in her energy level, but she is youngish and I don't think she ever had a lack of energy. What I have noticed is her fur is much softer. All in all I have to give the food an excellent review, I just wish if was a little more affordable. I am going to have to mix it with other food to keep her on it, but I suppose you get what you pay for.

Jackie
Since using this food my dog is scratching less which was one of our biggest issues. He's an older dog and seems now to have a little more spunk. He obviously loves the taste because he devours it when fed.

Eric
My dog loves the food and is more energetic
So far I am really happy with the food. I am feeding a 13 year old yellow lab. She loves the food and licks the bowl clean at every meal. I think she is more active than she has been and is happier.