Glasses USA Reviews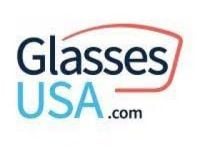 Glasses USA is an online store which aims to offer the highest quality optical products – prescription glasses and sunglasses – at the most affordable prices, in the fastest time possible.
If you are a first time customer at Glasses USA and are interested in signing up for their free newsletter, you can create an account with them and receive a coupon for 50% off your first purchase plus free shipping.
The company also offers what they call a Best Price Guarantee. If you see your frames for a better price elsewhere, the website will match that price and lower it by 10% - that's the final price you will pay.
The website allows you to search for frames in three different ways. By Frame Features, including gender, color, shape, and materials, by Measurements, to make sure you have the perfect fit, or by Personality, which requires you to take what they call a "fun, short" quiz.
After choosing your frames, they will be quickly processed in the labs of Glasses USA within 3-6 business days, and immediately shipped.
Once your glasses are shipped, the shipping time till range between 2 and 4 business days, depending on what shipping service you choose.
All customers who order frames from Glasses USA will have the ability to make "no questions asked" returns for 30 days. If you have any complaints, you can return your glasses with free shipping for a full refund.
If you have ordered Premium frames, or glasses with specialized features such as Polarization, you will be charged a 20% restocking fee before your refund will be processed.
Since Glasses USA provides eyeglasses at up to 70% off the retail prices you will find in brick and mortar stores, they do not take vision insurance to pay for their products.
If you have any experience with Glasses USA or their product, please leave your reviews below.
You may also be interested in
Glasses USA Customer Reviews