Blissy Pillowcase Reviews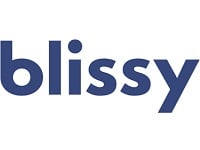 Blissy Pillowcase Review: Worth the Price?
Blissy is a bedding company marketing a brand of silk pillowcases, sleep and face masks, and hair accessories made from 100% pure mulberry hypoallergenic silk.
Why Silk Bedding?
For a lot of people, cheap pillowcases can be a contributing cause to poor sleep, skin issues, and hair appearance because cotton and other cheaper bedding materials can absorb beneficial oils from the skin and hair during sleep.
Additionally, the moisture captured by cotton bedding can rob the body of its natural oils, leading to dryer and frizzier hair, and creating a breeding ground for bacteria which can lead to skin breakouts.
Cotton pillowcases also create more friction with your skin and hair, which can lead to irritated skin, and the constant pulling on your hair can result in tangles and breakages. A high quality silk pillowcase can mitigate a lot of these issues.
When it comes to bedhead and wrinkles, studies show that silk pillowcases are effective. They can help provide you with the much-needed smooth surface for you to sleep on while also reducing frizz and creases.
Blissy makes a lot of claims in regard to the many different ways that their pillowcase can improve your sleep when compared to other leading brands.


They company claims that Blissy pillowcases are:


Naturally breathable
Moisture wicking
Temperature regulating
Bug resistant
Hypoallergenic
Oeko-Tex certified (non-toxic/eco-friendly)
What Material Does Blissy Use?
Blissy pillowcases are advertised as being 6A-22 Momme 100% Mulberry Silk Mean.
6A is a top of the line designation for silk and 22 Momme refers to the weight and density of the material, similar to thread count for sheets.
Since silk is so fine a material it's not measured per thread.
While 22 Momme is not the highest density silk available, according to Blissy and other bedding manufacturers, it's a sweet spot for silk pillowcases when taking into account comfort and cost.
The 100% Mulberry is also an important designation as it means that the raw material comes from silkworms that feed on mulberry leaves, and it isn't diluted with cheaper silk materials.
There are many knock-off brands that claim to use Mulberry silk, but still blend their materials with other thread.
The downside that comes with using premium 100% Mulberry Silk is the high price tag.
Customer Service
Blissy has a pretty transparent customer service policy. You can reach customer service by e-mail at [email protected] by phone at (888) 590-9670.
Blissy also has active Facebook, Twitter, Instagram, and Pinterest pages.
The company offers a 60-Day Money Back Guarantee, giving you ample time to find out if these pillowcases are right for you.
Returns can be sent back to the company's mailing address in Burbank, CA.
Although all orders must be returned in their original packaging, you don't have to pay return shipping if the return is due to a reason that is the company's own fault.
For any other returns, you must pay return shipping.
FAQ
Where can you buy Blissy pillowcases?
At this time you can only buy Blissy directly from their website.


Are Blissy pillowcases machine washable?
Yes, but it's important to follow the instructions carefully, and you may want to also use a garment bag in the washing machine for extra protection.


How much do Blissy pillowcases cost?
Blissy pillowcases are priced as a premium bedding product. Most options start at prices no lower than $69.95 - with king pillowcases costing even more.
Shipping is often free or discounted, however, and there is an email newsletter that you can join to be eligible for special deals.
Customer Reviews & Complaints
Online customer reviews of Blissy pillowcases are overwhelmingly positive, with reviewers on their own website stating that there is no pillowcase quite as comfortable, and that they have been sleeping better since using Blissy.
Interestingly, this is one of the few companies we have reviewed that actually includes some constructive criticism in the reviews they post on their website.
One reviewer stated that you have to be careful the first few times you clean your Blissy pillowcase because it can leach dye if left in the water for too long.
You'll find some negative customer reviews online as well, with most of the complaints focusing on some element of a customer service failure.
Some customers claimed to have been charged for more pillows than intended to purchase, or that they had issues with advertised promotional pricing not being applied to their orders.
A handful of reviewers also mentioned that they didn't experience the thermogenic effects of the pillow, nor the promised improvements to their hair.
With that being said, the bulk of reviewers were ultimately happy with their purchases. Many reviews note the importance of following the pillowcase care instructions to avoid damaging the product.
Blissy pillowcases are an "Amazon's Choice" product, where they receive a high rating of 4.5 / 5 stars from over 800 customer ratings.
The company does offer incentives for customers to write online reviews (presumably positive ones) through their Blissy VIP loyalty program.
The company is not BBB accredited and does have some complaints on that platform. However, it appears that their customer service team makes an attempt to resolve those issues via refunds.
Competitors and Alternatives
There are plenty of alternatives to Blissy pillowcases, some of which cost more or less, depending on where you choose to buy them. Many of these are available on Amazon.
One of these options is the One-Sided Silk Pillowcase by MYK. This pillowcase helps you save money because only one side of the pillow is silk.
This makes sense since you only sleep on one side of a pillow. The other side of this pillow is cotton and the pillowcase is thinner than a Blissy pillowcase, but it's also less expensive.
Another premium brand offering a similar Mulberry silk pillowcase is Slip, one of the closest products to Blissy on the market.
They also sell a 100% Pure 22 Momme Mulberry Silk Pillowcase that has good customer reviews.
If you're hesitant about spending so much money on a pillowcase you can explore some of the other cheaper options, or try a satin pillowcase first.
Satin provides some of the same benefits as silk but at a fraction of the cost. This can be a good way to experiment with different types of bedding options before committing to a pricier high end brand.
A satin pillowcase from Kitsch can be a good place to start, the company is an 'Amazon's Choice' selection and has a high rating of 4.5 / 5 stars from 80+ customer ratings.
Is Blissy Worth it?
If you're trying to upgrade your bedding, investing in a premium pillowcase may be worth it.
According to many beauty magazines and dermatologists, switching to silk, satin, or even copper pillowcases can have marked improvement on your skin and hair health.
The added cool of silk sheets can be a relief if you run hot during sleep and find your current bedding stifling, which can improve the quality of sleep.
The downside to these premium products is the upfront cost and the more involved care required. Even though these materials are less prone to bacteria they still need to be laundered regularly.
Blissy pillow cases may be worth it if you're in the market for a high-end luxury product. The company offers a 60-day money back guarantee, and has fairly positive customer reviews.
If you have any experience with the Blissy Pillowcase or their other products, please leave your reviews below.
You may also be interested in
Blissy Pillowcase Customer Reviews