BioTrust Reviews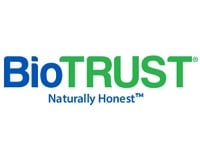 BioTrust Review: A Detailed Look
BioTRUST is a company specializing in manufacturing health supplements that they state improve areas of physical and mental functioning and boost overall health and wellbeing.
Products & Ingredients
BioTrust states their products are tested or safety, producing minimal side effects, and that they contain naturally honest, organic, and healthy ingredients, making them effective for weight loss, health, and muscle development.
BioTRUST products contain several key ingredients:


BioPerine® - This patented black pepper extract contains a high concentration of Piperine, a natural bioavailability enhancer that helps increase the body's absorption of fat-soluble nutrients.


Vitamin D3 - Believed to help reduce the amount of the hunger-producing hormone ghrelin in your body.


Coral trace minerals - Believed to help cleanse your digestive system of any toxins. This can improve your body's digestive functioning, as can ginger, which calms and soothes the intestinal tract.


Digestive enzymes - Makes it easier for your body to process food.
Is BioTRUST a Reputable Company?
This company has been around since 2001 and has established a large customer base. On Reviewopedia, BioTRUST has generally positive customer reviews.
While the company has an A+ rating with the BBB, it also has mixed reviews from customers there.
Some customers state they have negative experiences during the ordering process, arguing that the company does too much upselling at the time of checkout.
Other customers however appreciate that the company has a wide selection of products that are all affordably priced.
BioTRUST also offers bundle packages and Stock Up options that provide a greater discount on the price of their products, as well as a monthly shipment option which includes a discount and free shipping on the chosen product(s) each month.
More recently there has been an issue that customers are concerned about BioTRUST invoice scam, where they have received an incorrect email invoice from the company for a large amount of money.
BioTRUST has released a statement that this invoice was a glitch in their system and was sent by mistake. The company has asked customers to ignore it.
Customer Service
If you have questions about your BioTRUST product or need to get ahold of customer service you can create an account on BioTrust.com to view all of your information for fast recording and tracking.
You can also contact the company via email any time of the day or week at [email protected].
Alternatively, you can reach them through their phone number a 1-800-766-5086 if you live in the United States or Canada.
The BioTRUST return/exchange policy includes a 60 Day Money Back Guarantee.
To initiate a return, contact the company and you will receive a pre-printed label so you can return your product.
Where Can I Buy BioTRUST?
You can purchase BioTRUST from the manufacturer itself via BioTrust.com or through Amazon.
Cost and Price Plans
The average cost of BioTRUST products varies depending on the exact type of product you select. Most bottles average between $49 and $69 per bottle.
Orders ship at a flat rate of $6.95 regardless of the order value. All international orders ship with a country-specific shipping price.
The Bottom Line
While you'll want to do the appropriate research to determine whether BioTRUST is the right product for you, most users agree that these products are well worth the price.
Weight loss can be challenging, and while proper diet and nutrition can help you make the most of your journey, it can't hurt to have a little help along the way from BioTRUST.
Of course, you'll want to consult a doctor before beginning any new supplement regimen.
You'll also want to read the instructions or select the Q&A for the product on the website before you purchase.
If you have any experience with BioTrust or their products, please leave your reviews below.
You may also be interested in
BioTrust Customer Reviews