BioTrust Reviews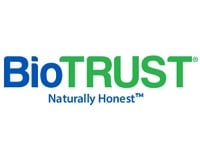 BioTrust Customer Reviews

Bill G
Listened to the entire on line presentation (which was redundant and
Boring). They only tout the tablet, which they pitch as the end all. Then I researched the product and all the reviews talk about a nasty tasting shake which is required on the diet.They never mention the shake which doubles your costs! Typical BS/con artist, and not very slick. I'll pass.

Gina
Biotrust Low Carb Protein Powder, BCAA Matrix, Leptiburn, Absorbmax, IC5
As a lifelong vegetarian and borderline diabetic, getting the right protein in the right quantities at the right time without sugar spikes or crashes- a real battle! Conservatively, I've tried 30 different protein supplements over the past ten years, and NONE of them have tasted as good or performed as well as this product. The supplement industry is so poorly regulated- there's a ton of really bad stuff out there on the market- really scary. Now that Biotrust has come into my life, it's hard to imagine how I coped before ( I didn't really- just got fat and bloated or went broke and got bored from eating organic eggwhites). For those who really understand the issues and/or have very delicate nutritional balances like me, this protein powder is absolute nirvana!!! That being said, I love their BCAA matrix even more!!!!
Actually, I went crazy and ordered a 6 month supply of their whole line. 2 weeks and I haven't lost much weight but I'm dropping inches like crazy. My mood and energy levels are dramatically better. Even better - I have hope because I sense I have FINALLY found the solution.

Derek
Biotrust Low Carb Protein, BCAA, IC-5
Love all 3 of these products! The protein powder is amazing tasting! I've been taking protein supplements for 15 years and finally Biotrust has come out with one without artificial sweetners and a lot of sugar that actually tastes good. The product mixes very well and should be consumed within 10 mins due to a digestive enzyme in it called Prohydolase, which they said aids absorption of the protein up to 40 times! I'll take bang for my buck! I am not sure how the other reviewer had issues finding the scoop. The containers are only 3/4 full. You tilt the container to the side and the scoop magically appears under the shifted powder.
Also the BCAA product is a great pre or post workout supplement to help build and seems to be working great so far.
For the carb lover in all of us, you have to love the IC-5 product. I no longer have sugar crashes thanks to this product. Also, it is supposed to partition the carbs to the muscles for energy instead the of the fat cells to be stored as fat. I definitely can workout a bit longer and my waistline feels a little slimmer. Thanks for making great products!

Sheila
I have not been able to try the product as yet.
As it has been impounded here.after much frustrating negotiations ,they will now release the two packages .1that contain just one bottle I will have to pay some 37.07€. The other containing 6 bottles 82.74€.
So be warned do not buy from the E.U.

Stephen
My wife and I have switched to a mostly organic food and healthy eating lifestyle. So we figured we'd give the BioTrust protein powders a try, both vanilla and chocolate. I have used many different lines of protein powder, from Myotein to Muscle Milk to Trader Joes to Isopure etc, and the BioTrust line is the absolute worst tasting and worst mixing powder I have ever tried. I'm not bashing them unfairly. I'm just being honest. My wife and I were truly looking forward to using a natural protein powder, as she was pregnant at the time and trying to naturally increase her protein intake. We wanted to use it so badly that we even contacted customer service on how when I mixed the powder in a shaker, it turned into total foam. Their response (in short) was that because it was a natural product it foams more and should go down in 15-30 minutes. I don't know about you, but I don't have time to wait or my protein shakes to "de-foam". But we tried it anyway. I left a chocolate shake over night and it still had a 2 inch head of foam the next morning. Now the taste... It is basically one big glass of blandly flavored chocolate or vanilla Stevia. Again, bottom line, not good. It's not chalky, it's just gross. I wish I had had a better experience, as I really wanted to like it, but the product was poorly made. One last note to BioTrust... Don't fill the bottle to the brim with powder and then bury the scoop. It makes it impossible not to spill the expensive product all over the kitchen. There is a reason all the large manufacturers put their products in huge, half filled containers. It's for the benefit of the consumer.

Lisa
Biotrust Low Carb Protein
The ABSOLUTE BEST tasting protein powder I have ever had.....and I've had many. Love, Love, Love it! I just ordered the Leptiburn so I can't say yet. FYI... I've lost 31 lbs. so far just on the protein powder, eating right and exercising (a little)