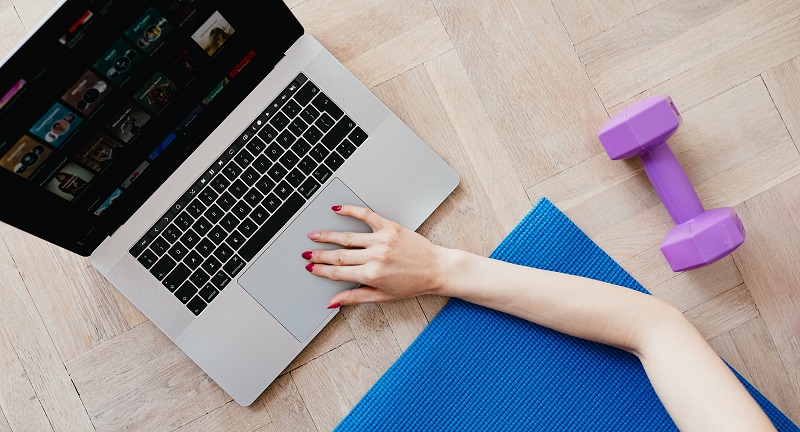 If 2020 taught us anything it's that there is no substitute for being healthy and fit, both emotionally and physically.
But if 2020 taught us how to reprioritize our lives, it certainly shed light on the fact that our fitness routine would either adapt to the changing fitness landscape or fall to the wayside, with average reported weight gains from 15-20 pounds in the U.S.
The good news for all is that not only are gyms reopening and increasing numbers of people stepping out for exercise after getting their Covid vaccines, but also that 2021 has brought some truly unique, hybrid workouts.
Whether you're doing an at-home, app-based workout with no extra equipment, working out using the equipment at the gym (with or without an app), trying a yoga/exercise app, or using one of the home equipment apps, it is easy to see that the entire landscape of fitness has evolved.
With this in mind, the sheer number of possibilities may seem daunting, especially if you're easing back into an active lifestyle after a period of inactivity.
Or perhaps you're simply wanting to broaden your exercise regimen and aren't sure what's available or what to take into account when choosing a new workout.
Below we'll look at some things to consider as you choose your next fitness path and take a peek at some of the hottest workouts in 2021.
Consider the Cost
Price is a huge factor in choosing a new workout, especially during the financial uncertainty that the pandemic has brought us. At home equipment can cost as much, if not more, than your mortgage payment.
Consider how long you think you'll be interested in the equipment. Get upfront pricing from the company, including membership fees, special workout packages, and extra equipment that you will likely need.
These kinds of companies often offer money back guarantees and financing, but you have to ask yourself how necessary that piece of equipment is to your fitness journey and how realistic it would be to add the new financing bill to your budget.
Even if a company offers a money back guarantee, consider the pain of having to return a large piece of equipment.
If the price is an issue, or if you don't want to commit to a lengthy subscription, free trials are a great way to see exactly how much you'll enjoy the workout and actually be able to integrate it into your life.
Some companies that sell pricier equipment will offer limited, app-based services as well, so you can enjoy the workouts, plus the community, without buying the pricey equipment for your home.
Where Do You Want to Exercise?
Now that gyms are opening back up, that is certainly an option, but it's not the only option.
Companies are now offering equipment that lets walking the dog down the sidewalk become a full-body workout, so gyms by themselves are certainly not the only game in town.
We tend to compartmentalize our space to confined areas – where we work, where we watch tv, where we sleep, but that space has become more and more flexible in definition when we talk about where we're working out.
Where we work out also has a huge bearing on the next issue – what keeps you motivated.
What Keeps You Motivated?
It's a really great idea to spend some time figuring out what motivates you. Classes that foster a sense of community? Alone time? Working out with friends? Working out outside? Do you need a flexible regimen?
Next, think about what your workout goal actually is. Studies have shown that fitness is a lot easier to achieve when you have established goals, so what does that look like for you?
Do you have an ideal weight or fitness level you'd like to achieve? Can you break those goals down into smaller, more easily obtainable goals?
You may also consider whether live or on demand classes, or maybe a mix of both, are more motivating.
A lot of apps and workout programs come with entire libraries of on demand classes, so if your workout is starting to feel stale, it's time for a change. Taking as many different kinds of classes as you can is definitely a way to stay motivated.
Below we'll take a look at some of the hottest workouts and fitness apps of 2021.
The Jillian Michaels Fitness App
Price: The Jillian Michaels app offers a 7-day free trial, plus three subscription pricing plans to choose from. Monthly it will run you 14.99, a three-month subscription plan costs $34.99, and if you choose to buy the whole year it will run you $179.88.
Equipment Needed: No equipment is needed to start, although you can do workouts at the gym or choose audio workouts where you select which equipment is available to use.
Workouts Offered: The app offers beginner to advanced workouts and includes the entire Jillian Michael's workout library – which boasts over 1000 different workouts than can be streamed on a phone or tablet.
Workouts include 5 and 10k training, pre-and post-natal workouts, and workouts specifically targeted to certain body areas.
Highlights: The app includes personalized meal plans, meditations, calorie and activity training, as well as a community support system. You can also choose to play your own music during workouts.
The Daily Method
Price: The Daily Method includes a 14-day free trial. The monthly fee is $20.00.
Equipment Needed: No equipment needed, although optional gear includes dumbbells, an exercise loop and band, as well as a Pilates ball.
Workouts offered: The Dailey Method puts a focus on the proper alignment of our bodies, resulting in not only improved posture, but improved movements and an enhanced workout experience. Think of the old saying, work smarter not harder.
There are workouts for all ages and fitness levels available on demand on the app and in person at one of their fitness studios. You'll find that the workouts have a definite focus on core strength and conditioning.
Highlights: Most studios offer childcare, which is a definite plus, although there are a limited number of studios countrywide.
ClassPass
Price: ClassPass offers a 14-day free trial which lets you take 3 classes. After that the price plan starts at $9.00 per month for one class, $29.00 a month for four classes, $49.00 a month for fourteen classes, and $159.00 per month to take up to 30 classes.
Equipment Needed: Since the workouts can vary from anywhere from dance, strength training, and martial arts, it's a good idea to contact the studio that's offering the live class to see what equipment you may need.
Besides that, equipment needed depends on the on-demand class chosen.
Workouts offered: Depending on your level of membership, you can choose to book live classes in studios, workout in your home, or access their library of over 4000 free wellness and workout classes on demand.
Highlights: You can also use your credits to book beauty and spa appointments.
TRX (Total Resistance Exercise)
Price: TRX offers a 7-day free trial and is $19.99 per month afterwards. Keep in mind that you do need to purchase the equipment below to do the workouts.
Equipment Needed: TRX suspension systems start at about $200.00 dollars, and there are plenty of addons available in their shop.
Workouts offered: The TRX equipment will exercise your entire body during workouts. They offer unlimited live and on demand streaming workouts. They also offer one-on-one trainers.
Highlights: You can take the TRX system with you when you travel.
Monkii Bars
Price: They offer some free training on the app. Advanced training can run from $23.00 to $49.00. Equipment is needed for workouts.
Equipment Needed: It's going to run you between $150.00 to $200.00 for the gear.
Workouts offered: Advanced workouts include a backpacker training program and tactical training. The gear is designed to be used anywhere, particularly outdoors. The app library has more than 300 on demand workouts.
Highlights: If you can't afford the gear, they offer a DIY template on the website so you can make it yourself.
Peloton
Price: Peloton is going to cost you a monthly fee of $39.00 a month and requires the purchase of a Peloton bike or treadmill, which are pricey.
Another option is to choose the digital only membership, which is $12.99 per month, and does not require you to buy the hardware.
Equipment Needed: The Peloton bikes will run you from $1800.00 to $2345.00. The Peloton treadmills are $2400 to $3450.00. Financing is available.
Workouts offered: Live and on demand classes included in the monthly feed include strength training, running, yoga, cycling, meditation and cardio. Classes can be accessed on your phone, TV, or tablet.
Highlights: Your membership fee pays for all of the members of your household.
FightCamp
Price: A FightCamp membership is going to cost you $39.00 a month, and you do need to spend extra on the gear.
Equipment Needed: The gear is going to cost anywhere from $439.00 to $1349.00. Financing is available.
Workouts offered: The workouts are a blend of gear, content, and interactive tech. There are more than 200 workouts in the FightCamp library.
Highlights: You'll get real-time stats and post-workout summaries which track your training progress, and your whole household is included in the membership price. Keep in mind, though, that the FightCamp app is currently only available on iPhone.
Hydrow
Price: The Hydrow membership fee is $63.00 per month, and you do have to purchase the equipment.
Equipment Needed: The equipment can run from $2245.00 to $2745.00. Financing is available.
Workouts offered: The Hydrow is a high-tech rowing machine with a 22" touch screen that displays immersive water scenes during the on demand and live workouts. You can also choose to do workouts like Pilates and yoga.
Highlights: Often a concern for those living in apartments and townhouses, the equipment itself is touted at being virtually silent.
Anyone of these tools is a great option to help you reach your fitness goals for this year and beyond.
Once you've taken the crucial first steps to build new healthy habits the results are sure to follow.