Weiss Ratings Reviews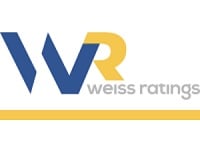 Weiss Ratings (formerly Weiss Research) is a financial ratings service and newsletter publisher that provides research and analysis to their customers on a wide variety of asset types in various markets.
Weiss Research was founded in 1971 by consumer advocate and financial author Dr. Martin Weiss, and currently has over 500,000 active readers, making it one of the most widely read investment newsletters available.
What Weiss Ratings Offers
Weiss Ratings has a number of different divisions, each providing a different types of services to independent investors.
The company offers a wide range of services, including free and paid newsletters, ratings for different types of markets and assets, and a financial data service.&nbsp
&nbsp
Popular services include Weiss Crypto Investor, Wealth Megatrends, Safe Money Report, & Weekend Windfalls.
Weiss Ratings provides several free resources, including Weiss Ratings Daily and Weiss Crypto Daily. Both services provide daily updates on their respective markets.
The remaining three divisions offer a variety of other features. For example, there is the Weiss Investor podcast, a weekly podcast where market strategist Kenny Polcari interviews members of the Weiss team and other financial experts.
Weiss Ratings also offers rating of banks, credit unions, health insurers, life & annuity companies, crypto tokens.
The Bottom Line
Generally speaking, financial newsletter publishing companies can be dangerous things.
They tend to offer personal opinions as guidance for investors, and they have no legal responsibility to you if you follow their advice and things turn out badly.
It's troubling that often of these companies let people with no significant financial experience or training contribute to their newsletters. In the worst case scenario, many of these companies are paid to bring investors to certain companies.
Weiss Ratings claims to not accept payment from any company for their ratings or reviews.
Still, Weiss has used "Financial Doomsday" videos to market themselves to new customers, which is a questionable tactic.
The bottom line when dealing with any financial newsletter publishing company is to do your own research regarding where and how to invest your money. Never act wholly on the advice of an internet newsletters.
If you have any experience with Weiss Ratings or their services, please leave your reviews below.
You may also be interested in
Weiss Ratings Customer Reviews