Weiss Ratings Reviews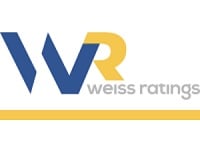 Weiss Ratings Review: Is it Legit?
Weiss Ratings (formerly Weiss Research) is a financial ratings service and newsletter publisher that provides research and analysis to their customers on a wide variety of asset types in various markets.
Weiss Research was founded in 1971 by consumer advocate and financial author Dr. Martin Weiss, and currently claims over 500,000 active readers, making it one of the most widely read investment newsletters available.
What Weiss Ratings Offers
Weiss Ratings has a number of different divisions, each providing a different type of service to independent investors.
The company offers a wide range of services, including free and paid newsletters, ratings for different types of markets and assets, and a financial data service.
Popular services include Weiss Crypto Investor, Wealth Megatrends, Safe Money Report, & Weekend Windfalls. Weiss Ratings provides several free resources, including Weiss Ratings Daily and Weiss Crypto Daily.
Both services provide daily updates on their respective markets. The remaining three divisions offer a variety of other features.
For example, there is the Weiss Investor podcast, a weekly podcast where market strategist Kenny Polcari interviews members of the Weiss team and other financial experts.
Weiss Ratings also offers ratings of banks, credit unions, health insurers, life & annuity companies, as well as crypto coins & tokens.
Cost and Price Plans
One of the common criticisms of Weiss Ratings has been the lack of transparency for the true costs of their services.
In some cases, mostly for their newsletters, they clearly state the price of subscribing. For instance the Weiss Crypto Investor Premium subscription costs $59 per year, or $39 yearly for the standard version.
However, if you visit their website and are interested in their premium investment services no prices are stated, you can only subscribe by calling a representative.
Further, it's important to note that all of their subscription services are set to renew automatically every year.
If you're no longer interested in the subscription, you must let a representative know prior to your next billing cycle in order to avoid being charged.
Customer Service
If you wish to contact support you can do so at 1-877-934-7778 or +1-561-627-3300 from overseas, Mon-Fri, 8:30-5:30 Eastern time. You can also submit a message through their website.
The company's physical address is listed as:
Weiss Ratings, LLC
4400 Northcorp Pkwy
Palm Beach Gardens, FL 33410-9998
Weiss Ratings offers a refund policy on their programs, in some cases offering up to a 1 year money back guarantee.
Their terms also state that you can cancel automatic renewal through the self service portal under the "My Account" section of their website.
Customer Reviews & Complaints
Having been in business for over 25 years Weiss Ratings has a lot of online feedback. Unfortunately much of that feedback has been negative.
The company has a profile with the BBB where it maintains an A+ rating, however it is not accredited by the BBB. At the time of this review they have 84 total complaints in the last 3 years with 35 complaints closed in the last 12 months.
Some of the complaints on that site include issues with poor customer service, mainly having to make multiple attempts at obtaining refunds.
Other users complained that they weren't made fully aware of the total amount of investment funds needed to pursue investment strategies advocated by an already expensive subscription service.
For the resolved complaints it does appear that Weiss issued refunds and canceled services that were no longer wanted.
On this page and other independent review sites Weiss also has low scores and many customer allegations of misrepresented services or grossly overhyped profit claims.
Most recently, a lot of negative feedback has come from Weiss's foray into the Cryptocurrency markets. In many online forums Crypto investors have written off their ratings service, believing that it does not accurately valuate Crypto assets.
It's also important to state that investing in Cryptocurrency comes with high risk and is largely a speculative market in the short term.
This is why you should always do your due diligence on any recommendation and be wary of advisors promising huge returns in this sector.
Competitors and Alternatives
Similar financial services are provided by The Oxford Club, another company offering tiered newsletter subscriptions culminating with high priced premium investment services.
Both companies share similar advertising styles focused on either promises of quick profits or cautioning of extreme market conditions.
In general, we recommend avoiding services with these types of red flags and focusing on research and education prior to investing.
As an alternative you can read time-tested books on value investing that teach you how to set up your investments for long term gains as opposed to chasing short term profits.
The Bottom Line
Generally speaking, financial newsletter publishing companies can lead to risky behaviors.
They tend to offer personal opinions as guidance for investors, and they have no legal responsibility to you if you follow their advice and things turn out badly.
It's troubling that often these companies let people with questionable financial experience or training contribute to their newsletters.
In the worst case scenario, many of these types of companies are paid to bring investors to certain companies.
Weiss Ratings does claim to not accept payment from any company for their ratings or reviews. Still, Weiss has used "Financial Doomsday" videos to market themselves to new customers, which is a questionable tactic.
The bottom line when dealing with any financial newsletter publishing company is to do your own research regarding where and how to invest your money.
Never act wholly on the advice of an internet newsletter.
If you have any experience with Weiss Ratings or Weiss Ratings Crypto, please leave your reviews below.


You may also be interested in
Weiss Ratings Customer Reviews