Unbloat Reviews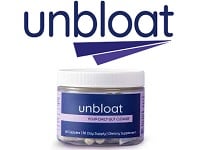 Unbloat Review: A Detailed Look
Unbloat is a dietary supplement marketed as a "daily gut cleanse" and claimed to reduce the symptoms of bloating.
Below we take a closer look at Unbloat to see if it lives up to the claims or is just another supplement jumping on the healthy gut trend.
Common Causes of Bloating
There are a number of reasons for experiencing bloating, and these symptoms can be brought on by temporary events such as eating a large meal or during menstruation for some women
In general, bloating occurs when there is too much gas in the GI Tract. This can occur as a byproduct of digestion especially during fermentation - when your gut bacteria is digesting carbohydrates.
Gas can also occur when too many carbs were not naturally absorbed before reaching that bacteria, for instance when eating too much and too fast.
However, regular bloating can also be a sign of more serious health issues or disturbances in the gut.
According to the Cleveland Clinic, bloating can be caused by digestive issues such as:


Carbohydrate malabsorption - Can be brought on by intolerances to certain foods like wheat, beans, or dairy.


SIBO - Small Intestinal Bacterial Overgrowth. Occurs when there is an imbalance in your gut microbiome.


IBS - A functional gastrointestinal disorder in which symptoms often include gas and bloating after eating.


Constipation - When your bowels are backed up it can slow down digestion causing food to stay longer in the intestines. This extra volume in the GI can lead to bloat.


Weight Gain - Recent weight gain of 10 or more pounds can impact your abdomen leaving less room for digestion which can cause the feeling of bloat. It can also be associated with water retention.


Hormones - One of the most common causes of bloating in women may be associated with hormones released during menstruation.


If stomach bloating begins to worsen and includes additional symptoms such as fever, weight loss, vomiting or bleeding then see a doctor immediately.
How Does Unbloat Work?
Unbloat includes a variety of over-the-counter treatment options rolled into a capsule. It contains a number of ingredients and employs a multi-pronged formula to fight bloat
Ingredients include:


Digestive Enzymes
Probiotics
Prebiotics
Herbs
Essential Nutrients


The formula was developed by Dr. Shilpa Mehra, a Board-Certified Gastroenterologist.
On Unbloat.me she states that this product was created to, "reduce bloating caused by periods, menopause, IBS, & more."
Ingredients

Probiotics
While there is a growing amount of research that supports the use of probiotics for gut health, results are still mixed.
One 2018 meta review analyzed data from 70 research studies and found that, "specific probiotics help reduce bloating/distension and improve bowel movement frequency/consistency."
In another journal, researchers state that, "...well-designed studies to evaluate improvements in bloating with probiotics are few in number."
They do go on to point out that results may depend on the specific strains taken, for instance,


"L. sporogens/Bacillus coagulans had significant improvements in their bloating severity scores, while studies with Bifidobacterium species demonstrated efficacy as well."​​


Another expert pointed out that, since Bloating is a common symptom of many issues, it's important to note that most probiotics will not help with conditions such as:


Candida overgrowth
Small-intestinal bacterial overgrowth (SIBO)
Low stomach acid
Ulcers
Infections such as H. pylori


Prebiotics
Prebiotics also come with mixed research on how well they can relieve bloating.
For example, in higher doses, one of the most common side effects of taking inulin (a common prebiotic) can be flatulence and bloating.
However, prebiotics have lots of health benefits and may be able to relieve bloating in indirect ways.
For instance, they can aid with constipation and gut motility, which may ease bloating when caused by those issues.
Another word of caution is that if you're dealing with SIBO or are sensitive to FODMAPS (types of carbohydrates that ferment differently in your gut) you may want to avoid prebiotics altogether.


Digestive Enzymes
Unbloat includes 40mg of a digestive enzyme blend. Enzymes help the body break down the foods we eat.
They can come in over-the-counter supplements or, if you are diagnosed with an enzyme deficiency by your doctor, be prescribed in the form of FDA approved pancreatic enzyme replacement therapy (PERT) medication.
Supplementing with digestive enzymes can help in certain situations.
For instance, one study found that those with IBS taking Oral α-galactosidase with high FODMAP foods experienced a clinically significant reduction in symptoms.
However, more research is needed to see if supplementing with digestive enzymes has positive effects on people with no enzyme deficiencies.


Fennel seed is regarded for its many health benefits and anti-fungal, antimicrobial, and anti-inflammatory properties.
It's also used in many traditional health practices to relieve the symptoms of a variety of health conditions.
Some believe it may help soothe the intestines to promote easy digestion, as well as relieve bloating by limiting the amount of bad bacteria in the gut.


Milk Thistle
While milk thistle is mainly used as an ingredient in liver support supplements, it may also have digestive benefits.
It may stimulate the production of digestive juices and bile which may improve symptoms of indigestion.
Overall, Unbloat features 40 researched ingredients and claims to have no filler ingredients. You can read the full ingredient label on their website.
Unbloat.me states the manufacturer that makes its supplements is:


FDA Registered
cGMP certified
ISO Certified
FSSC 22000 Certified (Food Safety System Certification)
A member of the International Probiotics Association, the International Organization for Standardization, and the United Natural Products Alliance
Safety and Side Effects
In general Unbloat is considered to be very safe.
However, if you have known allergies or are using prescription medication then you should consult with your physician before starting this supplement.
Milk Thistle in particular can trigger allergic reactions in those who are allergic to artichokes, kiwis, ragweed, daisies, marigolds, and chrysanthemums.
Customer Service
Unbloat support is available via phone at 877-880-0706 or email at [email protected].
The company states they offer an unconditional 30-day money-back guarantee on their supplement, and that if you are unsatisfied for any reason you can contact support to initiate your refund.
Their listed mailing address is:


Unbloat
4240 Duncan Ave
St. Louis, MO 63110


Note: If you took advantage of the lower price subscription option, you can "... pause or cancel subscriptions once the first refill ships, 30 days after initial purchase."
Competitors and Alternatives
There are many "Gut Supplements" on the market, varying from high-end customized formulas to cheap basics found on Amazon.
Since supplements are not approved by the FDA it's important to read as many reviews as possible before selecting one.
For instance some popular supplements with only mixed reviews on Reviewopedia include Peak BioBoost, Emma Relief, and Gundry MD's Total Restore.
With so many options out there it's helpful to narrow down your symptoms and focus on a targeted approach to gut health, especially when it comes to treating bloating, which can have many causes.


Some well reviewed supplements to consider include:


SuperGut - (Detailed Review)
Their Prebiotic Fiber Mix focuses on doing one thing well, and that's boosting your intake of resistant starch.
This type of prebiotic fiber is designed to feed the good bacteria in your gut along with other benefits like supporting a healthy weight, blood sugar control, improved digestion, and reduced inflammation.
Supergut is one of few supplements that has a clinical study support for the supplements itself (not just for the individual ingredients).
It is also "Monash University Low FODMAP Certified". One packet provides 8g prebiotic fiber, 1g of net carbs, 0g sugar, and only 15 calories. Learn More.
This supplement is a less robust alternative to Unbloat.me.
If you're concerned about the massive ingredient list in Unbloat this may be a good alternative.
It also includes traditionally used organic medicinal herbs such as:


Fenugreek Seed Powder
Dandelion root powder
Fennel Seed powder
Ginger root powder
Parsley Leaf powder


These are combined with a blend of digestive enzymes.
Bye Bye Bloat is an "Amazon's Choice" selection and has good reviews with a rating of 4.1/5 from over 9,500 customer reviews.
Finally, if constipation is the main issue then taking a Psyllium husk supplement may be beneficial.
Colon Broom has quickly grown in popularity and is promoted on many health and wellness sites.
Psyllium husk is a soluble fiber that has been used as a gentle bulk-forming laxative, originally popularized in India.
It can aid with both constipation, diarrhea, and IBS symptoms. It needs to be taken with water and users must stay hydrated throughout the day.
The Bottom Line
Diagnosing gut issues can be very frustrating and involve a lot of trial and error.
You may need to undergo various testing, elimination diets, or lifestyle changes before finding a solution.
Unbloat features a lot of ingredients with anecdotal or limited scientific support.
Many of the clinical studies are narrow or done on participants with specific/severe gut issues, so it's unclear of the ingredients' effects on milder or less specific symptoms.
Unbloat does have good reviews on their website, but not many outside of that.
On Amazon they only have a score of 3.4/5 from a very limited number of customer reviews. These include a lot more complaints about Unbloat.
The company does have a good return policy, so if you've been looking for an all-in-one gut supplement it may be worth a try.
If you have any experience with Unbloat, please leave your reviews below.
You may also be interested in
Unbloat Customer Reviews