Peak BioBoost Reviews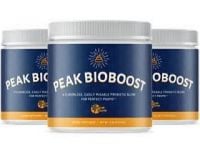 Peak BioBoost is a dietary supplement from Peak Biome.
The company states it can provide users digestive relief and regularity without the uncomfortable side effects that typically accompany ingredients used in some other probiotics, supplements, and dietary aids.
Peak Biome was established after the founder partnered with a physician looking for an all-natural, chemical-free way to regulate his digestive system.
How Does It Work?
The idea behind Peak BioBoost is to eliminate the need for pills, sludgy fiber drinks, and other products used in aiding the ease and effectiveness of bowel movements.
There are five main ingredients used, including:


Xylooligosaccharides (XOS) - works to strengthen intestines, multiples the good bacteria in the gut, and bulks up stools.


Oat fiber - boosts gut-friendly bacteria, bulks up stool, and maintains whole-body insulin sensitivity.


Inulin - bulks stool and lubricates the digestive system.


Fructooligosaccharides (FOS) - promotes healthy cholesterol, speeds up intestinal tract function, protects against bad bacteria growth in the gut.


Magnesium citrate - regulates nerve and muscle function, blood pressure, and blood sugar levels.
XOS is the primary ingredient, and research has shown it to be effective in women in their third trimester suffering from constipation, in people who are over 60, and in some of the most severe diarrhea cases.
Oat fiber, inulin, and FOS are all prebiotic fibers.
Magnesium citrate helps the near 50% of the population deficient in magnesium, which is used for a variety of the body's primary functions.
FAQ

Is Peak BioBoost gluten-free?
Yes. Peak BioBoost comes in powder form and is tasteless as well as odorless.
The directions indicate that one serving per day is the proper dosage, with more stubborn cases requiring two servings, or scoops, per day at most.
Many customers use the prebiotic in their coffee or tea in the morning to regulate daily bowel movements.
Is Peak BioBoost safe?
The consensus on that, based solely on online reviews (not a medical endorsement) of those that have used it is yes.
Is Peak BioBoost FDA approved?
No, but the ingredients are natural, and the biggest complaints given in terms of side effects were related to throat irritation.
Where is Peak BioBoost made?
The physical location and chemist warehouse of Peak Biome Inc. is 219 North Main Ave Unit #118, Scranton, PA 18504.
Customer Reviews & Complaints
Overall the online reviews for Peak BioBoost are positive.
The most common complaint posted by Amazon customers is that the product is not FDA approved and that it contains the ingredient magnesium citrate, which is a laxative, as mentioned.
The positive reviews include the experience of it working as directed, being simple to add to coffee, and the fact that it's tasteless.
Customer Service
The customer service team from Peak Biome is available to take information from potential, existing, or curious clients through their online contact form located on the webpage.
The customer service phone number is (888) 961-8178.
That contact number can be used to speak with customer care representatives about the product return policy, including the one-year 100% money-back guarantee offered for those that purchase the 6-month supply.
Cost & Price Plans
The cost of Peak BioBoost varies depending on how you decide to purchase it.
New customers are offered a discount, which varies depending on how many containers of the product are being purchased.


Family pack – 6 bottles at $29.95 per bottle – with free shipping


Most popular – 3 bottles at $39.95 per bottle + 4.95 shipping and handling


Starter pack – 1 bottle at $49.95 per bottle + $4.95 shipping and handling


A cookbook is also included with the first purchase.
Where to Buy?
Peak BioBoost is ]for sale on MyPeakBiome.com and Amazon, as well as multiple third-party online vitamin and supplement retailers.
Competitors & Alternatives
There are various alternatives and competitors to the Peak BioBoost product, as prebiotic and probiotic supplements become more popular and widespread in the health and wellness industry.
Bio Nutrition Inc. offers a product called Pre-Biotic Fiber with LLife Oligo, which provides the same benefits and can also be purchased online.
The primary difference with this item is that it is sold in capsules instead of the powdered form.
Hyperbiotics is another manufacturer of prebiotics, and their 100% food-based prebiotic powder is essentially the same proprietary formula as Peak BioBoost.
Performance Lab Prebiotic, OLLY Prebiotic, and Renew Life Prebiotic are a few of the several alternatives available.
The Bottom Line
Based on the compilation of independent reviews, the benefits of Peak BioBoost seem to outweigh any negatives, and it may be worth giving a try.
While the prebiotic may not be suitable for everyone, it offers an alternative solution when laxatives, fiber supplements, and prescription products are not serving their purpose.
As always, before introducing any supplement or digestive aid to your healthcare regimen, it's highly recommended that you discuss the idea with your physician.
Current health conditions and other medications have to be taken into consideration by a professional.
If you have any experience with Peak BioBoost, please leave your reviews below.
You may also be interested in
Peak BioBoost Customer Reviews

Berny
It did not work as advertised.

Bruce W
When you spend your hard earned money on a Supplement you should expect one of two outcomes. One, it works, or Two, is doesn't! If a supplement doesn't work you would expect the Company supplying the product to DO the right thing and return your purchase price.
There is a THIRD OUTCOME, what if the product or supplement actually causes a new problem or condition?
Such was my experience with a product PEAK BIOBOOST made by PEAKBIOME.COM
After the first dose I experienced extreme DIARRHEA which got worse over the next 7 days and a red blotchy rash appeared on my entire body. My Doctor told me to stop taking the PEAK BIOBOOST as it was causing a sever allergic reaction.
Shortly afterwards I received an UN-requested, second jar of PEAK BIOBOOST in the mail. I refused mail shipment and the product was returned but my Credit Card had already been charged for the product.
According to PEAKBIOME's website, the product has a 100% guaranty for 1 full year. Requesting a refund has it's own hurdles, sometime you just know you got screwed when the support person says "can I help you" but the way they act tells you they think you are a pain? But I persevered and requested a refund for the two product charges to my credit card through support.peakbiome.com. . THEY ONLY RETURNED ONE CHARGE!