PropertyRecord.com Reviews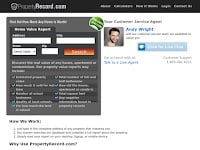 PropertyRecord.com Customer Reviews

B. W
I was pleasantly surprised with the info obtained from this site for $1.
I didn't expect a perfect or detailed appraisal for $1.
If I wanted a true up to date appraisal I would hire an appraiser or call an real estate agent for a better idea.
What I wanted was an idea if my home was going up in value or not.
Since I don't plan to sell my home for probably 6-8 years I didn't need a better more detailed appraisal.
I do admit that the reviews above give me pause and I hope that I don't have random and unwanted charges appear on my credit card.
It would definitely ruin my good opinion of this site.

Zeegee
DON'T waste your time and money!!! I waited over 4 hrs NO REPORT RECEIVED!! I called back and was told to wait another hour!!
I know I only paid $1, but how many other people are also paying $1 /... hondreds if not thousands!!! that's how they're making or I should say STEALING people's money!!!
Another email came saying to wait 1 Hour!! Can you believe this??!!

Lilieth B
I was very impressed with how detailed the report was, it even had things that I may have missed in my search, good job, I will always use this site for all my search. I do hope this is not a scam where am charge hundreds of $$$, but only $1 as signed up for, I will be tracking my account for any other charges, again thank you.

Linda B
Information on site is not up-to-date. Values are not true. Appears some info was from old tax records (which are not always correct).
Info is damaging to the homeowner and misleads buyers.

Glenda G
Just another scam from propertyrecord.com
Said the cost of report was $.50 I got the report which was totally useless. I wrote and text multiple times trying to get an answer. Just kept getting the same run around, never addressing my question. Then I find out they have charged my card $14.95. Go back to their online chat, Gloria tells me she will issue a refund. Now a week later and no refund. I contacted them today and they will "send a check" in 10 days. Stay away from this total scam company. The only service you will get is to separate you from your money. I will be sending all of the correspondence with them to the Tx AG.

mira
They assure you that the cost for their report is just one dollar, and then charge your credit card for $14.95. Pretty disgusting...

Robert J
The following describes a pending government action that has been formally brought by a government agency but has not yet been resolved. We are providing a summary of the government's allegations, which have not yet been proven.
"The Federal Trade Commission (FTC) has brought a law enforcement action against the above company alleging the company received more than $450 million from consumers by luring them into "free" or "risk-free" offers. Consumers were then charged for products or services they did not want or agree to purchase. As part of its ongoing efforts to stamp out online fraud, FTC seeks to stop the operation's illegal practices and make the defendants repay affected consumers."
"According to FTC's complaint, the companies used deceptive tactics in offering "free trials" for various online products, including acai berry weight loss pills, teeth whiteners, health supplements, work at home schemes, free credit reports and penny auctions."
"According to FTC, the companies obtained consumers' credit or debit card account numbers by promising they would only pay small shipping and handling fees and also promised phony "bonus" offers for signing up. Consumers had no reason to believe they would be charged for the trial product or extra bonus products, but they were often charged for the "free" trial and monthly recurring fees. Although the defendants offered a money-back guarantee, consumers were often unsuccessful in canceling the charges or obtaining refunds and the process involved time-consuming phone calls and other steps that made the deals far from risk free."
"The FTC further alleged that the defendants provided merchant banks with false or misleading information, in order to acquire and maintain credit and debit card processing services from the banks in the face of mounting chargeback rates and consumer complaints. The companies also allegedly violated the Electronic Fund Transfer Act and Regulation E (issued by the Federal Reserve System's Board of Governors) by debiting consumers' bank accounts without their signed written consent and without providing consumers with a copy of the written authorization."
The Commission files a complaint when it has "reason to believe" that the law has been or is being violated, and it appears to the Commission that a proceeding is in the public interest. The complaint is not a finding or ruling that the defendant has actually violated the law. The case will be decided by the court.
The entire FTC complaint can be found at the link below.
http://www.ftc.gov/opa/2011/05/jessewillms.shtm

Dan T
Same as VehicleHistory.com
Another one of Jesse Willms scams.
http://reviewopedia.com/vehiclehistory-com-reviews

William
Another Site run by Josh Fraser-Use Caution
Another website, of the 120 different websites with Josh Fraser as the sole contact. As seen in his numerous websites, when you believe you are signing up for a one dollar charge, you end up getting charged 120+ dollars over the course of 6 months through pretty devious practices.
Also, charges can come from one of his multiple websites, making it difficult for a bank to block, apart from canceling the full account.
I encourage you to go on the Denver BBB website and look up www.vehiclehistorylookup.com, Josh F as the contact, to see the review. Last checked on Feb 2013, this company had an F after reviewed, along with 151 complaints
I encourage anyone that has dealt with this guy to go through the FTC complaint department and the BBB. This has got to stop.