Multi-GI 5 Reviews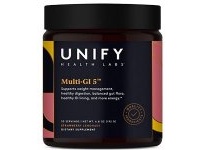 The Multi-GI 5 shake is formulated to improve digestion and support a healthy GI tract.
In addition, this formula claims to alleviate stomach discomfort, elevate energy levels, help with weight management, and balance the good and harmful bacteria in your GI tract.
The product was developed by Unify Health Labs, a supplement company that features spokesperson Randy Jackson in their popular video advertisement.
Below we evaluate each of the ingredients to give you an idea of what this product may or may not be able to do for your health.
Product and Ingredients
Oligosaccharides (Inulin from chicory root) - are common carbohydrates that are found in certain fruits and vegetables.
They are a form of soluble fiber, which means they are not digested by your body – instead, they are used as fuel by the good bacteria in the intestines.
This is why Oligosaccharides are thought of as prebiotics. Prebiotics have been linked to many health benefits such as improved digestion and immune support, but more research must be done to validate these claims.
L-Glutamine - is an amino acid that has an impact on the growth and functioning of cells in the digestive tract. L-Glutamine is one of the most abundant amino acids in your body.
It shows promise in maintaining healthy digestive functions, supporting the immune system, and potentially helping with a condition called Leaky Gut Syndrome, which exacerbates food allergies, but more clinical testing needs to be done to verify these claims.
Zinc-Carnosine Complex - While many are familiar with Zinc's reported benefit of helping to shorten the length of colds, you may not be familiar with claims that Zinc – and in this case Zinc-Carnosine Complex, may help heal damage from Gastroesophageal Reflux Disease (GERD) and other conditions related to the intestinal tract.
The Zinc-Carnosine Complex may also help with osteoporosis in menopausal women, but more clinical data is needed to verify these benefits.
Magnesium Beta-Hydroxybutyrate- Some of the health claims surrounding Magnesium Beta-Hydroxybutyrate include helping to reverse insulin resistance, improving athletic performance, lessening migraines, and managing weight, but there is not enough clinical data to verify these benefits.
Deglycyrrhizinated Licorice Root Extract (<1% Glycyrrhizic Acids) - Licorice Root Extract has been used as a treatment for fatigue, respiratory illnesses, hormonal imbalance, stomach issues, and weight management, although more research is needed to confirm these benefits.
When licorice is "deglycyrrhizinated," the glycyrrhizic acids are removed because they can cause health issues such as hypertension, kidney issues, and edema.
Don't confuse Licorice Root Extract for Aniseed oil, which is often used to give foods and beverages a taste like black licorice.
Black Pepper Extract - is an international superstar in terms of herb and spice usage worldwide. Black Pepper has a chemical in it called piperine, which may have antibacterial and antifungal qualities.
Black Pepper has been used to treat stomach issues, allergies, and asthma, but there is little clinical data to support these claims.
Berberine Hydrochloride - is a chemical found in plants like goldenseal, Oregon grape, and European barberry which may have certain health benefits.
It shows promise in treating canker sores, reducing blood sugar and cholesterol, lowering blood pressure, and treating polycystic ovary syndrome (PCOS), but more research must be conducted to verify these benefits.
Probiotics - Probiotic supplements contain what are referred to as good or friendly bacteria because they support the healthy bacteria which are present in our digestive tracts.
A healthy balance of bacteria in our GI tracts may have a big impact not only on intestinal health, but on our immune system as well.
Probiotics show promise in treating some health issues such as irritable bowel syndrome (IBS), diarrhea, colitis, and eczema, although further research is needed to verify these benefits.
Potential Side Effects
Oligosaccharides - may cause gas, stomach cramps, diarrhea, and bloating.
L-Glutamine - may cause bloating, dizziness, heartburn, nausea, and stomach pain. Do not use L-Glutamine if you have advanced liver disease, as it may reduce brain function.
Do not take L-Glutamine if you have bipolar disorder as it may increase the risk of manic episodes. L-Glutamine may interact with anti-seizure medication.
Magnesium Beta-Hydroxybutyrate - may cause diarrhea, upset stomach, constipation, and stomach cramps.
Licorice Root- Do not take licorice if you are pregnant or breastfeeding, have heart disease, have any hormone-sensitive cancer, or have high blood pressure.
Licorice may interact with digoxin, estrogens, medications changed by the live, high blood pressure medication, corticosteroids, blood thinners, cisplatin, midazolam, paclitaxel, P-glycoprotein substrates, and diuretics.
Black Pepper - Do not take black pepper if you are pregnant. Do not take black pepper supplements if you have a bleeding disorder.
Black pepper may interact with lithium, medications changed by the liver, P-Glycoprotein substrates, phenytoin, propranolol, rifampin, theophylline, anticoagulants and antiplatelet drugs, pentobarbital, atorvastatin, carbamazepine, and amoxicillin.
Berberine- Do not take berberine if you are pregnant or breastfeeding. A type of brain damage has been reported in newborns exposed to berberine. Berberine may cause an upset stomach, gas, constipation, or diarrhea.
Probiotics - may cause stomach upset, bloating, diarrhea, and gas. Don't take probiotics if you have pancreatitis, are at increased risk for infection, have had recent surgery, or have damage to your GI tract.
Also, this product should be avoided if you are pregnant or breastfeeding.
Cost and Price Plans
One bottle is $49.95. Three bottles cost 134.85. Six bottles cost 254.70. These prices reflect a 20% web-only discount. The company offers a 10% discount with membership.
Customer Service
You can reach customer service at 800-935-4598 or by emailing [email protected]. You can also contact customer service by filling out a form on the website.
The customer service hours are Monday-Friday 6:00 AM to 5:00 PM PST and Saturday-Sunday 6:00AM-4:00PM PST.
The company also offers a 90-day, money-back guarantee.
Online Customer Reviews/Complaints
The company website lists the customer reviews as 4.5 stars out of 5, but does not state how many reviews this average is taken from. In a different place on the website, the average review is listed as 5 out of 5 stars, taken from 100 reviews.
Other independent review sites also feature many positive reviews along with some complaints. The most common being that the Multi-GI 5 powder is too fine and if not handled carefully can cause sneezing when inhaled.
Other complaints from customers stated that they didn't feel any different when taking the supplement.
FAQ
Does Multi-GI 5 Work?
While it does include ingredients that have potential to benefit, most of these claims are not confirmed by rigorous laboratory testing. It's also pretty expensive, particularly given the inexpensive ingredients it contains.
Using Randy Jackson as a spokesperson doesn't add any particular credibility to this product, especially when you consider he lost 100 pounds after he underwent gastric bypass surgery, not after using this supplement.
Does Multi-GI 5 Help You Lose Weight?
There is no proof that this product would make a significant difference in weight loss.
Is Multi-GI 5 FDA approved?
The FDA doesn't approve supplements.
Is Multi-GI 5 gluten-free?
Per the ingredients, it would seem to be gluten-free, but is not marked gluten-free on the package.
How do I use Multi-GI 5?
Mix one scoop of the powder into water, tea, or other drink. The dosage is one scoop per day.
Competitors and Alternatives
Bio Complete 3 is a pre-and probiotic supplement made by Gundry MD. The rating on the Amazon is 4 out of 5 stars, taken from 2,157 rating. It costs $59.97 per bottle. There are 30 servings per bottle.
Probably the closest thing Gundry MD makes to Multi-GI 5 is the Total Restore Gut Lining Support blend, which has 4 out of 5 stars on Amazon, taken from 5,241 reviews.
It costs $38.95 per bottle. There are 30 servings per bottle. Like Multi-GI 5, Total restore Gut Lining Support Blend also contains Glutamine, Licorice, Magnesium Beta-Hydroxybutyrate, Black Pepper, Berberine, and Zinc-Carnosine.
Morning Complete Daily Wellness Drink by Activated You is another similar product with pre-and probiotics. The review on Amazon is 4.8 out of 5 stars, taken from 20 reviews. The current price on Amazon is $47.35. There are 30 servings per container.
Is Multi-GI 5 Worth It?
If you have chronic GI issues that you haven't been able to address through dietary changes, adding a probiotic supplement may be worth a try. This product does use promising ingredients and has relatively positive reviews.
A trial run of one jar may help you see if these types of products, of which there are many, have positive effects on your symptoms and general well being.
Keep in mind it's important to have reasonable expectations as these supplements are not miracle cures for stomach issues or weight loss.
If you have any experience with Multi-GI 5, please leave your reviews below.
You may also be interested in
Multi-GI 5 Customer Reviews

Mike W
This product works great to regulate yourself bowel movements and keep your GI tract operating at optimum level.
Cleans out all the toxins in your body in the process. Great product which I highly recommend!

Mary A
I have used this product for 2 years+ and when I included Multi Digest 6 I have no stomach issues. So yes very pleased.

Pam R
First "dose" I felt it reacting to, what I can only call bad bacteria. There was the sound of popping and since I experienced this only once before, many years ago, I knew it was working. Have had bad digestion for awhile now… now am on a positive path!

Toni
Severe IBS symptoms significantly reduced!!!
I was diagnosed with IBS when I was 18 and am now in my 60's. I sometimes experience severe, if not debilitating pain in my gut. I saw Randy Jacksons testimony on social media regarding the Multi-GI 5 product and decided to try it.
For the first time in many, many years my symptoms were SIGNIFICANTLY reduced. When ordering again, the price of the product was much higher than MY original purchase, and, unfortunately, I attempted another product that was somewhat less expensive. Within 3 weeks I was miserable, some symptoms being worse than ever. I decided that I would splurge and purchase the Multi-GI 5 again and when purchasing larger quantities it became affordable (I purchased 9 months worth!).
Within a week of using the product I was doing much better and am almost symptom free again! Although it is still a bit pricey, the alternative of suffering makes it worth the sacrifice. Highly recommend to those that have problems with IBS and dairy as well. Thanks Randy!

Nancy C
Very, very effective but needs work
I am thrilled! After just a couple days my gut health was significantly better and just seems to be continuing to improve. I have only been taking it for a few weeks so I am not in position to comment on the possible long term effects. I am so pleased that I will continue to take it even though I can't stand the taste! Sorry but it's the truth! Why do you have to make it so SO sweet! I appreciate that you use Stevia but someone could always add sweetener if they like it sweeter but I can't take it out. What I wish was a non flavored option was available or just a much less sweet lemonade without the strawberry flavor. I will continue to down it though because it is so effective.

Ruth
The staff was friendly, helpful and genuinely interested in identifying and alleviating my health problem! They were also very quick to get to my diagnosis!
Only problem was they didn't submit my insurance correctly and I had to help them resolve their process with Veterans Affairs

Jerome
The muti GI 5 is good for a healthier gut.
Since I been using this product my appetite has increased. I can eat any thing and it doesn't affect me. My waistline is maintained even though I eat a lot. Nothing sticks to my stomach. I really think it's because of the multi GI 5 . I drink it with tea once or trice a day. The flavor is good ,no need to add sugar for taste. I just started using it. I would like to see how much it works the longer I use it.

Donna J
This product has changed my life, I've had bowel issues and stomach pain since my late twenties, I'm now in my 70's & Multi GI 5 has helped me so much. I no longer have those issues. I wish I had had this to take years ago. I cannot say enough good things about this product. I literally cried because I finally found something that helped me.

L H
Excellent experience on first visit
Fast and friendly service, close to home. Can't get much better than that when you're really sick.

Kevin C
How does an unshielded probiotic survive the stomach?
Not sure if it's doing any good. I cannot get one simple question answered. Probiotics are live cultures that attach to the gut, so they need to survive the hydrochloric acid in the stomach to get there. How does a live culture powder survive the stomach acid? Doesn't a probiotic need a delivery vehicle, such as a capsule, to survive the stomach and make it alive to the gut? The rep at Unify said the probiotics are inactive so the acid doesn't hurt them. Inactive probiotics? This sounds like hogwash. What good is an inactive (dead?) probiotic? I cannot get an answer about this.

Diana
It helps me with leaking gut, something that I have been dealing with for a long time
It has helped me tremendously with digestion and reduce bloating.

Chay
I had ordered from unify health labs on Sept 13 2022 and I returned Multi GI the next day, because the doctor told me not to take it because of the meds I am on. I called them the following week to see if they received them and they said yes and they would put my money back in my account 3 business days later, that was last week and I have not gotten my money back.