Morning Complete Reviews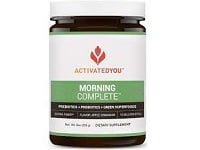 Morning Complete Review: A Detailed Look
Morning Complete is a daily wellness drink intended to support digestive function and improve energy levels.
Morning Complete is marketed by ActivatedYou, a dietary supplements and probiotics brand that states they have a holistic approach to health and wellness that focuses on mind, body and spirit.
The company was founded by Maggie Q, an actress/health advocate and Dr Frank Lipman, an integrative medicine practitioner with a focus on gut health.
How Does It Work?
The focus of Morning Complete is in restoring the healthy number of good bacteria in the gut, with the aim of improving digestion, as well as the absorption of beneficial elements from food.
The ActivatedYou website states that when the body gets more nutrients from food and flushes the waste properly, mood and energy levels should improve significantly.
Morning Complete ingredients also include significant amounts of prebiotics, described as 'good bacteria's food'.
So when beneficial bacteria are fed well, they flourish and enable the digestive system to properly digest food.
There is more and more research being conducted on what has come to be known as the gut-brain axis, the communication system between the gut and the brain. These organs are primarily connected through the Vagus Nerve, as well as millions of other nerves.
New studies are showing that microbes in the gut play a critical part in controlling inflammation and produce many compounds linked to mental well-being.
Preliminary research is also showing that good digestion may be the basis for overall well-being, and has direct ties to immune system functioning. Further, prebiotics have been shown to have an effect on cortisol levels, the body's stress hormones.
Overall, there are a lot of studies suggesting that restoring the digestive system to its optimal condition may improve one's overall health and quality of life.
Morning Complete Ingredients
Being primarily a digestive supplement, the foundation of this formula is based on prebiotics and probiotics, combined with energy nutrients from leafy greens.
ActivatedYou states their formulations combine principles of modern nutrition alongside traditional eastern medicine.
In total Morning Complete has 8 unique blends with the following ingredients:


Prebiotic and High Fiber Blend - Organic tapioca fiber, cinnamon bark


Probiotic Blend - B. coagulans, L. gasseri, L. plantarum, L. rhamnosus, B. bifidum, B. longum, L. acidophilus, L. casei, S. thermophilus


Green Superfoods Blend - Spinach, broccoli, kale, mulberry leaf extract, alfalfa leaf, barley grass, berberine HCI.


Metabolic Blend - Green tea leaf extract, ginger root, white tea leaf extract, turmeric root extract, bitter melon fruit extract, black pepper.


Cellular Function and Liver Support Blend - Aloe vera leaf, milk thistle seed extract.


Antioxidant Blend - Lycium berry, pomegranate fruit extract, Polygonum cuspidatum root extract.


Sugar Balancing Support - Gymnema sylvestre leaf, fennel seed, pine bark extract.


Adaptogens Blend - Astragalus root extract, Rhodiola rosea root extract, diindolylmethane.
This blend is natural, vegan, gluten and sugar free. Additionally, ActivatedYou states that production of their dietary supplements takes place in the USA.
How To Take Morning Complete

Morning Complete is designed to be taken first thing in the morning, the idea being that you feed your gut healthy bacteria to set yourself up for a healthy day.
Conversely, an unhealthy breakfast can be the culprit causing digestive issues later in the day. When you fill yourself with unhealthy calories your stomach gets overloaded with food which is difficult to digest.
Further, your good gut bacteria are left with no food, since the average heavy breakfast doesn't contain prebiotics.
Potential Side Effects
While there are a lot of promising ingredients in Morning Complete, there are also some things that can cause potential issues for some people.
On their own website ActivatedYou issue a warning stating that the product contains Aloe Vera and should not be used if you have diarrhea, loose stools, or abdominal pain.
Additionally, you should consult your primary care physician prior to taking Morning Complete if you're pregnant, nursing, taking medication, or have other medical conditions.

In general, probiotics and prebiotics are considered to be safe, with only mild side effects such as bloating or flatulence.

However, ingesting Aloe Vera can have more serious side effects in some people, such as:


Diarrhea
Feeling and being sick
Skin rash
Stomach pain


In rarer cases, Aloe Vera can cause :


Liver inflammation
Blood clotting problems
Low blood potassium levels
Customer Reviews & Complaints
For the most part, customer reviews indicate that the majority of customers seem to be quite satisfied with Morning Complete.
The positive reviews state that the product works as advertised, with users experiencing an increase in energy, more regular bowel movements, and in some cases a good amount of weight loss.
ActivatedYou is accredited by the BBB, maintaining an A+ rating, and currently showing a customer rating of 4.19/5 from 491 customer reviews.
On Amazon, Morning Complete has a rating of 3.9 / 5 from over 3,000 customer reviews.
Some of the notable customer complaints for Morning Complete reveal potential issues with the product, the most common being frequent and foul smelling flatulence.
In some reviews, users also mentioned not loving the taste, and recommended mixing it with juice instead of water.
Customer Service
ActivatedYou states they offer a no questions asked 90 day money-back guarantee on Morning Complete. If customers are not satisfied, they can reach out to customer service to request a refund.
Customers can reach a representative via phone at 800-720-8403 or be email at [email protected].
Cost and Price Plans
The company uses a tiered savings plan, in which the more jars you purchase the more you save.
1 Jar - $79.00
3 Jars - $213.00
6 Jars - $403.00
Where to Buy?
ActivatedYou Morning Complete is available through the ActivatedYou website or on Amazon.
Competitors and Alternatives
When it comes to potential alternatives to this blend, there are numerous probiotics on the market which could serve a similar purpose.
Those rated the highest are BlueBiotics Ultimate Care, Ultimate Flora Critical Care, and Garden of Life RAW Probiotics.
While BlueBiotics contains some quite expensive cultures and a high number of living colony-forming units (CFU), Ultimate Flora Critical Care has a somewhat lower number of living CFU, but it is still quite effective.
The Garden of Life RAW Probiotics, however, despite the statement that there is a really high number of CFU, the number of living ones is in fact significantly lower.
All of these options are completely vegetarian and natural, just like Morning Complete.
However, Morning Complete has one advantage over all of the potential alternatives: it also contains prebiotics.
If you're concerned about taking a probiotic supplement, another alternative and potential first step can be to address your gut issues through diet itself.


You can do so by:


Eating primarily whole foods
Grass Fed Meats/Pasture Raised eggs
Eat more Fiber
Increase your anti-inflammatory fats (Omega 3 rich foods)
Eat more fermented foods
Eliminate Sugar/Gluten/Dairy/Processed Foods
The Bottom Line
Taking into consideration the potential benefits of this blend, as well as reports from customers, it seems like it might be worth trying. The pros may outweigh the cons, but it's good to be aware of the cons.
Some of the factors that we feel are limiting to this supplement include its high price, some potential side effects, and lack of organic ingredients.
However, this is a unique blend that still packs a lot into its formula.
If you're concerned about some of the ingredients in this blend, another option may be their Advanced Restorative Probiotic - a more straightforward probiotic formula.
If you do well on that, then you may want to consider trying Morning Complete.
If you have any experience with ActivatedYou Morning Complete, please leave your reviews below.


You may also be interested in
Morning Complete Customer Reviews