Jim Rickards Reviews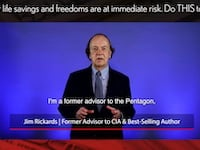 Jim Rickards Review: Legit or Scam?
Jim Rickards (James G. Rickards) is a popular investor who's worked at the highest levels of finance and produces a variety of financial content via books, newsletters, and published articles.
Rickards' pieces have been featured in many popular online and print outlets.
Below we take a closer look at his members only investment newsletters and analyze what customers have to say about his financial advice.
Books Published
Jim Rickards has an impressive education background and has had many high level roles in finance firms. He states that his beliefs are strongly forged by his real world experiences.
He also uses his role as an "insider" heavily in the marketing of his books and newsletters.
To begin with, you can read a lot about his various strategies in one of the many books he's published. Currently this list includes the following titles:


The New Case for Gold (April 2016)
Currency Wars (2011)
The Death of Money (2014)
The Road to Ruin (2016)
Aftermath (2019)
The New Great Depression (2021)


As you can tell by the titles, he brings an alarmist approach to analyzing global fiscal and monetary policy and the effects he believes they will have on economies.
His reactionary style urges investors to plan ahead and provide safeguards for their assets and plan for inevitable market downturns and inflation.
One of his other recurring themes is how vulnerable the US dollar and US markets are to foreign exploitation and how to protect yourself.
These perceived threats influence his investment advice, which generally suggests to diversify and keep tangible assets such as gold and other precious metals.
Jim Rickards' Newsletters
Through Paradigm Press Rickards publishes several investor newsletters, the most popular and affordable of which is titled Strategic Intelligence.
It's often through the marketing for this newsletter that many people first come across Rickards.
The ads for Strategic Intelligence usually feature a doomsday scenario that Rickards predicts will happen in the near future.
Rickards claims that if you subscribe to Strategic Intelligence you'll learn how to safeguard your assets and profit from the impending instability.
His most recent presentation titled "Beware, Biden Bucks" proclaims that the US Government is planning on converting to a digital dollar that's similar to cryptocurrency except that this one would be entirely controlled by the US government.
He fears that this will lead to a surveillance state in which all your transactions will be monitored and potentially even used against you.

If you subscribe to Strategic Intelligence you will get access to his guides for protecting yourself from having your wealth seized in a report titled, Asset Emancipation.
You get this report and 3 more as bonuses for joining Rickards' paid newsletter.
Cost and Price Plans
The cost for the base level of Strategic Intelligence on the Paradigm Press website is $299 per year.
However if you're ordering through the Biden Bucks video there are several promotions that can bring the cost down to as low as $49.
His other premium newsletters cost significantly more at $3,000 - $5,000.


Note: All orders are set to automatically renew at the end of the year so if you no longer wish to receive it you will have to call and cancel your subscription.
Customer Service
Phone: (844) 731-0984
Email: [email protected] / contact for on website
Physical Address:
808 St. Paul St.
Baltimore, MD, 21202
Paradigm Press states that customers have 180 days to review his materials, and if during that time they're not satisfied they can request a refund.
Jim Rickards Reviews & Complaints
We found customer reviews for Jim Rickards' books to be fairly good. On Amazon most of his books have a rating of around 4.5/5 stars.
Readers generally tend to appreciate getting an inside view into how some of the big financial decisions get made.
The feedback for Strategic Intelligence consists of more mixed reviews, with more complaints being posted on trading focused review websites.
In general, customers feel that Rickards relies too much on scare tactics to sell his products. These reviewers feel that these warnings are becoming increasingly inflammatory and seem hyperbolic.
There are also customer reviews that you can read on our site from those who state they have not made any money following his advice and that many of his predictions never came true.
Finally, customers also take issue with how much solicitation they get for other newsletters once they sign up for the basic version of Strategic Intelligence.
On the other hand, there are customers who enjoy his newsletters and, even though they admit to not being fans of the doom and gloom, they believe he makes compelling arguments for the claims he espouses.
Competitors and Alternatives
There are several investment advisory companies that follow a very similar marketing strategy to Paradigm Press.
They feature a handful of expert market analysts who market their subscription newsletters through online ads that often claim that some manner of financial collapse is imminent.
They go on to argue that you need their newsletter to prepare yourself and/or take advantage of this catastrophic event.
Such companies include:


These publishers usually have mostly negative customer reviews that you can read here and on other sites, and are generally not recommended by serious investors.
Is Jim Rickards a Scam?
It's difficult to judge investment advisors because it depends on the time frame you use to look at their work.
Individual stock pickers rarely beat the market consistently over a prolonged period of time, and it is difficult to predict who those stock pickers will be in the future.
That being said, you can still find value in Jim Rickards advice, books, and world views. For instance, hedging against the collapse of the US dollar may prove to be good advice in the long run.
However, we find that Rickards' use of strong and emotional messaging in sales pitches for his products is usually a red flag.
We also find the sales tactic of enticing new customers with a low cost newsletter followed by aggressive attempts to upsell them to much more pricey offerings to be questionable.
If you have any experience with Jim Rickards' books or newsletters, please leave your reviews below.
You may also be interested in
Jim Rickards Customer Reviews