Brownstone Research Reviews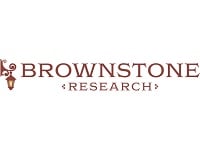 Brownstone Research is an investment research firm that publishes a free newsletter, The Bleeding Edge, along with a number of other trading and investment services.
The company's website states that founder Jeff Brown is an experienced executive who brings twenty-five years of investment expertise to Brownstone.
How Does Brownstone Research Work?
The Bleeding Edge newsletter offers Jeff Brown's insights about what is occurring in the tech investing world.
In it, he discusses current tech trends and emerging technologies while providing analysis on how to utilize his research and market perceptions to make wise investments.
Beyond that, Brownstone Research offers several products that they state are designed to empower investors to make solid investing decisions.
These services range in price from $199 for the The Near Future Report, to $5000 for the Early Stage Trader, a trading service focusing on microcaps in the tech sector.
The Near Future Report is an investment advisory that focuses on large-cap tech opportunities that show promise. An example of past opportunities discussed in The Near Future Report have been related to emerging AI and 5g technologies.
A recent issue offered a prediction about 'The Second Wave', pointing to certain tech stocks that will remain profitable even throughout the economic instability caused by COVID-19.
Brown doubled down on these predictions during a Tech Melt presentation in 2020.
The Exponential Tech Investor provides investment insights into technologies that are experiencing exponential rates of growth. These picks include companies that have the potential to turn into the next big thing.
The Blank Check Speculator is designed for investors who want to gain insight into Special Purpose Acquisition Corporations (SPACs), companies that are created specifically for the purpose of acquiring a private company.
SPACs have been rapidly growing in popularity in recent years due to increased demand from speculative investors farther out on the risk curve.
Cost and Price Plans
The Bleeding Edge newsletter is free. Brownstone Research products range in price from $199 to $5000.00 and up. The Brownstone Unlimited package, which includes access to everything the company offers, is priced only upon inquiry.
Customer Service
BrownstoneResearch.com has a contact form on their website. Additionally, they list 888 493 3156 as a contact number ( Mon-Fri, 9am-7pm ET) and [email protected] as a contact email address.
The company lists its physical address as 55 NE 5th Avenue, Delray Beach, FL 33483.
Online Customer Reviews/Complaints
Brownstone Research customer reviews range from overwhelmingly negative to largely positive, depending on the review website one looks at.
This makes it difficult to gauge general customer consensus on the company, and to determine the quality and legitimacy of the reviews themselves.
The company has a large number of complaints on the BBB, none of which the company has responded to at this time. This is one factor that puts Brownstone Research credibility into question.
Some common complaints we've seen from customers state that Brownstone has an unclear billing/refund system and unresponsive customer service.
Some unhappy customers also state that it was difficult to separate actual investment information from the large number of 'up-sales' and affiliate offers.
Conversely, positive customer reviews state the research Brownstone provides is thorough, and that the recommendations have been solid.
The company has a low rating on Reviewopedia, albeit from a small number of reviews. Additionally, The Near Future Report also has mixed to negative customer reviews on Reviewopedia at this time.
It is not totally clear, but it seems that Brownstone Research is either under the umbrella of, or has branched off from, the publisher Agora Financial, which also has largely negative customer reviews on Reviewopedia.
Competitors and Alternatives
Other companies with investment focused education materials include The Oxford Club, Stansberry Research, and Weiss Ratings.
These companies, along with most companies that offer stock signals and investment tips, have mixed to negative reviews from customers.
We believe this has to do with a number of factors, including both unrealistic expectations from customers and unscrupulously acting companies.
It's important to understand that investing comes with inherent risk that is not always clear, and that very few (if any) individuals have demonstrated that they can consistently beat the market over the long term.
Is Brownstone Research Legit?
The company is registered as Bonner and Partners, LLC, and so is subject to the laws of the United States.
While the promotional material on Brownstone's public facing website is not full of hype and exaggerated claims, the company does use affiliate marketers to promote their products who link to promotional pages on BrownstoneResearch.com that do feature much more 'hype' language and titles which can be described as 'fear mongering'
It's also unclear why the company offers The Near Future Report for $199 on their website, yet offers it for as low as $49 through affiliate offers. That seems like a huge price discrepancy that's difficult to explain.
We also feel that the company's niche seems to be in highly speculative and risky investments. While these investments do provide the opportunity for big gains, they also comes with big risk.
This could explain some of the polarizing customer reviews Brownstone receives, where customers are very happy when these speculative investment ideas succeed and unhappy when they fail.
The other question is whether Brownstone Research is worth the price, which can be quite high for some of their services. Ultimately, this is something only the customer themselves can decide on an individual basis.
Brownstone does offer a free newsletter, which a prospective customer can take advantage of to familiarize themselves with the company at no cost.
If you have any experience with Brownstone Research or their services, please leave your reviews below.
You may also be interested in
Brownstone Research Customer Reviews

angus
Very disappointed. Have been a member for over 2 months and not received any updates by email or phone. None of the suggested investments have resulted in payments and the perceptron system is flawed and not living up to its hype. The so-called 60 days keeps being extended. Please just refund my subscription

BK
Brownstone Research and Jeff Brown - CRIMINALS
The one star is actually a NEGATIVE INFINITY! Jeff Brown is one of the biggest scammers in the business and how he has remained out of prison is beyond me. I will pay for a real address for this clown if you have it. I might not get my money back, but I'll get my money's worth.

Laki L
Brownstone Research is a SCAM! Do not give them your moneh!
This is a SCAM!!! I spend money for membership this scammer Jeff Brown gave promises I will make $100,000 – I just lost money and one of the companies he recommended it bankrupted – he is a pump and dump paid clown!!! They also don't pick up the line, you cannot reach them – they do not return the membership money!
SCAM - SCAM – SCAM

Alltypes
Perfect place for becoming a . . . .
Perfect place for becoming a millionaire, all you have to do is start with 2 million, and they will be sure to lose you the other million in the space of a year.
I am a lifetime member - unfortunately. That arrangement will be coming to an end with them soon.
They fail to publish annual returns for each newsletter, and keep saying to hold on. I am not referring to the past few months worth of downside, this has been a slow leak over the past 12 months.
Stay away! or become poor!

alan w
Brownstone Research is a total scam. I paid to subscribe. I did not receive any trading advice. All I received in the last 2-3 weeks, my subscription time, is continual advertisements that for several thousand dollars. I would receive stock advice.

Matthias G
If you want to loose all your money?
the only service you need from them is the standard "near future report". Anything else they offer does not work better. Don't let you blind from their marketing videos with mega profit promises. That's not true.
Especially the "early stage trader" service which is focused on biotech is just garbage and not more. I only made huge losses with it. They just tell you from the winners but don't tell you from all the other losers.
Also the SPAC service is just a bad joke. You can buy every stock much cheaper after their IPO and will lose money as well.
So actually all of it is just crap!

Robert W
Brownstone Research Sucks
THIS COMPANY IS A BIG RIP OFF. Do yourself a favor and don't give them any money. Their tips will make you lose money. It is not worth anything, let alone the crazy amount that they charge....and they won't give your money back. Jeff is the worst.

nick
One of the worst experiences I have done with this kind of companies. At the beginning with "THE NEAR FUTURE REPORT" everything well, but I paid only 99 US$ for subscription.
Last year, in January I was convinced by an overseas phone made (from US to Italy)by a certain Tara to do a life subscription to all their services for the modest sum of 4000 US$.I accepted event though the same subscription was proposed at 2500 US$ some days later.
Anyway at the end of December I checked all my investments done during the year following Jeff Brown indications; well I had lost 12,5% of my capital instead of spy, Nasdaq and Dow with a media gain, in the same period, of 20%.
So a lot of money. I asked explanation: no answer. I cut my subscription (annual maintenance fee of 199 US$)no answer. I distrusted the company not to charge my credit card: no answer. Few days ago they charged my credit card.
One only final comment: unbelievable but what happened

Bill
Avoid this company like the Corona Virus! Somehow they have acquired my email address and they constantly share it with affiliated companies, which barrage me with promotional spam.
I have submitted numerous requests to delete my email address, complaints and profane diatribes when this hasn't been done, and negative posts on investment forums.
I finally received an email notifying me that they have placed my email address on a "Do Not Promote" list (not removed entirely!). The next promotion I get will trigger a complaint to the Better Business Bureau!

Alex L
Beware: 'Refund' promise is misleading!
BEWARE: pure scam, you WILL NEVER get your money back. Their '90-Day 100% Credit REFUND' simply means they will NOT refund your money back, but give you a 'credit' to use for any of their other subscriptions.
Oh, and they will sell your email address so that your inbox will get flooded with solicitation emails from people you've never even heard about - same con artists like this 'Jeff Brown'..

Jay G
Brownstone research cannot be legit if they are constantly sending UNSOLICITED e-mails to unsuspecting innocent people like myself. They do not give you the proper right to unsubscribe and ignore direct e-mails asking to be removed. My best advice is to steer way clear of this company if you value your hard-earned money.

Dan S
Good investing advice, ZERO support
I find Jeff's comments knowledgeable and useful. I have made money, and do not blame him for the performance of the market.
HOWEVER, the support is atrocious to non-existent. Letters regarding specific advice are unanswered. The last time I called I had a specific crypto question. The FIRST thing I asked the person was "this is a technical crypto question based on your last publication on how to stake - are you knowledgeable about this? "yes". She was not.
When I asked my question she replied let me check with my supervisor. After a long hold, she reported the supervisor asked if I had followed the instructions correctly!
G I V E ME A BREAK! I could NOT speak to the supervisor, I was cut off and never received a call back even tho' they have my number. Not one of my emails has been answered. I pay a lot for the service, yet they do not come through when you need it.

Jack R
Brownstone is a scam operation
Let me tell you how these scam artists operate. My mother, who is 86, was hounded by them, calling her incessantly. I told her to tell them she was not interested. Well, today I saw a charge on her credit card for $2,000.
When I called her she said she had 90 days to decide if she wanted to keep the service. I called Brownstone as soon as I saw the charge and contrary to what my mother was told they said they would not return the money.
She could transfer the money to another service they offer, but the money was gone, for good. No refund. No grace period. They are scam artists. All legitimate investment services (ALL OF THEM) allow you to review their services and you can cancel at any time. Not the case with Brownstone.

Anthony R
Terrible Customer Service
I contracted the company two different times with time sensitive information and they never contacted me back in the timeframes they promised. The lack of quality and timely customer service cost me $650 for something I didn't and couldn't use due to losing my job to COVID.