Brownstone Research Reviews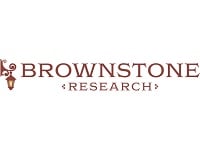 Brownstone Research is an investment research firm that publishes a free newsletter, The Bleeding Edge, along with a number of other trading and investment services.
The company's website states that founder Jeff Brown is an experienced executive who brings twenty-five years of investment expertise to Brownstone.
How Does Brownstone Research Work?
The Bleeding Edge newsletter offers Jeff Brown's insights about what is occurring in the tech investing world.
In it, he discusses current tech trends and emerging technologies while providing analysis on how to utilize his research and market perceptions to make wise investments.
Beyond that, Brownstone Research offers several products that they state are designed to empower investors to make solid investing decisions.
These services range in price from $199 for the The Near Future Report, to $5000 for the Early Stage Trader, a trading service focusing on microcaps in the tech sector.
The Near Future Report is an investment advisory that focuses on large-cap tech opportunities that show promise. An example of past opportunities discussed in The Near Future Report have been related to emerging AI and 5g technologies.
A recent issue offered a prediction about 'The Second Wave', pointing to certain tech stocks that will remain profitable even throughout the economic instability caused by COVID-19.
Brown doubled down on these predictions during a Tech Melt presentation in 2020.
The Exponential Tech Investor provides investment insights into technologies that are experiencing exponential rates of growth. These picks include companies that have the potential to turn into the next big thing.
The Blank Check Speculator is designed for investors who want to gain insight into Special Purpose Acquisition Corporations (SPACs), companies that are created specifically for the purpose of acquiring a private company.
SPACs have been rapidly growing in popularity in recent years due to increased demand from speculative investors farther out on the risk curve.
Cost and Price Plans
The Bleeding Edge newsletter is free. Brownstone Research products range in price from $199 to $5000.00 and up. The Brownstone Unlimited package, which includes access to everything the company offers, is priced only upon inquiry.
Customer Service
BrownstoneResearch.com has a contact form on their website. Additionally, they list 888 493 3156 as a contact number ( Mon-Fri, 9am-7pm ET) and [email protected] as a contact email address.
The company lists its physical address as 55 NE 5th Avenue, Delray Beach, FL 33483.
Online Customer Reviews/Complaints
Brownstone Research customer reviews range from overwhelmingly negative to largely positive, depending on the review website one looks at.
This makes it difficult to gauge general customer consensus on the company, and to determine the quality and legitimacy of the reviews themselves.
The company has a large number of complaints on the BBB, none of which the company has responded to at this time. This is one factor that puts Brownstone Research credibility into question.
Some common complaints we've seen from customers state that Brownstone has an unclear billing/refund system and unresponsive customer service.
Some unhappy customers also state that it was difficult to separate actual investment information from the large number of 'up-sales' and affiliate offers.
Conversely, positive customer reviews state the research Brownstone provides is thorough, and that the recommendations have been solid.
The company has a low rating on Reviewopedia, albeit from a small number of reviews. Additionally, The Near Future Report also has mixed to negative customer reviews on Reviewopedia at this time.
It is not totally clear, but it seems that Brownstone Research is either under the umbrella of, or has branched off from, the publisher Agora Financial, which also has largely negative customer reviews on Reviewopedia.
Competitors and Alternatives
Other companies with investment focused education materials include The Oxford Club, Stansberry Research, and Weiss Ratings.
These companies, along with most companies that offer stock signals and investment tips, have mixed to negative reviews from customers.
We believe this has to do with a number of factors, including both unrealistic expectations from customers and unscrupulously acting companies.
It's important to understand that investing comes with inherent risk that is not always clear, and that very few (if any) individuals have demonstrated that they can consistently beat the market over the long term.
Is Brownstone Research Legit?
The company is registered as Bonner and Partners, LLC, and so is subject to the laws of the United States.
While the promotional material on Brownstone's public facing website is not full of hype and exaggerated claims, the company does use affiliate marketers to promote their products who link to promotional pages on BrownstoneResearch.com that do feature much more 'hype' language and titles which can be described as 'fear mongering'
It's also unclear why the company offers The Near Future Report for $199 on their website, yet offers it for as low as $49 through affiliate offers. That seems like a huge price discrepancy that's difficult to explain.
We also feel that the company's niche seems to be in highly speculative and risky investments. While these investments do provide the opportunity for big gains, they also comes with big risk.
This could explain some of the polarizing customer reviews Brownstone receives, where customers are very happy when these speculative investment ideas succeed and unhappy when they fail.
The other question is whether Brownstone Research is worth the price, which can be quite high for some of their services. Ultimately, this is something only the customer themselves can decide on an individual basis.
Brownstone does offer a free newsletter, which a prospective customer can take advantage of to familiarize themselves with the company at no cost.
If you have any experience with Brownstone Research or their services, please leave your reviews below.
You may also be interested in
Brownstone Research Customer Reviews