Fitnus Smartwatch Reviews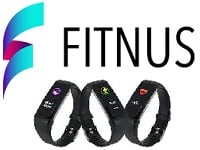 Fitnus Watch Review - Is it Worth Buying?
The Fitnus Smartwatch is a brand of discount fitness tracker that aims to offer a low cost alternative to the bigger, more expensive brands dominating the industry.
How Does It Work?
While being a cheaper alternative, the company still claims to offer many of the same features that you'd find in a more expensive product.
Fitnus market their smartwatch directly to consumers through online ads and only sell their watches online,
As an 'online only' retailer, Fitnus cut out some of the middlemen involved in traditional retail outlets, which is one of the ways they state they're able to keep costs low.
Below we take a closer look at the Fitnus Smartwatch to see if it's really a good alternative to trusted brands.
The Fitnus.com website claims that the watch has a lot of features to help users at any stage of their health journey by being able to keep track of vitals such as heart rate, blood oxygen level, and blood pressure.
The watch also functions as an activity tracker, keeping count of steps taken and walking distance, and also works with your smartphone to alert you to new texts, emails, and other smartphone notifications.
The Fitnus Smartwatch comes with a set of detailed instructions that explain how to charge the watch and assemble the straps.
In order to pair the watch with your smartphone you need to download the Runmifit App, which is available for Android and Apple devices.
Customer Reviews & Complaints
When you research this watch online you'll come across many online customer reviews for Fitnus.
However, a large portion of the websites reviewing the Fitnus are affiliate sites set up to promote the product for a commission, and do not post any actual customer feedback.
This affiliate marketing strategy also works to crowd out actual feedback in the search results.
When we found genuine customer reviews for the Fitnus Smartwatch, we found that the majority of them were not positive. There are many complaints about the watch itself, and even more complaints regarding the Runmifit app.
Reviews reported such issues as:
Incorrect Vitals - Users reported low temperature readings, inaccurately high BPMs, and a virtually useless sleep tracking function.
There were mixed reviews regarding the step count, with some customers saying that the watch was fairly accurate, albeit a touch too sensitive.
App Connectivity - The bulk of customer complaints focused on how unreliable the app is at interacting with their smartphone. Many customers mentioned that the Fitnus frequently disconnected and, over time, stops pairing with the device altogether.
Data Loss - Customers also mentioned issues with data loss, which occurred with any updates or after the battery died.
Many also had issues with receiving notifications from their phone via the watch, expressing that notifications only worked when the app was open and running. The Runmifit app has 2.4/5 rating in the Google play store.
On a positive note, the parent company for the Fitnus brand is accredited by the BBB with a B+ rating. There are some customer complaints on the BBB website, but they have been addressed by customer service.
In general it seems that the Fitnus team replies to publicly posted negative reviews with attempts at resolving customer issues.
Customer Service
If you have any questions regarding the Fitnus, you can submit an inquiry via email at [email protected] or by phone at: 1-800-311-1794.
The company states they offer a 30 day money back guarantee on their smartwatches. However, in their terms and conditions they Fitnus state that customers need to contact them within 7 days after receiving the product to initiate a refund.
You'll have to send back the watch in the condition and packaging that you received it in, and at your own expense.
If you submitted an order but no longer wish to receive the product, Fitnus state that you have 24 hours to cancel the order. They will refund your order minus S&H fees.
The company address is:
Bazaar Innovations LLC
162 Rancho Santa Fe Road E70, #495
Encinitas CA 92024
Cost and Price Plans
The Fitnus Smartwatch sells for $49.95 + Shipping. There are built in discounts for buying multiple units.


2 Fitnus eWatches - $89.90 w/free shipping
3 Fitnus eWatches - $112.39 w/free shipping
4 Fitnus eWatches - $129.95 w/free shipping
Competitors and Alternatives
There are a lot of options and overlap when it comes to fitness trackers and smart watches. Some are better than others for athletic tracking while others provide more of an all around experience.
If there's a particular feature that's your primary reason for investing in this type of tech then you may want to narrow your search for a tracker that specializes in that functionality.
Some of the best options on the market today are from Fitbit, Garmin, and Apple.
The Fitbit Charge 5 is a NY Times pick and best seller on Amazon.
It's an advanced health tracker that measures a variety of movements with a built-in GPS. It has a plethora of advanced features that let you track your sleep, heart rate, and includes a stress management tool.
If you don't need an overwhelming amount of features and are looking for a budget choice, the brand's other option is the Fitbit Inspire 2.
It does not have built-in GPS so you'll need to connect it to your phone for that feature. It offers all the basic options like activity tracking, heart rate monitoring, and sleep quality tracking and analysis.
It's also water resistant to 50 meters and even offers guided on-wrist breathing sessions. It has a 4.5/5 rating from 52,000+ reviews on Amazon.
It retails for $65 and includes a free 1-Year Fitbit Premium Trial subscription.
The Bottom Line
We find that the Fitnus Smartwatch raises some serious red flags.
There are a number of discount smartwatches being aggressively marketed online, all using the same software and app, but sold under different brand names. These smartwatches all have similar negative reviews and usually the sellers don't stick around longer than a year.
Another red flag is that advertisements for the Fitnus Smartwatch specifically advertise the watch as a product for seniors. We find this suspicious because elderly customers are less likely to be able to differentiate between a quality and a subpar electronic device.
While it's promising that Fitnus is accredited with the BBB, the negative online reviews and the brand's history of releasing other subpar products, such as the SignalTech and Airjoi, make it difficult to recommend this device.
We think it's best to go with a trusted brand that, while perhaps costing more, will deliver more accurate results and have the customer support infrastructure in place if you have issues with the product.
If you have any experience with the Fitnus Smartwatch, please leave your reviews below.
You may also be interested in
Fitnus Smartwatch Customer Reviews