AirJoi Reviews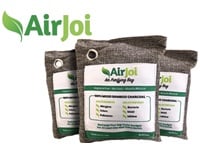 AirJoi is an air deodorizer that utilizes bamboo charcoal to get rid of common airborne pollutants and prevent the growth of mildew, mold, and bacteria without using fragrances or chemicals.
How Does AirJoi Work?
Activated bamboo charcoal is one of nature's best cleaners. When charcoal is activated, it becomes more porous.
Bamboo is naturally quite porous, with microscopic holes that can soak up contaminants and odors, effectively removing them from the air. It works through absorption, drawing in pollutants and then removing them with ease.
To use the AirJoi bag, all you need to do is place it in the room you wish to purify, wait a few days, and you'll start to see a difference. There is very little maintenance required.
You may have to place your bag in direct sunlight for a couple of hours once a month, but that's it. The purpose of this is to allow the UV rays of the sun to neutralize the contaminants in the bag.
That said, each one of these bags lasts an impressive two years. Each bag covers up to 90 square feet and contains only natural ingredients.
There are no artificial fragrances here. All you will get is an outstanding charcoal odor absorber.
Cost and Price Plans
You will have several purchasing options when it comes to this product.
You can buy three bags for $39.95, five for $59.95, ten for $99.95, or twenty for $159.99. All bags come with free shipping.
Keep in mind that all bags last two years, so buying in bulk is a great idea if you want to effectively purify every corner of your home.
You will have 30 days from the day you receive your bags to request a refund.
Online Reviews & Complaints
Customer reviews of AirJoi are overwhelmingly positive, but there are a few complaints to note. Most have to do with the fact that the the device doesn't work immediately.
It will take a few days or weeks to get rid of odors, especially if you are using it in a large room. The best place to use it is, as the manufacturer recommends, in a room that is small and has less airflow.
It is the most effective in rooms like small bedrooms, bathrooms, and closets. Since the AirJoi is chemical and fragrance free, you don't have to worry about odd combinations of smells, fumes, or fragrances.
You aren't just covering up an odor, but are instead removing the odor completely from the air.
Customer Service
You can email [email protected] or you can call (800) 673-2470 to begin the process of a return or to inquire about any concerns you may have.
The company also has a mailing address in San Diego, CA.
Where to Buy?
You can purchase the product directly from the manufacturer as well as from retailers such as Amazon. It's currently not available at several brick-and-mortar stores, like at Walmart or at Home Depot.
Competitors and Alternatives
There are many alternatives to AirJoi on the market, including filtered air purifiers, like the GermGuardian True HEPA Filter Air Purifier and air ionizers like the Alpine Air Commercial Ozone Generator.
It's important to note that these two technologies work a bit differently than the AirJoi. When you are considering filtered air purifiers, keep in mind that you will need to replace filters every three or four months.
These costs can add up. However, they are some of the best at removing allergens from a room, and can actually be more effective than moisture - and odor-eliminators like the AirJoi.
Air purifiers with filters - particularly those with HEPA filters - are some of the most effective at removing unpleasant and harmful dust, germs, pollen, and other allergens from the air.
Many, including the Germ Guardian, can remove allergens as small as .3 microns.
When it comes to air ionizers, again, there are some different technologies involved. Air ionizers release ions into the room. These bind to allergens and bring them to the ground.
However, they don't work as well in high-traffic areas, and you'll have to clean just as often to get rid of the fallen allergens.
The Alpine Air Commercial Ozone Generator, however, is best for heavy-duty use, making it useful in open spaces like garages and kitchens.
The Bottom Line
There are all kinds of nasty things floating around in the air that you probably don't want to expose yourself to.
From air pollutants to dust, allergies to chemicals, there are plenty of contaminants that really shouldn't be making their way into your lungs.
Investing in a good air purifier can make a world of difference, but it can be tough to determine which option is right for you. There are thousands of choices out there, many of which are not exactly eco-friendly.
If you want to get rid of excess odors and moisture in your home, you should consider investing in the AirJoi charcoal bags.
Not only can they get rid of smells and moisture build-up, but they don't have chemicals and areas in an eco-friendly way to keep things clean, particularly in small areas like closets, cars, or bedrooms.
While the AirJoi purifiers don't work particularly quickly, they can be great option for people who are allergic to fragrances or are simply looking for an easier solution to reduce moisture and odors in the home.
If you have any experience with AirJoi or their products, please leave your reviews below.
You may also be interested in
AirJoi Customer Reviews