SignalTech WiFi Booster Reviews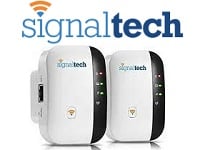 SignalTech WiFi Booster Review: Legit or Scam?
The SignalTech WiFi Booster is a Wi-Fi range extender the seller claims is easy to set up and can eliminate Wi-Fi dead spots in your home.
Below we take a closer look at the SignalTech WiFi Booster and its parent company to determine if it's worth buying or just another internet scam.
How Does It Work?
More homes are coming to rely on Wi-Fi signal extenders as oftentimes a router can not reach every usable space in your home, which is where repeaters like SignalTech come into play.
These devices connect to your current network and then rebroadcast the signal in other areas of your home, effectively extending your coverage range.
SignalTech claims that its product is easy to install and can provide additional WIFI signal coverage instantly by boosting the signal from your existing router.
The setup simply requires 4 steps:


Finding a suitable spot for the device and plugging it in
Connect to "Wifi Repeater"
Go to the provided url:/www.myrepeater.net
Follow the prompts to login and complete setup a new login pass


The specifications state that it delivers dual-band Wi-Fi with internet speeds of up to 300Mbps for 2.4GHz and 433Mbps for 5GHz.
The seller goes on to state that this should allow you to watch online movies and play games in 4k streaming and will work with the latest devices, PCs, TVs, Consoles, and on both android and apple platforms.
Customer Reviews & Complaints
Overall the SignalTech WIFI Booster has mixed to poor customer reviews on consumer review websites such as Reviewopedia and others.
SignalTech's own website has positive customer reviews where people offer praise for this Wi-Fi extender, but unfortunately the good reviews do not continue when you check elsewhere.
Some of the customer reviews, which you can read below, describe difficulties setting up the unit and getting it to connect to their internet router.
Unhappy customers go on to say that attempts to have SignalTech's customer support resolve the issues were also fruitless.
These types of complaints are also echoed on consumer protection websites the BBB.
There Bazzar Innovations, the company behind the SignalTech WIFI Booster, has a customer rating of 1 out of 5, albeit from only 10 reviews.
Bazzar Innovations are not accredited by the BBB but do make an effort to close most of the complaints that have been posted there.
Red Flags to Consider
In addition to the negative customer reviews there are some advertising techniques that SignalTech uses that set off some red flags for us.


Positive customer reviews that are posted on SignalTechBooster.com make use of stock photographs. This makes it hard to trust whether those reviews actually came from real customers.
Bazzar Innovations is also the seller of a number of other tech and health products that have received negative reviews on Reviewopedia and other websites. An example of one such product is the Fitnus Smartwatch.

Poor quality and lack of customer support are commonly cited issues by users. While this does not necessarily mean the SignalTech booster won't work it still reflects poorly on the company overall.
Bazzar Innovations describes itself as a direct to consumer product development company that cuts out middlemen and retail branding to offer products at cheaper rates to their customers.

However, it seems that what the company is actually doing is purchasing generic products wholesale from overseas manufacturers and simply rebranding them.

While there is inherently nothing wrong with this, what you do lose out on is technical support and ongoing product updates that you would normally get from an established tech brand.

These generic boosters are also resold on Amazon, by similar companies to Bazzar Innovations, where they also routinely get bad reviews from customers.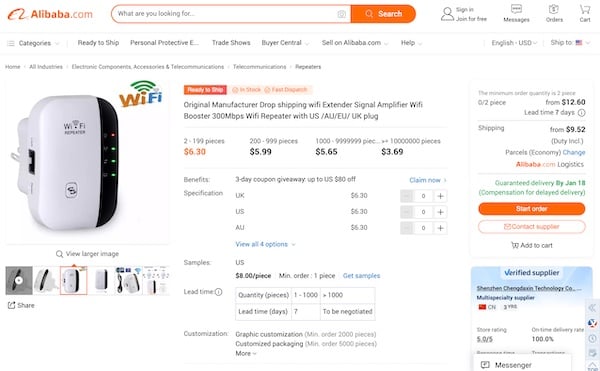 ( Extender that looks identical to the SignalTech WiFi Booster sold on Alibaba for much cheaper. )
Customer Service
If you have questions about your order or the product, you can contact SignalTech by email at [email protected] or calling 1-800-269-0706.
The company name and address is:


Bazaar Innovations LLC
162 Rancho Santa Fe Road E70, #495
Encinitas CA 92024
The product also comes with a 30-day money back guarantee that states unsatisfied customers have 30 days to ship the product back at their own expense to receive a refund or replacement.
You must contact the company within 7 days of receiving the device and send it back in the same condition and same packaging as you received it.
Your refund should be credited back in 5-10 business days.
Cost and Price Plans
Currently the company is offering 1 SignalTech booster for $39.95 + $6.99 s/h.
If you purchase more than one unit you are offered free shipping and additional discounts for each extra unit ordered.
You also have the option of ordering SignalTech's lifetime protection and replacement warranty for an extra $9.97.
Where to Buy?
You can order a SignalTech unit directly through their website.
Competitors and Alternatives
Modem, router, and extender technology is constantly being improved and so are your options for better Wi-Fi coverage.
Depending on your unique home setup and needs there may be a number of different solutions to pursue, everything from simply updating your router ( some tech sites recommend doing this even if it's only a few years old ) to setting up an entire mesh network to cover a large home.
Some highly recommended alternatives to the SignalTech booster:


If you do not need Wi-Fi 6 compatibility a good low cost option is the TP-Link AC1750.

This dual band extender can provide a data transfer rate of up to 1750mbps. It's also the PCMAG 'Editor's Choice' selection and sells for $49.99 on Amazon.



The newer version is the TP-Link AX1800, which has a higher transfer rate and is Wi-Fi 6 compatible. It's also an "Amazon Choice" product and is only $69.99.



The Asus RP-AX56 is another excellent choice that has all the up to date features and allows you to set up a mesh network. It boasts coverage for up to 2,200 sq.ft and has great reviews on Amazon. It sells for $79.99.
The Bottom Line
Unfortunately, we do not believe that the SignalTech WIFI Booster is worth purchasing.
While some customers may be satisfied with the performance of the device, many others offer serious complaints.
There are plenty of other Wi-Fi extenders that earn high marks from reviewers and boast plenty of satisfied customers. We suggest that you purchase one of those the next time you experience Wi-Fi issues.
If you have any experience with the SignalTech WIFI Booster, please leave your reviews below.
You may also be interested in
SignalTech WiFi Booster Customer Reviews

Sheldon J
I have a collection of signal tech paper weights...

Paula S
Poor Quality Product; Lousy Tech Support!
I was one of those who never got the SignalTech Wifi Booster to work, despite a masters degree in Computer Science and 40 years experience in Systems and Network Administration (I'm not kidding!) Two attempts to WPS with an Xfinity internet modem/router failed to configure it. I tried the manual process 3 times, all were partially successful (at different points in the process!), but eventually failed.
The FAQ and online video were no help, so I called Customer Support. That person read me all of the instructions on the paper, but was unable to answer even the simplest question, like do I need to configure both Repeater and AP modes; the instructions are unclear. When I asked to escalate to a higher level tech, thinking I could save this device, she wanted to look up our purchase date (what!). It turns out, our only other option was for her to ship us a new one, IF we were still in the 30-day warranty window; they have no higher-level tech support, apparently.
Since our purchase was more than 30 days ago, we lose big time: $49.95 in the trash!!!

craig c
Instructions do not work and staff can't solve problems
Don't bother with this. instructions are terrible and tech services can not fix the issue and have trouble listening which is also part of the problem. Claim to fame is they will send you a video, which does not fix my issue.

Jazzsuds
I purchased the Signal tech plugged it in and saw it in my list of wifi available. I then connected to it and I had no internet. I pushed the reset and tried again and no internet. Would not recommend it