SignalTech WIFI Booster Reviews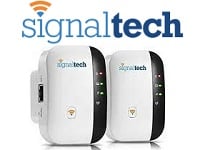 The SignalTech WIFI Booster is a Wi-Fi range extenders marketed at SignalTechBooster.com, whose creators claim is easy and quick to set up, and can eliminate Wi-Fi dead spots in your home.
How Does It Work?
The Wi-Fi extender boosts the signal from your existing router. The specifications state that it delivers internet speeds of up to 300Mbps.
To setup and use, all you do is plug the device into a wall, search for the "Repeater" signal, click connect, and love your new flawless Wi-Fi coverage!
So, is it reliable? Is it real? Below, we delve into all the details to help you determine if it is the solution for which you have been waiting!
Cost and Price Plans
If you are considering purchasing a SignalTech for your home or office, you will be happy to learn that they are currently offering their product at a 50% discount.
If you buy the SignalTech device during this special sale, you will pay $49.95 for 1 device, plus $6.99 for shipping.
The website offers discounts when ordering multiple units. Additionally, company offers free shipping for orders of 2 or more units.
Customer Service
If you have questions about your order or the product, you can contact SignalTech by e-mailing [email protected] or calling 1-800-269-0706.
Online Customer Reviews/Complaints
If you are looking for a product to help you resolve your Wi-Fi issues, we are sure that by now, you are wondering - Does SignalTech work? According to available customer reviews, the answer is "Perhaps."
We say this because the company earns mixed reviews across the internet.
The SignalTech website offers positive customer testimonials, where people offer praise for this Wi-Fi extender, but unfortunately the positivity does not continue when you check out reviews on Amazon.
While the product is currently out of stock on Amazon, you can still see that customers only gave this Wi-Fi extender a 3.2/5-star rating, where 40% of Amazon customers left 5-star reviews and 31% of customers left only a 1-star rating.
Where to Buy?
You can order a SignalTech unit directly through their website.
Competitors and Alternatives
Looking to speed up or otherwise improve your internet connection? There are other Wi-Fi extenders besides SignalTech on the market that you may want to consider prior to making a purchase.
For example, one popular option is the Setek Wi-Fi Extender, a device that boosts internet coverage to up to 2400 square feet and allows use with about fifteen different devices.
The Setek Extender helps you get a fast and stable signal and is designed with ease of use in mind. You can buy a Setek Wi-Fi Extender on Amazon for $39.95. Over 1,000 Amazon customers have given the product a high rating of 4.1/5 stars.
A second Wi-Fi extender option comes from the company NextBox, whose mission is to help people solve all their Wi-Fi issues. Their Wi-Fi Extender costs $29.95 and helps you extend coverage to devices like iPhones, iPads, Android devices, Echo/Alexa devices, and Smart TVs.
NextBox claims that their extender can be used in conjunction with any router and is easy to setup. It comes in two different colors – black and white. NextBox boasts excellent reviews from Amazon customers, who give the product a 4.3/5-star rating.
Our final alternative to the SignalTech Extender is the TP-Link Universal Wi-Fi Range Extender. This product covers up to 1200 square feet, can extend coverage to 20 devices.
The TP-Link Extender can be purchased for $27.99 on Amazon, where customers give it a 3.9/5-star rating.
The Bottom Line
Unfortunately, we do not believe that SignalTech is worth it. While some customers are satisfied with the performance of the device, others offer serious complaints.
There are plenty of other Wi-Fi extenders that earn high reviews and can boast plenty of satisfied customers – we suggest that you purchase one of those the next time you experience Wi-Fi issues.
If you have any experience with the SignalTech WIFI Booster, please leave your reviews below.
You may also be interested in
SignalTech WIFI Booster Customer Reviews

Paula S
Poor Quality Product; Lousy Tech Support!
I was one of those who never got the SignalTech Wifi Booster to work, despite a masters degree in Computer Science and 40 years experience in Systems and Network Administration (I'm not kidding!) Two attempts to WPS with an Xfinity internet modem/router failed to configure it. I tried the manual process 3 times, all were partially successful (at different points in the process!), but eventually failed.
The FAQ and online video were no help, so I called Customer Support. That person read me all of the instructions on the paper, but was unable to answer even the simplest question, like do I need to configure both Repeater and AP modes; the instructions are unclear. When I asked to escalate to a higher level tech, thinking I could save this device, she wanted to look up our purchase date (what!). It turns out, our only other option was for her to ship us a new one, IF we were still in the 30-day warranty window; they have no higher-level tech support, apparently.
Since our purchase was more than 30 days ago, we lose big time: $49.95 in the trash!!!

craig c
Instructions do not work and staff can't solve problems
Don't bother with this. instructions are terrible and tech services can not fix the issue and have trouble listening which is also part of the problem. Claim to fame is they will send you a video, which does not fix my issue.

Jazzsuds
I purchased the Signal tech plugged it in and saw it in my list of wifi available. I then connected to it and I had no internet. I pushed the reset and tried again and no internet. Would not recommend it