DailySale.com Reviews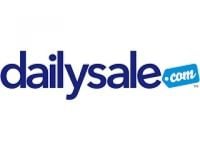 DailySale.com is a daily deals website that offers deals on new and refurbished items in a wide variety of categories.
How Does DailySale.com Work?
A daily deals website is a specific kind of discount or coupon website that partners with local and national retailers in order to provide customers with special discounts or promotional deals.
On DailySale.com, new deals are launched each night at midnight Eastern Standard Time and remain on sale for 24 hours.
These deals are often limited in the number of products available and products may sell out before the end of the 24 hour period.
If products are in high enough demand that the website decides to re-issue them for sale, they may raise the price of these items.
Customers who are interested in the deals they have to offer can go to their website, look through all the featured deals available on their main page, or you can look through the deals by specific categories, including Men, Women, Kids, Electronics, Lifestyle, and Jewelry.
Cost & Price Plans
The cost of the products sold through DailySale.com will vary based on a large number of factors, including the type of goods or service, the percentage of the discount available, and more.
They also offer free shipping on orders over $49.
Refund Policy
DailySale.com states they offer a a 30 day return and replacement policy, but it is not a no questions asked money back guarantee.
Returns have to be authorized by the company and items must be sent back to them in the same condition they were received and in the original packaging.
There does not appear to be a refund policy for customers who simply want to return a product they are unhappy with.
If you do receive a defective product that you wish to return, you can contact them at [email protected] to receive an RMA number.
In this email, you should include your order number, the product you wish to return, the reason for return, whether the product has been opened, and whether you prefer a refund or exchange.
Return shipping fees are the responsibility of the customer. It's important to note that items sent back without an RMA number will not be accepted.
Customer Service
Customers can contact customer service with any questions, concerns, or complaints can do so by email at [email protected] or by submitting them directly to their website through their Contact Us link on the bottom of their webpage.
Daily Sale Reviews & Complaints
This website appears to have mixed reviews.
Some customers report positive experiences and satisfaction at being able to purchase products at prices well below retail value.
However, most of the negative customer reviews reported the same experience which led to their dissatisfaction, which was their inability to get a refund.
These customers often report receiving a broken or defective product and then repeatedly trying to reach customer service in order to initiate their return, but never receiving a response or being given return instructions.
In some of the most egregious instances customers claim to have received items that were badly damaged, inoperable, or cosmetically much worse than the advertised images.
Many of the complaints focus on some high ticket items such as Apple Watches which are sold as refurbished items and advertised on Daily Sale at highly discounted prices.
According to some buyers the watches sometimes arrived badly damaged, with scratched screens and electrical issues such as not being able to hold a charge properly.
These customers go on to recount their futile effort in obtaining refunds.
Many customers claim that DailySale customer service reps were unresponsive and purposely prolonged the interactions to later claim that the customers missed their refund windows.
Daily Sale Inc is not accredited by the BBB, and currently has a C rating with 483 complaints on that platform.
They list their address as:
2524 N Andrews Avenue Ext
Pompano Beach, FL 33064-2112
On a positive note they do state that the company has been in business for 10 years.
Competitors and Alternatives
There are many daily deals websites as it has become an interesting and fun way for customers to buy products at a discount.
Some popular websites Groupon.com, 1SaleADay.com, and many others.
Is Daily Sale Legit?
While DailySale.com is indeed a real company with at least some amount of satisfied customers, we believe that caution should be exercised when using this site.
There is a chance that the item you're after may not arrive in the condition you're expecting, and that customer service may not resolve your issue to your satisfaction.
As good as the deals may seem, it might be best to stick to a trusted retailer with an established customer satisfaction record.
There are many different strategies for saving money and finding deals online. One of the most effective may be using a coupon search aggregator such as the Honey App or Capital One Shopping.
These services scan the web for the best possible prices on items, automatically test any available coupon and promo codes, and give you an item's historical price data.
You can also check retailers' websites for email signup discounts or take advantage of credit card offers which can lead to bigger savings especially on high ticket items.
If you have any experience with Daily Sale or their products, please leave your reviews below.


You may also be interested in
DailySale.com Customer Reviews