Butcher Box Reviews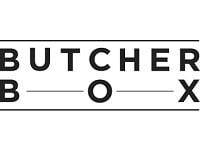 Butcher Box is a home delivery meat seller seeking to make grass-fed meat more accessible. The company got its start with founder Mike Salguero in cafes around Cambridge MA.
Butcher Box Products
Butcher Box is committed to finding everyone high-quality meat that's healthy, which is why everything is tested before it goes into your box.
They've searched far and wide for a collection of producers who are trustworthy, including family-run farms and companies who keep animal welfare in mind.
Choose from any one of their meats, including beef, chicken and pork. Beef is 100% grass-fed without any antibiotics or hormones, while all cattle are raised humanely.
Chickens spend their entire lives in the field too, so that they're leaner and healthier. The same goes for pork, so rest assured that they're never given dangerous hormones.
How Does Butcher Box Work?
When you order from Butcher Box, you must first choose your box. Pick from a mix of beef, chicken, or pork, or customize what you'd like.
The box will then be delivered right to your doorstep in an insulated box with everything frozen and packaged well. From there, all you have to do is get cooking.
Cost and Price Plans
When you get started, Butcher Box can pick out a balanced assortment of easy items for you, or more interesting cuts and you get to choose from a range of 12 add-ons for your box.
The base price begins at only US$129 a month for 8-11 pounds of meat that will let you eat a total of 24 meals. When considering the Butcher Box vs Moink box, the base price is certainly cheaper.
If you're cooking for more people though, try the Big Box, which costs more at US$238 a month, but with double the meat. With this box, you'll receive 16-22 pounds, or 48 individual meals.
Choose your own meats or let Butcher Box give you a little bit of a surprise when you receive your box. When it comes to Butcher Box vs Omaha Steaks you definitely have many more options.
Customer Service
Butcher Box will deliver right to your door and will not require a signature, since the meat is perishable. Track your package when it ships, or give specific delivery instructions for when it arrives.
Everything should arrive frozen and packaged well, although if you ever do have any issues and want to cancel your subscription, you are able to do so at any time prior to your invoice date. Just log in and scroll down to the bottom of your page.
If you have any issues, be sure to reach out for support at [email protected] for answers to all basic questions, or refer to their FAQ page. That said, they'll ship to anywhere in 48 states with free shipping.
Customer Reviews & Complaints
People so far love Butcher Box, in part because the price is so affordable for the amount of high-quality meat you receive. You are also able to get a huge variety of meats and different products that you wouldn't normally buy at the store.
Moreover, you will be able to make your meals more delicious with new cuts that really are high quality.
Not everyone is a huge fan, though and while they love the quality of the meat and the packaging, the service itself has some problems.
People have gotten packages shipped on the incorrect date, or have found their boxes sometimes thawed. Not everyone loves the price either, since local producers may be less expensive.
Competitors and Alternatives
If you like Butcher Box but maybe want to try a different company, there are a few competitors and alternatives available to you. Try Grassland Beef if you're looking specifically for beef, with their chefs making everything fresh and full of nutrients.
There's also Tendergrass Farms, who also provides all sorts of meats for you to choose from, if you want to spice up your diet. Farmer Girl similarly ships out all sorts of meats that are all high-quality, fresh and with incredible flavor. You certainly have other options if Butcher Box is not to your liking.
Where to Buy?
For your own Butcher Box, look on their website to order right away. Also check in other websites like Groupon for daily deals on your box when you purchase, or for another form of ordering if you feel more comfortable with their website.
If you have any experience with Butcher Box or their products, please leave your reviews below.
You may also be interested in
Butcher Box Customer Reviews