Zoosk Reviews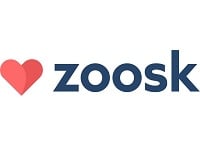 Zoosk Customer Reviews

Tony
Zoosk is so fake.the profile picture are the workers that work there..sure they sent you notice.get you all hyped up then when you sign up never here from them again..it's full of it...every one please don't go on this site....

Mike
Zoosks seems like a total scam service
Seems like a total scam service... Made to look free but it isn't... Things never add up either as they ask you to create a password but anything you type in never is accepted... totally bizarre website as there seems to be little or no direction. I would never pay money for something like this...

jim n
fake sites, fake responses, much worst than match.com,
leeches off affections of lonely people, a most cruel endeavor,
for the love of money, sound familiar.....

MR C
Trying to get you to be a member
Zoosk has legit customers as I see, but there are scammers that try to tell you to give them your e-mail so they can send pics, or skype, with you , I turn them down and tell them we can chat fine on the chat line, they don't seem to like that. Also what I experience is Zoosk sends you profiles of women with messages so you can become a member . One thing they messed up on, it's the same woman with different profiles and same pic !!!!!!!!

Dion
Garbage! the majority of the girls are inactive..the rest are fake account...tricked me into wasting money and then they wont say a word.

Alex
Awful waste of time and money
Zoosk is expensive - and not worth the price you pay.
Full of people who aren't actually who they claim to be. I had one even trying to get me to click on a link in an attempt to trick me into installing a virus or spyware onto my computer - didn't work because I am not retarded.
There are not enough people on there.
They have something called 'winks'. These are like pokes on facebook to test the water and see if you get a wink back or a message. This would be fine if many had not got automatic winks set up which automatically send a wink back regardless of whether or not the person actually wants to talk to you or not. You end up wasting your time sending a message to someone who either isn't who they are or doesn't want a message from your fine internet profiled self.
I subscribed after receiving a wink back - turned out this was an automatic wink which I at the time knew nothing about. The site encouraged me to subscribe to read this message i'd apparently got which wasn't a message at all.
Customer service is appalling. I expressed my concerns listed above to deaf ears.
I've used dating sites before and this is the worst. Lovestruck and Match remain the best.

Labrego
First of all you will be VERY VERY LIMITED if you don't spend money here, you can't send messages you can't reply to messages, etc.
Plus you will notice very quickly that some people near your location are BOTS/FAKE ACCOUNTS, you you try to get in touch with them they will reply within seconds no matter what time of the day it is...
the reply is almost the same for all bots asking you to reply back and lure you into sending them a message, once you do that, there's no response or no one on the other side and they GRAB your money like that.
I found real people inside that i actually know in real live that live near me, but still it's a waste of money... use facebook or google+ if you want to meet someone, because at least you won't find fake profiles that much and no one will hide on fake profiles, fake photos, and fake friends.

Tara
I found Zoosk to be boring to say the least! I also have experienced pop-ups of people that meet none of my match criteria. Also, if you do not become a PREMIUM member, you don't get to read or reply to any messages. I have had people from other countries trying to pose as someone from the US of A...but they type as they speak! Be careful! If you are a member and you enjoy it...good for you! Congratulations & Good Luck, but I will not be returning!

Diego S
Zoosk Still Has a Long Way to Go
I signed up for Zoosk on a whim after seeing an ad on Facebook, and I never expected to actually use it. However, one day I decided to give it a shot and see if my matches would actually be people that could click with me. I filled out my profile and added a picture, then went to the search engine to review my matches and to search for more.
I was disappointed to see that many of my matches were nowhere near my location, and some not even in the same country! Some of my criteria such as age and smoking and drinking habits were not filtered well, so I had to weed through a lot of people that I should have not popped up in the first place. I also found there were a lot of personal ads referring to pornographic websites rather than real people. I decided that the website was not worth my time and closed my account soon after.