Vital Flex Core Reviews
Vital Flex Core Review: Legit or Scam?
The Vital Flex Core is a workout device that's advertised as an easy way to build abdominal muscles and lose belly fat.
The company website doesn't offer much information outside of pictures of toned athletes and promises of rapid fat loss.

Below we explain how these types of devices are claimed to work, look at real customer reviews, and discuss whether or not we recommend the Vital Flex Core.
How Does it Work?
The Vital Flex Core is an Electronic Muscle Stimulator (EMS), which uses electrodes to send signals directly to the muscles to force a contraction.
These devices have been used for years as part of physical therapy and rehab programs to:


Improve athlete recovery
Strengthen or relax muscles
Stimulate blood circulation
Prevent muscle atrophy
Muscle cramp relief
Retraining muscles


Note: While similar in concept, EMS machines are different from Transcutaneous Electrical Nerve Stimulation (TENS) units - which are operated at lower intensities and are primarily used for pain management.
Does EMS Work for Fat Burning or Building Muscle?
There are mixed opinions and findings on the use of EMS machines outside of medically supervised treatments.
There are studies that have demonstrated positive effects of EMS training on high performing athletes in certain tests of maximal strength, speed strength, power, jumping and sprinting ability.
One such study concluded, "This scientific analysis revealed that EMS is effective for developing physical performance."
Another study found similar results when they tested an EMS training program on elite rugby players.
A third study also showed improvements in performance after EMS sessions consisting of 30 contractions (4-s duration, 85 Hz) on a small group of hockey players.
However, one study on collegiate track athletes concluded that, "low-frequency (20 Hz) neuromuscular electrical stimulation training for 12 weeks is ineffective in inducing hypertrophy of the abdominal muscles."
Another study that tested high-frequency current therapy on abdominal obesity in young women concluded that, "Our findings support the use of high-frequency current therapy to diminish abdominal obesity."
The study also noted its limitations and inability to control for diet in the experiment, ultimately stating that,

"the present findings suggest that high-frequency current therapy may be a beneficial option to be used together with active exercise for reducing the obesity level."
EMS devices in the US
In the United States, electronic muscle stimulators are actually regulated by the FDA which states that the devices they review are, "intended for use in physical therapy and rehabilitation under the direction of a health care professional."
They go on to say, "While an EMS device may be able to temporarily strengthen, tone or firm a muscle, no EMS devices have been cleared at this time for weight loss, girth reduction, or for obtaining "rock hard" abs."
The FDA has also received reports of injury from use of unregulated EMS devices including, "shocks, burns, bruising, skin irritation, and pain."
The Vital Flex Core is not an FDA Approved device.
Safety and Side Effects
These devices are generally regarded as safe.
However, those with pacemakers, cardiac arrhythmias, high blood pressure, other serious health problems, and pregnant women should not use an EMS machine.
Summary
While many studies do find positive outcomes from EMS use, there is little research supporting the types of claims made by the sellers of Vital Flex Core. The FDA warns customers to avoid unregulated EMS devices.
There are also fitness experts who believe that, outside of therapeutic use, these products are a gimmick and unlikely to help you build muscle faster.
They conclude that there is no substitute for eating a healthy diet and a strenuous workout routine.
Vital Flex Core Red Flags
1. No Company Address - In our experience a lack of physical address indicates that the company is a drop shipper and not an actual product developer. It also signals that this business is not set up for long term operation.


2. Rebranded Product - This is not the first version of this product. Generic ab stimulating devices are available for bulk order from popular overseas wholesale websites.
Here is an example wholesale listing for this product found on the Chinese ecommerce website Alibaba.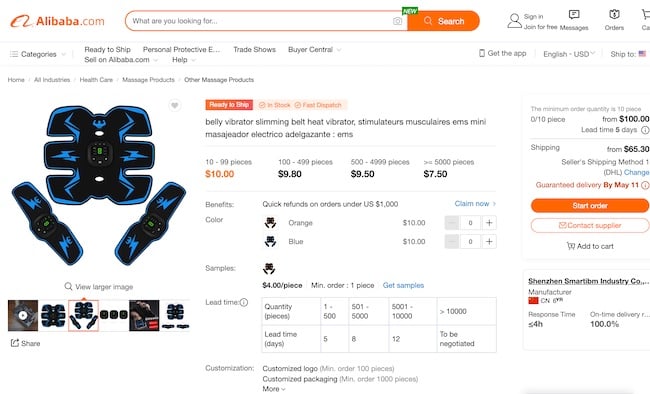 ( Generic EMS device that looks identical to the Vital Flex Core sold on Alibaba for much cheaper )

The sellers of Vital Flex Core likely purchase such generic devices in bulk and resell them for a higher price.
Devices identical to the Vital Flex Core have been previously sold under the names of "NextGen Abs Stimulator" and "Tactical X Abs", using virtually identical sales webpages.
Customer Reviews & Complaints
Given that the Vital Flex Core is a new product (or at least a product using a new name) there's not much user feedback available online at the moment.
However, we can use our previous review of Tactical X Abs Stimulator to see how these devices generally perform.
Customers regularly give these machines poor marks and complain of:


Pads not adhering to the abdomen
Some of the stimulators not working
Poor charging
Not Military Grade
Ineffective power levels
Poor design
Difficulty obtaining a refund
Customer Service
The Vital Flex Core website lists the sellers contact information as:


Email: [email protected]
Phone: +1(855) 421 6551.

Refund Policy
The company's terms state that you have 90 days to return the product.
If you are unhappy you will have to ship the item back to the company in "like new" condition, in original packaging, and at your own expense.
The company also claims to reserve the right to charge a minimum of a 15% restocking fee.
The Bottom Line
While there may be a place for EMS machines in your rehab or workout regimen, we do not believe that the Vital Flex Core is the right product for either of those uses.
Low quality devices like the Vital Flex Core do not have good customer reviews, are sold by suspect companies, and have active warnings against their use from the FDA.
Ultimately, if you are trying to lose weight and build muscle there is no shortcut for following a healthy diet and a good exercise plan.
If you have any experience with Vital Flex Core, please leave your reviews below.
You may also be interested in
Vital Flex Core Customer Reviews