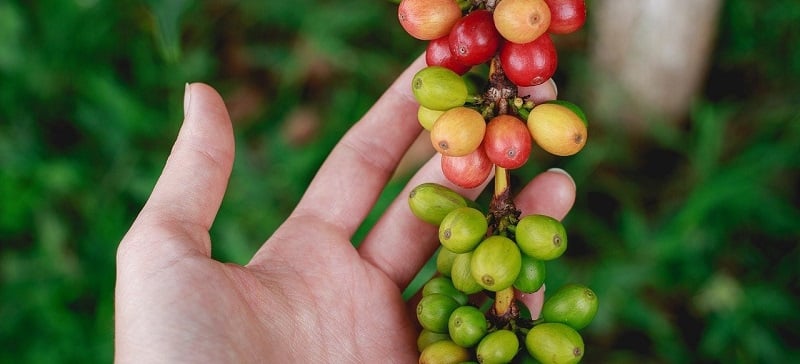 Green coffee bean extract is a popular new – all natural – dietary supplement that claims to aid the average person in both weight loss and fat loss, regardless of changes in your diet and exercise.
Unlike coffee or regular coffee beans, green coffee beans – or unroasted coffee beans – contain something called chlorogenic acid, which is believed to reduce the release of glucose into your bloodstream.
Like any proclaimed "natural weight loss product," green coffee bean extract has exploded in popularity over the course of the last couple months and has led to a variety of questions about its validity.
Green Coffee Bean Extract Benefits
Chlorogenic acid is believed to have a number of important health benefits that aid weight loss.
It is believed to have the ability to inhibit fat absorption into your system, to be able to stimulate the activation of fat metabolism in the liver, and to reduce the release of glucose into your blood, particularly after you've finished a meal.
A 12 week study was conducted by a group sponsored by green coffee bean extract manufacturers that showed weight loss averages of 10% of an individual's overall body weight, in this case an average of 18 pounds.
Unfortunately, this study was only done with 16 people and has not yet been replicated or evaluated in any large scale studies conducted by any source outside of the group which was sponsored by the green coffee bean extract groups.
Dr. Oz and Green Coffee Bean Extract
Dr. Oz, famous for identifying natural weight loss supplements like Pure Raspberry Ketone, actually recommended green coffee bean extract as a dietary supplement to aid weight loss and fat loss, and received a lot of media attention and criticism for his support for a product which has not been properly evaluated.
So he conducted his own small study, monitored by doctors and nutritionists, of almost one hundred participants.
At the end of the study, his team determined that the group that was taking actual green coffee bean extract lost almost double the weight of the group that had unknowingly been given the placebo.
Green Coffee Bean Extract Side Effects:
Since there have been no large scale scientific studies conducted with green coffee bean extract, no one can say with certainty that there are "no" side effects that can be caused by this product.
However, the small scale studies have shown no adverse side effects.
In addition, it is incredibly important to take all nutritional supplements as directed. If you take any vitamin or mineral in quantities much larger than recommended, you can experience negative side effects.
For purchasing green coffee bean extract, GNC or other nutritional supply stores will generally carry a variety of brands to choose from, or you can find many products online, like at Pure Green Coffee, though always look for independent reviews when purchasing health products online.
To properly add green coffee bean extract to your diet, you must make sure your supplement contains either GCA® or Svetol® of at least 45% of the overall ingredients.
According to Dr. Oz, the recommended dosage for aiding weight loss is 400mg, 3 times a day, generally about 30 minutes before you eat.
*This material is provided for your information only and is not intended to substitute for the medical expertise and advice of your health care provider(s). The mention of any product, service, or therapy is not an endorsement by Reviewopedia. We encourage you to discuss any decisions about treatment or care with your health care provider.