Vital Fit Track Watch Reviews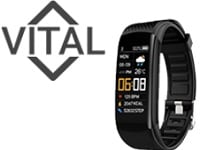 Vital Fit Track Review: Legit or Scam?
The Vital Fit Track is a smartwatch marketed through ads on local news and entertainment websites as a device with high-end features yet a budget price tag.
However, before you buy it's important to take a closer look at this product. We're very familiar with these types of watches and have in-depth reviews of similar products.
Below we'll go over the potential downfalls of buying a budget health tracker and explain why we don't think these devices are worth it.
Seller Claims
The company behind this product makes a very convincing sales pitch, even stating that this watch could "potentially save your life."
The seller's website states that the Vital Fit Track watch combines the features of a smartwatch and fitness tracker.

They states that the Vital Fit Track Watch can


24/7 Heart & Sleep Monitoring
Blood Oxygen Monitoring
Blood Pressure Monitoring
Daily Progress Tracking
Calorie & Step Monitor
Smart Notifications


The seller claims that this watch can measure systolic & diastolic blood pressure, claiming that it can replace traditional blood pressure measuring equipment and can even save you a trip to the doctor.

While a lot of these features sound impressive it's also important to put them into context in terms of which data matters the most to you.
For instance, there are entirely separate categories of fitness trackers for hardcore athletes that prioritize accuracy for different data metrics than devices meant for casual use.
This is why we recommend starting your fitness tracker or smartwatch search with an understanding of your needs and most likely uses.
Vital Fit Track - Red Flags
In general there's nothing wrong with buying a generic low-cost version of popular brand name tech products.
However, there are some critical things to be aware of beforehand.


1. This is a dropship product - These watches are available for bulk purchase from Chinese wholesale websites such as Alibaba.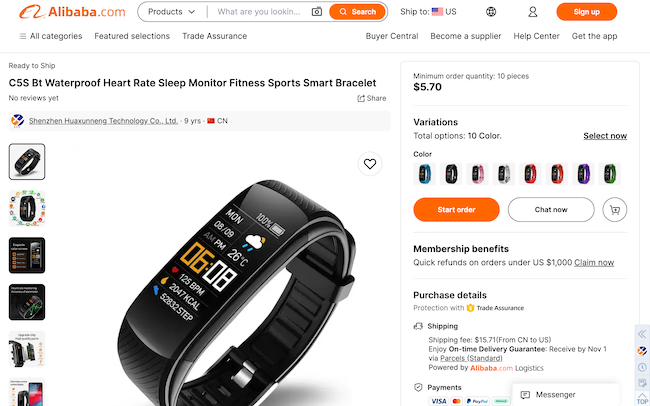 ( Smartwatch that looks identical to the Vital Fit Track listed on Alibaba for $5.70 a unit. )
The seller simply orders these watches in bulk from wholesalers and then rebrands them with their own logo.
We've seen a similar sales process with other dropship watches like the Fitnus Watch and Kinetic Pro Watch.
2. No Company Address - While the company provides an email address and phone number, they do not disclose a physical address.
This kind of anonymity allows companies to rebrand and sell other products without having to worry about maintaining their online reputation.
3. Limited after-sale support - One of the main issues when buying from resellers is that they do not usually provide high quality customer service.
When you buy from a trusted brand the company behind the product has an incentive to provide ongoing customer support as they value repeat customers and upholding their reputation.
In contrast, the goal of a shady online seller is to sell their bulk order inventory as quickly as possible and then move on to selling the next product, especially as the number negative customer reviews grows larger.
Customer Reviews & Complaints
Currently it's very difficult to find real customer reviews for the Vital Fit Track watch. For example, search results for terms like "Vital Fit Track Watch reviews" are full of advertisements and websites promoting the smartwatch.
Often companies will purposely flood results with sponsored posts and press releases to limit any potential negative results from being seen by shoppers.
However, we can look at the feedback on Reviewopedia for the nearly identical watches we've already reviewed for a sense of how these devices perform.
The majority of reviewers on our site have left negative reviews, reporting issues such as:


Problems Charging the Watch
Poor Customer Service
Incorrect vitals
Inaccurate Sleep data
Cheap product quality
Problems obtaining refunds


Furthermore, the app that controls and syncs this watch to your smartphone also has terrible reviews in the Apple and Google App stores.
At the time of this review the DayBand App has a score of:


2.6/5 from over 1,100 customer ratings at the Apple store.
2.3/5 from over 7,400 customer ratings at Google's play store.
Users echo the above complaints and also mention:


Negatives
The app does not register waking hours and activity overnight
Inaccurate heart rate monitoring
Weak battery, needing to be charged too frequently and insufficient notification before watch dies
Poor sport mode tracking
Randomly crashes
Watch defaults to Celsius settings
Inaccurate readings
Glitchy software
Issues after recent update


Positives
Enjoyed hands free photo taking
Reasonable BP and SPO2 readings
Customer Service
GetVitalFitTrack.com lists the following contact information for customer support.


Email: [email protected]
Phone: 1 (844) 844 027
Online submission form


Return Policy
The seller's terms state that they offer a 90-day guarantee on their product and that if you're unsatisfied you can contact the company to initiate a return.
You will have to send the watch back at your own expense and it must be in the same condition that you received it in and in the original packaging.
The seller also reserves the right to charge a minimum of a 15% restocking fee.
Competitors and Alternatives
With fitness wearables skyrocketing in popularity there are tons of options available on the market, with an offering from almost every major tech brand.
While top of the line products can cost over $500 there are some incredible budget options as well.
While these options will still cost more than generic dropship watches like the Vital Fit Track, there's a lot built in to that price point.
Primarily, the support infrastructure for the apps and software is the main reason to buy from a known tech company.
With constant updates you're sure to have a smooth experience and enjoy more reliable tracking data.
Apple Series 8
If you have an apple phone it makes sense to get an Apple watch. Currently the Apple Series 8 is available for around $350.
It provides advanced workout metrics along with FDA approved ECG sensors. It also offers in depth sleep analysis and specific insights for women's health.
On Amazon it has a score of 4.7/5 from around 17,000 customer ratings and is an "Amazon's Choice" selection. Check Current Price.
Fitbit Sense 2
The Fitbit Sense 2 also has FDA clearance for ECG monitoring and offers a variety of health tracking features.
The company has been a leader in the wearables sector since the technology came out and offer a robust ecosystem of apps and support for all their products.
It has many positive reviews on Amazon with a score of 4.2/5 from over 2,400 customer reviews. Check Current Price.
The Bottom Line
After reviewing a handful of these discount generic watches, we feel that they are just not worth purchasing.
While they do provide some useful features and can save you money up front, customers are generally dissatisfied with the product in the long run.
If you have any experience with the Vital Fit Track watch, please leave your reviews below.
Vital Fit Track Watch Customer Reviews

Bill M
I have not got it to work. I also purchased a charger with it. I would like to return it with the charger and extra watch bands. I would like to give it no stars...

Anna'nWei M
"Don't waste your money!!!" Bad product!!!
I purchased this Vital Smart Bracelet through the Vital web site. "DON'T WASTE YOUR MONEY!!!"
I and 3 other people tried to program this Smart bracelet to my mobile phone to program the bracelet. Once the mobile phone connected to the "Data Band", the bracelet would not response to the mobile phone.
We each tried three times installing and uninstalling. Neither time did the bracelet response to changing date, time ,etc. We followed the instruction on the manual and it still would not response. I emailed Vital Customer Service, two times to requested for an authorization code, which you need in order to return the bracelet and get a full refund.
After not getting any response from Vital Customer Service, I had to call Customer Service. Then here, the Agent instead of giving me a return code, he offered me $39.00 credit and keep the bracelet.
But I explained that it can't be programed, so I would like a refund, as described on their 90 day return. Then the agent offers me $59.00 credit and keep the bracelet. If I still what to return the bracelet, then they would have to charge me $13.00 for restocking.
So the return policy is not correct. You do not get a full refund if you return the product within the 90 days.
So basically, the Vital still get to keep part of your purchase price, when its refund policy said "YOU GET A FULL REFUND OF PURCHASE WITHIN THE 90 DAYS."
So don't bother wasting your money on this produce because if you do and want to return it, you don't get back what you paid for it.

Paul J
Vital Fit Tracker Does Not Work Properly
We have received and worn the Vital Track Fit almost a month now and are quite dissatisfied with its performance, extremely short battery life and inability to track properly. This item is not worth even the $59 price. Save your time and money and buy something different.

Rho
All features not operational & lack of security
Purchased a Vital Fit Track watch. Setup was relatively easy but all the promised features did not work and it only synced to the app manually rather than continuously. It promised texts could be received via the watch but that turned out to be false. It also had other features that led nowhere.
When I attempted to return it within 30 days I was first asked the reason. When I requested return shipping label first and then I would share my concerns, instead I was offered part of my money back.
But the refund was still more than what I would have paid if I bought multiple Vital Fit Track watches. So I declined. Still they wouldn't process a return & said shipping would be costly to which I quoted their return policy & said I'd report them to my credit card company. They then refunded the entire purchase.
Apparently they do not want the watch returned. Also concerning to me was the watch came loaded with WeChat app (unbeknownst to me at time of order) which I never activated but caused me concern.

J
Money-Back Guarantee a SCAM
The watch seems cheaply made, and despite advertising that it's an American company, the instructions are unclear, as with cheap products that come from China.
In the end, I was unable to pair the watch, but wanted to return it as soon as I opened the box anyway. None of the confirmation emails provided useful info or links (such as their website) beyond the shipping status (which was mysteriously delayed 2 weeks, despite the site bragging about not waiting for products to ship from overseas).
The website I was able to find to start my return was vitalfittrack.us, which mentions the 90-day money-back guarantee for a full refund, but nothing about the return process.
The terms and policies on this site are short and vague. I emailed them and got no response for a month, so I called. The representative told me that I had to pay for return shipping and a 15% restocking fee. I asked where this info was and he tried to change the subject several times and finally told me to go to offer.getvitalfittrack.com. He couldn't answer me on how I was supposed to navigate to this page from the official-looking site I'd originally gone to.
This page mentions the 15% fee, but for return instructions says: "To return your product, you should mail your product to: [email protected]," which makes no sense.
And that was the email address that never responded to my first request 30 days prior. To avoid the hassle and cost of shipping, they offer a no-return refund of 75%.
Unlike legitimate companies, this one never asked/allowed me to review their product, so I wonder where their glowing reviews on the site come from. And why would they have multiple websites that do not link to each other? All of this screams "SCAM" to me. Do not buy!