Kinetic Pro Watch Reviews
Kinetic Pro Watch Review: Legit or Scam?


The Kinetic Pro Watch is a type of smartwatch being heavily advertised on many news and entertainment websites.
The ads for this product make many bold claims, stating that "this watch could potentially save your life…"
Below we take a closer look at the Kinetic Pro Smartwatch, go over its features, analyze customer reviews and let you know if we think it's worth buying.
How Does the Kinetic Pro Work?
Some of the watch's claimed health features, such as blood pressure readings, may influence decisions with potentially serious health consequences.
If you're buying this watch for those reasons it's critically important to know how well it works.
The seller claims because its sensors can read your:


Blood Pressure
Blood Oxygen Level
Heart Rate
And Calculate BPM


They go on to state that the Kinetic Pro Watch can essentially perform an electrocardiogram (ECG).

Some of the other additional features of the Kinetic Pro Watch include:


IP6/7 Waterproofing
Step Counter
Calorie Counter
Sleep Monitoring
Sedentary Warning
Alarm Reminder
Incoming Calls Notification
Music Control


The seller claims that they can offer a smartwatch with all these features at a low price because, being a direct to consumer brand, they save money on many forms of traditional business infrastructure and marketing methods.

Outside these advertorials and the company sales page, there isn't much published info on the company behind the Kinetic Pro.
This is odd as they want you to believe that they are a new startup company, yet have none of the online presence that a normal tech company would.
Can Smart Watches Perform ECGs?
The technology in smart watches and fitness trackers has been steadily improving and many are capable of delivering accurate biometrics.
One 2017 study found that using an at home ECG device similar to a smart watch helped screen for AFIB at better rates than routine care did over a 12 month interval.
The technology has only been getting better and there are now a handful of watches that have FDA clearance for ECG use as well as others with comparable tech but without the FDA approval.
Customer Service
The contact info list on Kinetic Pro website is as follows:
Kinetic Smartwatch LLC
[email protected]
1(959) 300-2246
They do not list a physical address for the business.
They state that the watch comes with a 30-day return policy, but the watch must be returned in new condition to qualify for a full refund.
If you want to take advantage of this policy you must first contact support to receive an RMA number before proceeding with your return.


Cost and Price Plans
One Kinetic Pro sells for $49.99. The company offers additional discounts based on how many devices you purchase, with a purchase of multiple watches receiving a discount.


Important Note: At checkout the company gives you an option of trialing their Kinetic Pro Fitness Club. This is a fitness app with access to 24/7 personal trainers. If you do not deselect the blue checkmark next to its name you will be automatically enrolled in a one-month trial, after which you will be billed $39.99 per month.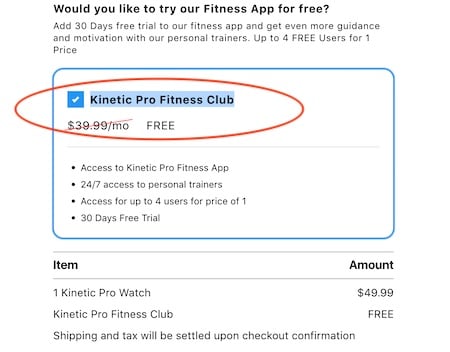 Customer Reviews & Complaints
Most of the searches for Kinetic Pro Watch reviews result in a plethora of sites simply promoting the product and not actual customer reviews.
On the few actual consumer feedback websites the reviews are not good.
Customers have complained of the following issues:


Difficulty charging/lack of charging cable/slow charging/does not hold a charge
Unresponsive and/or poor customer service
Lack of clear instructions
Sleep monitor not working properly
Company does not follow through with refund requests
Mistakenly signing up for the monthly app and incurring fees
Inaccurate blood pressure readings
Overall poor quality of product


Some reviewers did state that while the Kinetic Pro worked properly they enjoyed some of the offered features. However, they found that the watch was too unreliable for regular use.
Is the Kinetic Pro Legit?
'Advertorials' for the Kinetic Pro Watch claim the product is a low cost alternative to many of today's popular big name smartwatches and fitness trackers.
The ads also specifically target the elderly with catchy titles such as "Why are seniors snapping up the latest health smart watch?"
This is not the first of these "smart watches for seniors" that we have reviewed.
Other examples include the Fitnus smartwatch, Maxfit G3, and the KoreTrak.
They all follow the same sales and marketing practices and, unfortunately for customers, all share the same negative reviews and reliability issues.
The reason for this is because these watches are not made by the businesses that sell them. They are just cheap products ordered from overseas wholesale tech manufacturers.
These sellers then simply create the branding and sales website for these devices.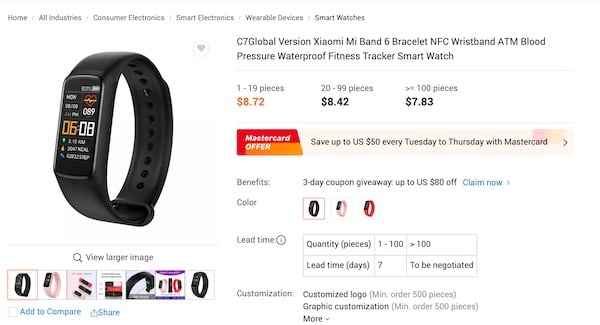 An example of the Kinetic Pro Watch listed at the wholesale website for roughly $8 a unit.

So what you're getting is a cheap knockoff smartwatch that is heavily up-charged by the seller and sold with virtually no after-sale support.
Competitors and Alternatives
In addition to the big expensive players in the field that have FDA-approved ECG sensors such as the Apple Watch Series 8 and the Google Pixel watch there are some other options.


Fitbit Sense 2
The Fitbit Sense 2 also has FDA clearance and offers a variety of health tracking features.
The company has been a leader in the wearables sector since the technology came out and offer a robust ecosystem of apps and support for all their products.
It has many positive reviews on Amazon with a score of 4.2/5 from over 2,000 customer reviews.
While it costs more than the Kinetic Pro Watch you can purchase it through Amazon.com and be assured of proper customer service should any issues arise.
Fitbit Charge 5
The Fitbit Charge 5 is another great and less costly option.
It is a NY Times pick and best seller on Amazon.
It's an advanced health tracker that measures a variety of movements with a built-in GPS and a plethora of advanced features that let you track your sleep, heart rate, and includes a stress management tool.
The Fitbit Charge 5 boasts a 4.3/5 rating from over 13,000 customer reviews on Amazon.
The Bottom Line
At this time we do not recommend the Kinetic Pro Watch and recommend caution for purchasing these types of products.
While small brands should definitely be supported this is not the case with these watch resellers.
They are simply profiting from seniors who aren't tech savvy enough to spot the red flags in these kinds of ads.
Depending on your needs for a smartwatch or fitness tracker, there are a lot of great options available whether you go with one of our suggested options or another product.
Just remember to do your research, read the reviews, and look for devices that are recommended by industry experts.
Also keep in mind that wearing one of these devices is not a substitute for regular medical care and other preventative measures against cardiovascular disease.
These watches are meant to be used as tools to provide extra data which should be verified by your physician.
If you have any experience with the Kinetic Pro Smartwatch, please leave your reviews below.
You may also be interested in
Kinetic Pro Watch Customer Reviews